HOKA, presents the new Rocket X 2, the most performing road running shoe created so far by the brand. Rocket X 2 was designed for elite runners and designed with feedback and input from HOKA's team of top road runners and triathletes. The new model features bold and innovative new geometries and color combinations.
Hoka Rocket X 2, the long-distance race for elite athletes
Rocket X 2 was created for long distance running and is characterized by the increase in the height of the sole and unique details. This new shoe is the result of years of research and development by HOKA, aimed at creating a premium running product.
In this model plate technology, geometry and foam combine reaching a level never reached before. Innovations include a dual-density PEBA foam midsole and carbon fiber plate with a curved MetaRocker integrated into the outsole that supports foot contact and increases momentum.
New geometry of the carbon plate
The new geometry of the powerful carbon fiber plate, positioned between two layers of a brand new ultra-responsive PEBA foamprovides greater cushioning than that of the foams used in previous HOKA models tested and guarantees a fast, efficient and propulsive user experience.
Additionally, Rocket X 2 also features aProFlyX midsole Featuring a lightweight, responsive foam base and super-soft foam top to deliver an energetic, stable ride with groundbreaking technology. Additionally, rubber elements have been added to the outsole in high traction areas to ensure durability and reduce the overall weight of the shoe.
Upper in technical mesh
Rocket X 2 is equipped with a new upper in synthetic technical mesh for a breathable and snug fit and an internal midfoot gusset and cage for optimal foot stability. Furthermore, this model boasts the approval of the International Athletics Federation, weighs 190 g in the women's number 8 and 236 g in the men's number 10, with a sole height of 40 mm and a drop of 5mm.
A faster future
"Rocket X 2 confirms HOKA's commitment to always raise the bar in our sport, and reinforces our desire to provide our top athletes with cutting-edge running products to achieve personal and competition bests. Our team has focused on innovating every aspect of this model through design, engineering and testing in order to present the shoe as the highest performing in the HOKA line," comments Colin Ingram, HOKA Senior Director of Product.
Thanks to this model, several of HOKA's top athletes have achieved a series of extraordinary results in many road races and will continue to leave their mark in future competitions.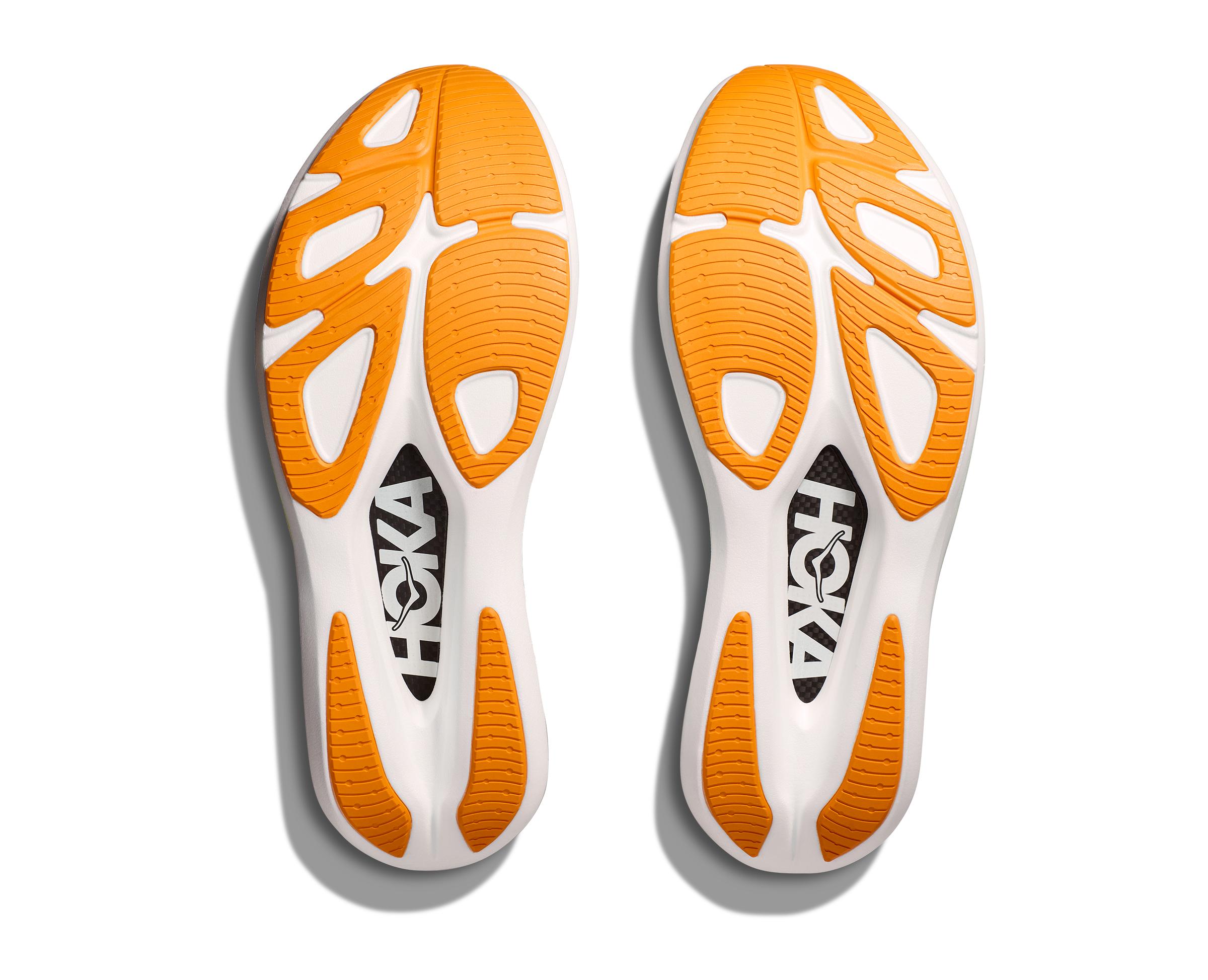 Among the results to remember is that of Futsum Zienasellassie, a member of HOKA NAZ Elite – a team of international professional athletes – who with the Rocket X 2 on his feet won the USATF Marathon Championships, with a record time of 2:11:01, l feat of her teammate and Olympian Aliphine Tuliamuk, who was the best American at the 2022 New York City Marathon, with a time of 2:26:18. Also worth mentioning is the excellent first place of Steph Bruce at the USA 10K Road Champs and the top step of the podium conquered by Hillary Bor at the USA 10-mile Road Champs. Finally, long distance athlete Caitriona Jennings of Ireland took first place at the IUA 50K European Championships.
Rocket X 2 is available for purchase on HOKA.com and at selected HOKA dealers worldwide for the price of 250 Euros.
READ ALSO: How are running shoes with a carbon plate
Advertising