At 23:10 on June 25th, the 21st Guiyang Amateur Football Division C League, hosted by Guizhou Sports Online, guided by the Guiyang Olympic Sports Center, and co-organized by the Guiyang Olympic Event Operation Center, will be held at the Linquan Football Park. At the end of the second game of the fifth round, Run Tiexiang 0-3 Yang Laowu Roast Meat.
Yang Laowu's barbecue Zhang Ancang and Liang Yijun scored a goal.
Run Tiexiang has players outside the list to participate in this game. According to the league competition rules, a single game will be judged as a 0-3 loss, and the goals will not be counted in the scorer list.
Run Tiexiang's lineup
Goalkeeper: 23-Song Zhuoheng
40-Feng Argon, 7-Xiang Yu, 26-Liu Hui, 17-Zhang Ruixin, 33-Zeng Yuxiang, 18-Jiang Wei, 66-Yin Le, 60-Wang Jingsong, 15-Li Haiping, 9-Huang Yong
Yang Laowu's barbecue lineup
Goalkeeper: 73-Yang Qingshan (46 minutes 66-Yang Xinqiang)
16-Yu Mengxuan, 5-Li Keshang, 0-Li Xingcai, 99-Yu Tao, 20-Zhang Ancang, 9-Huang Junyuan, 8-Zou Hang (46 minutes 11-Huang Dabin), 13-Chen Ziao, 1-Liang Yijun, 23-He suitable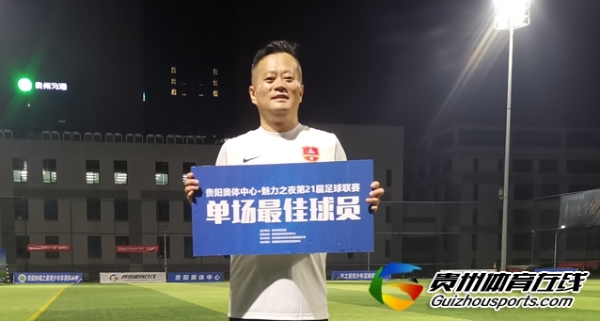 Run Tiexiang No. 40 Feng Ar was awarded the best player of the game
Further reading: