Original title: Seaport's new season list and number: Ndiaye Phi No. 10 Zhang Linpeng No. 5
Sohu Sports News, May 9, Beijing time, according to Shanghai media reports, the Shanghai Haigang team arrived in Dalian by plane yesterday afternoon to prepare for the new season of the Chinese Super League. At the same time, the 35-man roster for the new season of the Harbour team has also been released.
In the new season, the new aid N'Diaye will wear the No. 10 jersey, Xu Xin will wear the No. 16 jersey, and Zhang Linpeng will wear the No. 5 jersey.
Seaports new season roster
Goalkeepers: 1-Yan Junling, 12-Chen Wei, 22-Du Jia, 31-Xi Anjie, 33-Liang Kun
Defenders: 2-Li Ang, 4-Wang Shenchao, 5-Zhang Linpeng, 13-Wei Zhen, 15-Li Shenyuan, 17-Chen Binbin, 21-Yu Hai, 23-Fu Huan, 25-Maitijiang, 28-He Guan, 29-Zhang Brilliance, 37-Chen Xuhuang, 40-Lv Kun
Midfielder: 6-Cai Huikang, 8-Oscar (F), 9-Paulinho (F), 16-Xu Xin, 19-Mu Yi (F), 20-Yang Shiyuan, 30-Huang Zhenfei, 35-Zhang Huiyu, 36- Abra Khan, 44-Geng Xin, 45-Meng Jingchao
Forwards: 10-Ndiaye (F), 11-Lu Wenjun, 14-Li Shenglong, 26-Chen Chunxin, 33-Liu Zhurun, 39-Liu Baiyang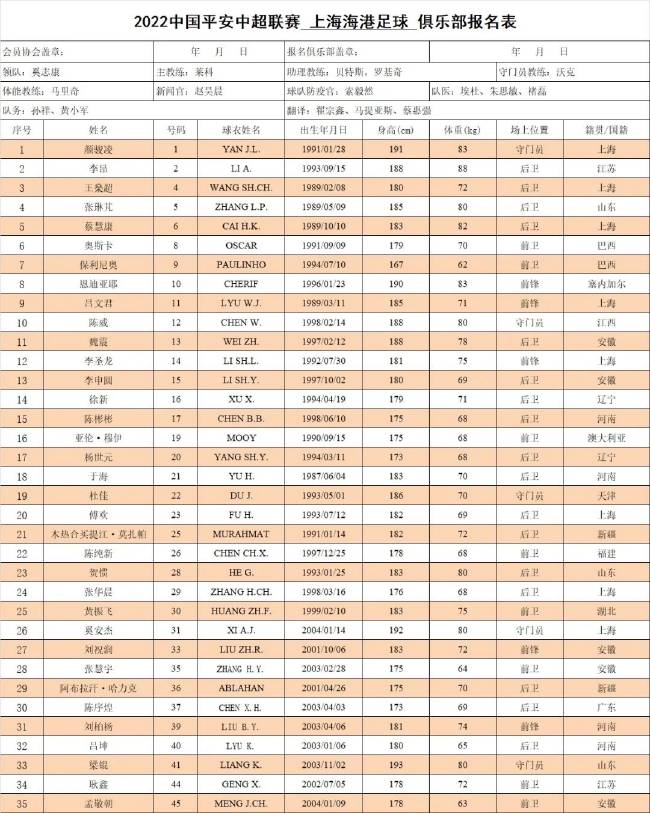 (Editor: Xiaoyu)Return to Sohu, see more
Editor:
Disclaimer: The opinions of this article only represent the author himself, Sohu is an information publishing platform, and Sohu only provides information storage space services.