The next home of Guangzhou Football Club (hereinafter referred to as "Guangzhou Team") seems to have an eye. On January 17, GPHL released information on a recruitment website to recruit football management talents with an annual salary of 500,000-600,000 yuan. As soon as the news came out, it aroused speculation about GPHL taking over the Guangzhou team, and Li Chuyuan, chairman of GPHL, said in an interview with the media that he intends to reconnect with Guangzhou's football business.
In this regard, a person familiar with the Guangzhou Pharmaceutical Group told the "Securities Daily" reporter that the two state-owned enterprises of Guangzhou Pharmaceutical Group and GAC Group may respectively take over 50% of the equity of the Guangzhou team, but the plan is still under discussion. The relevant person in charge of GAC Group told reporters that if there is a suitable opportunity, GAC Group will not rule out renewing the frontier with Guangzhou Football in an appropriate form.
According to the recruitment advertisement of GPHL, in 2022, GPHL will continue to pay attention to the needs of football business in Guangzhou, and fully mobilize corporate resources to provide strong support. In order to achieve faster, stronger and more professional development of the football business in Guangzhou, the company recruits football management talents from all over the world, including professional talents in competition and marketing, requiring 5-7 years of work experience and a salary of 500,000-600,000 yuan / Year, the work includes business development, club access, player registration and transfer, etc.
It is worth noting that this salary level ranks high among all the positions posted by GPHL. As of January 17, among the 1,202 vacancies of GPHL on the recruitment website, the highest salary is the general manager position of the subsidiaries in Xi'an, Shaanxi and Nanning, Guangxi, reaching 450,000-600,000 yuan per year. This shows that GPHL attaches great importance to football management positions.
Li Chuyuan, chairman of GPHL, publicly stated at the 12th Guangzhou Party Congress on December 27, 2021 that GPHL intends to reconnect with Guangzhou football in 2022. Wanglaoji, a brand of GPHL, also launched a poll on Weibo on December 28 last year to solicit opinions from netizens on the choice of "Guangzhou Team" or "Guangzhou City Team". As of January 3, 2021, it has attracted about 11,000 people vote.
Although Li Chuyuan disclosed the information of GPHL's return to the football circle, Li Chuyuan said that GPHL has not yet taken specific measures.
In fact, GPHL has a deep relationship with the Guangzhou team. According to public information, as early as October 1984, Guangzhou Baiyunshan Pharmaceutical Factory signed a contract with the Guangzhou Municipal Sports Commission to jointly host the Guangzhou football team on the condition of sponsoring 200,000 yuan per year, marking the first national enterprise to host a sports team. In 1989, Guangzhou Baiyun Team expanded into a football club. At the beginning of 2006, GPHL acquired 90% of the team's shares, established Guangzhou Pharmaceutical Football Club, and won the first league championship in the team's professional league history in 2007.
A reporter from "Securities Daily" contacted GPHL to ask if it has been determined to join the Guangzhou team. As of press time, GPHL has not made any response.
However, the reporter learned exclusively from people familiar with GPHL that GPHL is likely to take over the Guangzhou team. At present, GPHL is discussing with GAC Group whether to take over the Guangzhou football team together. The plan may be GPHL. Pharma and GAC each have a 50% stake, but this plan is still under discussion.
The relevant person in charge of GAC Group told reporters: "Football is a very popular sport all over the world, which can provide a good communication platform for enterprises to carry out marketing activities. Guangzhou has a strong football atmosphere, and Guangzhou citizens Love football, GAC also sponsored the Guangzhou team in 2010. Therefore, if there is a suitable opportunity, GAC will not rule out the possibility of reconnecting with Guangzhou football in an appropriate form."
Star shareholders come in and out
Where will the Guangzhou team go?
Looking back on the history of the Guangzhou team for more than ten years, there are many heavyweight investors.
At the beginning of 2010, Evergrande Group bought out the entire equity of Guangzhou Football Club with 100 million yuan, and Guangzhou Pharmaceutical Group withdrew from Guangzhou Football. Public information shows that after Evergrande entered the team, the Guangzhou team ushered in a glorious decade. From 2010 to 2019, the Guangzhou team won 8 Chinese Super League championships, 2 FA Cup championships, 4 Super Cup championships and 2 championships. The AFC Champion has become one of the most successful professional football clubs in China and even in Asia.
In 2014, Alibaba invested 1.2 billion yuan in the Guangzhou team and obtained a 50% stake in the club. In November 2015, Guangzhou team Taobao was listed on the New Third Board, becoming the first stock in Asian football, with a reference market value of more than 20 billion yuan. In addition to Alibaba, the star shareholders of the Guangzhou team also include well-known companies such as Gold Mantis, Grandland Group, and Keshun.
However, from an operational point of view, with continuous large-scale investment, the Guangzhou team's operating income cannot cover business costs such as transfer costs and player salaries, and has been operating at a loss since 2013. From 2017 to 2019, financial data shows that the Guangzhou team lost 987 million yuan, 1.829 billion yuan, and 1.943 billion yuan respectively, and the losses expanded year by year; the net cash flows from operating activities were -433 million yuan, -1.583 billion yuan, and -2.220 billion yuan respectively. yuan, and cash continued to flow out.
Taking 2019, the year with the most serious losses, as an example, although the main business income of the Guangzhou team increased by 29.85% year-on-year to 783 million yuan, the operating cost was as high as 2.406 billion yuan, which was 3.07 times the operating income. Nearly 60% of the income comes from the related party Evergrande Real Estate.
As of the end of the first half of 2020, Evergrande Real Estate and Alibaba held 56.71% and 37.81% of the Guangzhou team respectively. The Guangzhou team had assets of 2.151 billion yuan, total liabilities of 7.354 billion yuan, and net assets of -5.203 billion yuan. insolvent state. On March 10, 2021, ST Guangzu (delisted) was delisted in a low-key manner. With the shareholder Evergrande Real Estate falling into a liquidity crisis, the Guangzhou team is also facing the dilemma of where to go.
In fact, not only the Guangzhou team, but with the strict regulation of the real estate industry, the Chinese Super League, dubbed the "real estate league", has also been impacted, and many Chinese Super League teams have doubts about their ability to continue operating. In February 2021, after winning the first Chinese Super League championship in team history, Jiangsu Suning announced its disbandment. With the debt restructuring at the China Fortune Group level, the future of the Hebei team has also cast a shadow. Recently, the Shenzhen team was also rumored to be looking for new investors, and its current sponsor, Kaisa Group, was caught in the financial breach of related companies not long ago.
Shen Meng, executive director of Chanson Capital, said in an interview with reporters that football clubs are not a money-making project, but a sign of local social development, which is why the phenomenon of "real estate football" appears when the economy is booming. At this stage, the real estate industry is affected by continuous and strict macro-control, and it no longer has the ability to invest in football projects, and the local government will not let the iconic sports go down, so there is a lot of news about the transfer of football clubs.
Bai Wenjia, chief economist of IPG China, told the "Securities Daily" reporter that maintaining a football team is actually very expensive, and a real estate company in financial crisis cannot continue to bear it. The latter shareholders should take step-by-step commercialization measures to make the club healthy and sustainable.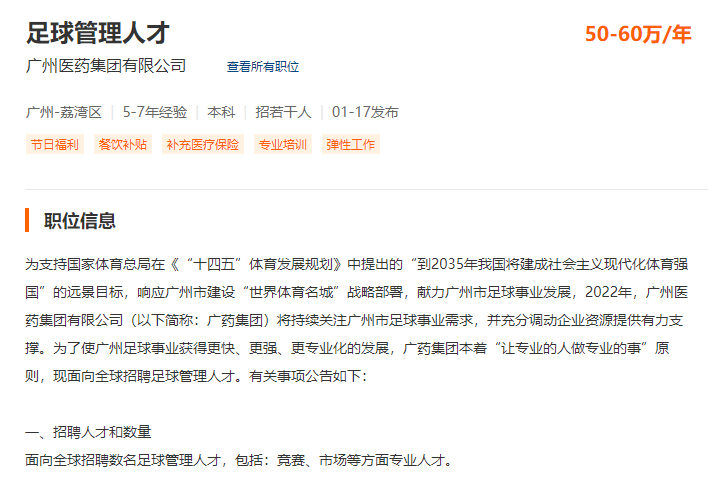 Return to Sohu, see more
.