08:34, November 18, 2021 Source: China News Network Participate in the interaction
China News Service, Guangzhou, November 17 (Reporter Guo Jun) On November 17, the sharing experience class of Su Bingtian, a well-known track and field athlete and associate professor of the School of Physical Education of Jinan University, officially opened at Jinan University's Rising Sun Stadium. It was sought after by many college students. The famous students were fortunate to feel the fascinating demeanor of the "Asian Flying Man" on the spot.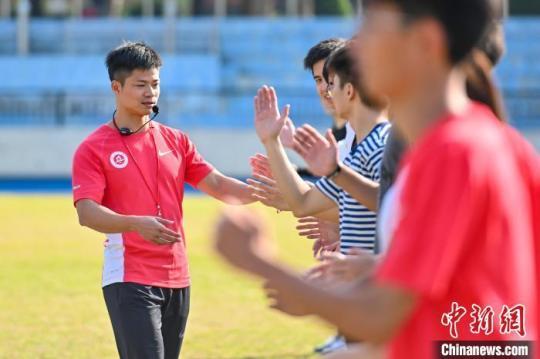 Su Bingtian shared the experience class at Jinan University and was sought after by students. Photo by Chen Jimin
It is understood that after the news of Su Bingtian's opening of the sharing experience class was released, the number of applicants reached more than 2,600. In the end, the college determined 100 students to participate in the lottery. Some students said that after learning that they were selected, they were excited all night. Did not sleep well.
The topic of the sharing class that day is about the systematic auxiliary practice and experience of running. The main content includes basic warm-up, sprint technology sharing and finishing activities after exercise. The reporter saw in the class that day, in the basic warm-up part, Su Bingtian helped the students to dynamically activate the body through parallel squats, left and right side presses, lunges, and one-leg tuck. , Cross-stepping before and after Deng and other methods to guide students to exercise dynamic flexibility, the classroom atmosphere is quite active.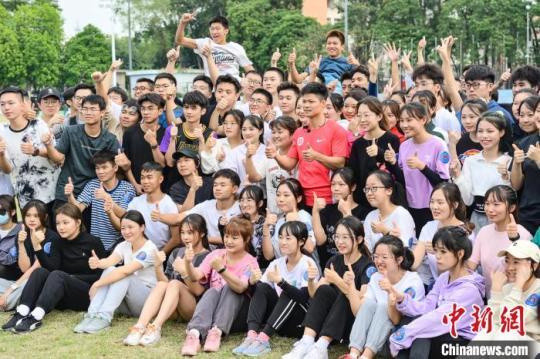 Su Bingtian shared the experience class at Jinan University and was sought after by students. Photo by Chen Jimin
"Come on! Come on! Swing your arm forward." "Swing your arm forward and backward!" … Su Bingtian personally demonstrates every key movement to the students, and guides and corrects them again and again during the students' practice.
Su Bingtian's vivid and interesting experience class benefited the students who participated in the experience a lot, and they all sighed. "I have been a fan of Professor Su for many years, and I have paid attention to each of his games. Today's experience class Professor Su's explanation is very patient, meticulous and professional. It corrected some of our actions and made us learn a lot. Sports skills and methods." said Zhao Junbo, a junior at the Environmental College of Jinan University's Panyu Campus.
"Let's take a look at how many meters can be run in 9 seconds 83. The teacher can run to 100 meters, can you run it?" In the experience class that day. Su Bingtian also specially designed this "challenge 9 seconds 83" link. "Now the whole network is challenging 9.83. Let's have a response to see how many meters everyone can run in 9.83." Su Bingtian said, the purpose of this is to stimulate students' interest and enthusiasm.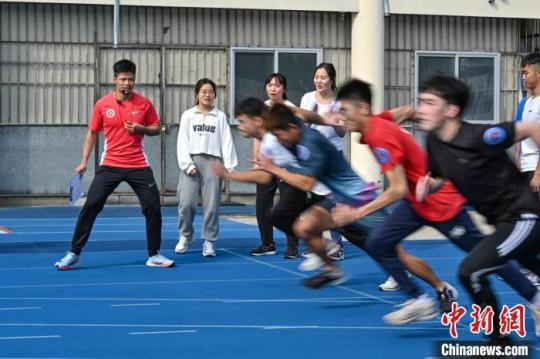 Su Bingtian shared the experience class at Jinan University and was sought after by students. Photo by Chen Jimin
He said that the country now advocates the integration of sports and education. As an athlete, you must first set an example. At the same time, as a teacher, if time permits, he will come back to communicate with students more in the future. I hope I can use my knowledge and theory to help the students, I hope they can fully feel what the teacher taught them today, and I hope they think about what the teacher teaches them in their spare time, and use them in future training and sports. .
Su Bingtian revealed that Jinan University will set up the Su Bingtian Speed ​​Research Center to use this platform to help more athletes communicate. (over)
【Editor in charge: Wang Qin】
.