Original title: Sweet potato has something to say – the reason for the change of Gitee moderation rules
Character | King
Proofreading | Du Junping
Produced | Open Source Rainforest
Recently, Gitee has introduced new regulations: open source repositories must be reviewed before going online, and unreviewed repositories are only accessible to logged-in users.
This matter has aroused heated discussions in various social media. On Zhihu, many developers have raised the question of "How do you view the open source of the Gitee warehouse on May 18, which must be reviewed, and some warehouses that have been open sourced are temporarily closed, and will be released again after the review is passed?" A lively discussion took place. The Gitee official also issued a statement on Zhihu: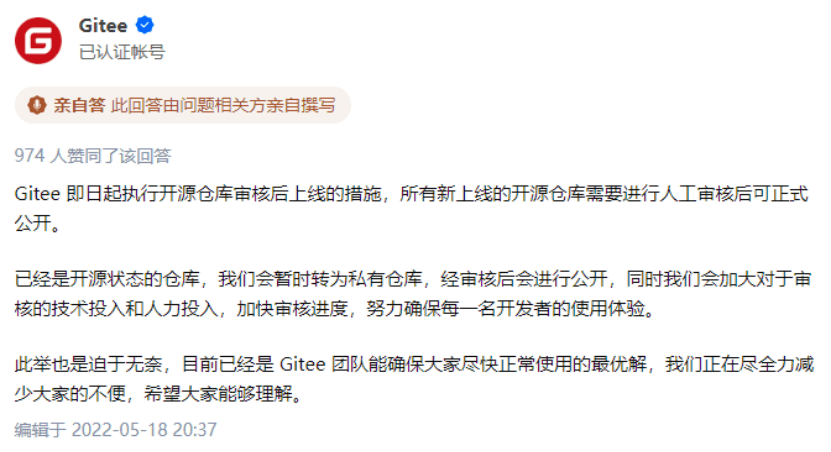 Open Source Rainforest's new column "Rainforest Open Source" invited Gitee founder & CTO Sweet Potato as an interview guest. Sweet Potato explained and responded to this incident and various positive and negative voices on the Internet. Let's listen to what the sweet potato has to say↓↓↓
(It is recommended to watch under WIFI conditions, local tyrants please feel free)
(audio version)
Brief summary:
1. Gitee will increase the technical investment and human investment in the review, speed up the review progress, and strive to ensure the experience of each developer;
2. Open source needs to adapt to changes in the international and domestic situation. I (Sweet Potato, the founder of Gitee) still have confidence in China's open source, and I hope everyone has confidence in China's open source.
What do you think about this matter? Everyone is welcome to post a bullet screen in the video and chat together.
Rewrite Node.js service in Go: project performance improved by 5 times and memory reduced by 40% JetBrains IDE announced a new default UI, has opened applications to try jQuery is the tears of the times
feel good, please clicklook inahReturn to Sohu, see more
Editor:
Disclaimer: The opinions of this article only represent the author himself, Sohu is an information publishing platform, and Sohu only provides information storage space services.