Tournament poster.Photo courtesy of this article/Hunan Electronic Sports Association
Red Net Moment News June 27(Reporter Fu Huanyu) On June 25, the TGA & FIFAOL4 Hundred Cities Trials and Hunan Division Finals ended at the BUFF E-sports Hotel in Changsha City. 112 e-sports masters competed in three rounds of online PK competition and one offline final. . In the end, Zhang Cheng won the Hunan Division Championship, and he will represent Hunan in the TGA&FIFA OL4 National Finals. He Jianhong and Yao Xiaofeng won the second and third place respectively.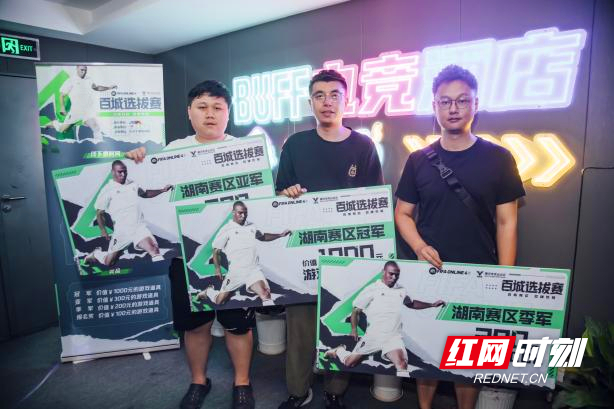 The top three players in the Hunan Division took a group photo after the game. From left to right are the runner-up He Jianhong, the champion Zhang Cheng, and the third runner-up Yao Xiaofeng.
"I am very satisfied that I can win the championship this time." Zhang Cheng has been in contact with FIFA games since 2018, and joined the WT team (formerly SC team) fan group in 2021. He is a die-hard player of FIFA games. There have been hearty victories and thrilling penalty shootouts. Zhang Cheng said that he will seriously prepare for the follow-up TGA&FIFA OL4 national finals, hoping to go further.
The offline finals were held at the BUFF E-sports Hotel in Changsha.
This event is guided by Hunan E-Sports Association, hosted by TGA Tencent E-Sports Federation, undertaken by Hunan Bafu Culture Communication Co., Ltd., and supported by Changsha BUFF E-Sports Hotel.
Source: Red Net
Author: Fu Huanyu
Editor: Zhu Shuguang
This article is an original article of the sports channel, please attach a link to the original source and this statement for reprinting.
Link to this article: https://sports.rednet.cn/content/2022/06/27/11434768.html