Original title: The opening ceremony of the Tokyo Olympics will be held tomorrow. China Central Radio and Television Headquarters will broadcast a comprehensive coverage of the Tokyo Olympics. Source: CCTV News Client
The Tokyo Olympics will open tomorrow (July 23). At present, China Central Radio and Television Station is ready to broadcast and report the Olympic Games.
During the Tokyo Olympics and Paralympics, China Central Broadcasting and Television Headquarters dispatched a broadcast reporting team of about 800 people, renting a 1,500 square meter working area at the Tokyo International Broadcasting Center, and was responsible for coordinating the allocation of all broadcast event resources before and after. At the same time, the main station has set up three studios and one location studio in Tokyo, which will use 4K ultra-high-definition signals to broadcast the Olympic Games for the first time.
CCTV reporter Yang Wei:This is the location studio of our Central Radio and Television Headquarters in Tokyo Bay. It is equipped with the most advanced production and broadcasting system, which can transmit 4K-level ultra-high-definition TV signals. Many iconic images related to the Tokyo Olympics can be presented one by one. .
The main station signal production team will undertake the five events of the Tokyo Olympics gymnastics, badminton, table tennis, rock climbing and shot put finals, as well as the public signal production of the two events of the Tokyo Paralympic Games track and field and goalball for the blind, showing the main station signal to the world International leadership in the production field.
Wang Ping, head of the public signal production team for the Tokyo Olympic Games of China Central Radio and Television:While being fair and impartial, we must also highlight key athletes and not miss the progress of other events, so we must carry out organic switching and scheduling.
The opening ceremony of the Tokyo Olympics will be held tomorrow at 19:00 Beijing time. The sports channel and sports event channel of the main station will be broadcast live. The comprehensive channel will broadcast the opening ceremony after the end of the "News Broadcast" on the same day. The news channel will launch a special report combined with the opening ceremony scene. Interpretation of the Tokyo Olympics from a news perspective. In addition, CCTV News, CCTV, CCTV and other new media platforms affiliated to the headquarters will simultaneously broadcast the opening ceremony throughout the entire process.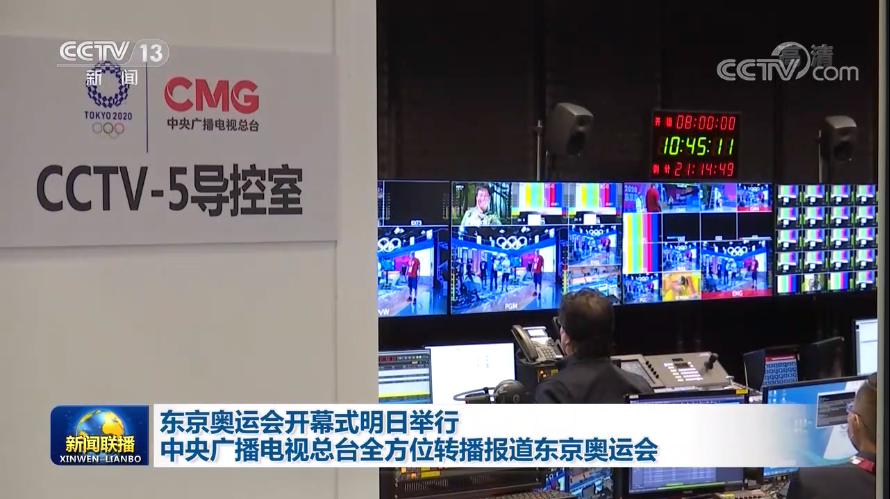 The main station has the exclusive copyright of all media for the Tokyo Olympics in mainland China and Macau. During the competition, the comprehensive channel will broadcast the Olympic theme program "Hall of Honor" every day, the sports channel will launch programs to interview the Olympic champions, the news channel, the Voice of China, the Global Information Broadcasting and other channels, frequencies and new media platforms will all Launching Olympic-themed programs and sections, taking you to witness the passionate moments on the Olympic arena together.
(Edit Wang Fa)
.