Ulster Rugby chief executive Jonny Petrie says they must improve on last season's performance – but does not believe the team needs a rebuild.
Speaking to BBC Sport NI, Petrie said the province will make no further signings, provided an update on captain Iain Henderson's future and discussed their financial challenges.
The CEO was speaking for the first time since Ulster suffered what he described as a "frustrating" end to the campaign with a United Rugby Championship quarter-final home defeat by Connacht.
"We understand some of the opinions of supporters and we know we need to do better," Petrie said.
"We need to not only be competing for championships but coming through and winning silverware – that is where we fell short this year."
He added: "I know when people call for resets and rebuilds and things like that…it doesn't feel like that but there is a progression that we need to continue to make, and do things that are going to help us clear that final hurdle to achieving silverware.
"We know we have got the squad that is capable of doing that. The more we continue to improve, the greater the expectation is on us, and that is right for people to expect that. We have got to work hard to make sure that we deliver that and re-double our efforts going into next year."
The future of Ulster captain Henderson, who was this week included in Ireland's 42-strong summer training squad to prepare for the Rugby World Cup, has been a discussion point for some time.
Asked if the second row, out of contract this summer, would remain in Dan McFarland's squad, Petrie said: "I would hope so, yes.
"That is an IRFU-led discussion around that. [I'm] comfortable with the direction that has been going in and it is really encouraging to see him in the World Cup squad.
"So, happy with the direction of travel around that but [there is] hopefully more to come on that over the course of the next few weeks."
No further signings likely to be made
Ulster's hugely disappointing 15-10 defeat by Connacht in the URC last-eight tie at Kingspan Stadium drew criticism from supporters and pundits alike, with the frustration heightened by the fact they would also have played the semi-final in Belfast had they gone through.
With their Champions Cup campaign having come to an end at the last-16 stage with defeat by Leinster, the club's run without a trophy has now stretched to 17 years.
It was announced the day before the Connacht loss that 10 players were leaving the province, including South African World Cup-winning back-row Duane Vermeulen and props Rory Sutherland and Jeff Toomaga-Allen.
Exeter Chiefs number eight Dave Ewers and Stormers prop Steven Kitshoff have been signed, but Petrie said there will be no further new arrivals before the 2023-24 season.
"You could look at the sort of headline around players leaving and players brought in, but we feel that in the talent we have got coming through – and the players that are now breaking through in that system – we have got a stronger make-up of the squad going into next year," he continued.
"We are pretty settled on what the squad looks like going into next year, there is certainly not anything that we are looking to bring in beyond what we have.
"There will be a slightly smaller squad going into next year and part of that is, yes, making the finances work around that, but equally we had a big squad last year, and that makes it tough in terms of squad management.
"We recognise on both fronts that it was right to trim that a little bit. We will be operating with a slightly reduced number but we feel pretty comfortable with where that sits and are looking forward to that squad delivering for us next year."
'It's tough to balance the books'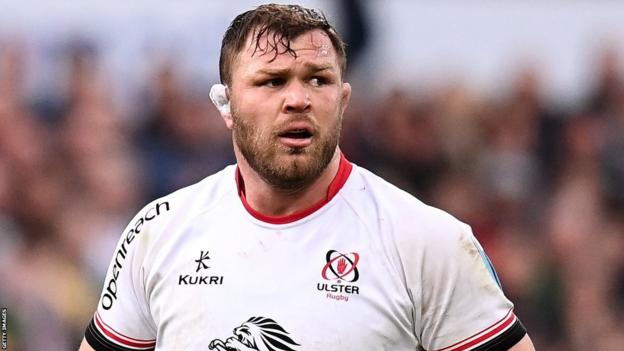 In a wide-ranging interview, former Scotland international Petrie discussed the importance of introducing a new artificial pitch at their ground, how he enjoys what is a challenging role with Ulster and how they are still undergoing a review of their partnership with sponsors Kingspan.
He defended the contribution made to Ulster over the last two years by Vermeulen, but did admit that he is not the "all-action" player he used to be and that he helped shape what Petrie believes was perhaps an over-reliance on the forward pack.
He also gave an insight into the financial challenges Ulster Rugby are facing as a club and as an organisation.
"It is very tough [financially]particularly when we add on the governing body aspect of what we do," he said.
"It is not just running a professional club, it is paying for the domestic game in the province as well and that makes it tough to balance the books.
"From that point of view, we need to continue to run a lean operation and make sure we are driving cost-efficiencies but also to make sure we are maximising all of our commercial revenues because everyone gets hungrier when the costs of keeping the show on the road get higher and higher.
"It is a difficult balance to strike but we also know that we need to continue to put the product out on the field. That is ultimately what drives a lot of our commercial revenue to allow us to pay for things.
"That is where we need to find that balance of what we do, and that is the trick of it for me and staff and the board over the years to come."