Jock Stein, Matt Busby, Willie Waddell, Bill Shankly, Alex Ferguson, George Graham and now David Moyes.
The West Ham United boss has become the seventh Scottish manager to taste European success, guiding the English side to Europa Conference League glory with victory over Fiorentina.
And the newest member of the illustrious club shares something more in common with the most decorated – Ferguson and Moyes both came through the ranks at Drumchapel Amateurs in Glasgow.
It's been quite the ride from Glenhead Park to European glory in Prague for Moyes, as BBC Sport Scotland has discovered…
Following in his father's footsteps
Moyes, 60, has managed well over 1,000 matches but had no hesitation in calling the final the "biggest moment in his career" even before a ball was kicked.
Once the final whistle had blown – but long before the night of celebrations were over – Moyes placed his European winners medal around the neck of his 87-year-old dad, David senior.
Back 50-odd years ago, Moyes used to stand at the side of Glenhead Park and watch his old man coach.
"David Moyes senior was there at the beginning when Drumchapel Amateurs started in 1950," said Charlie Devlin, the current chairman – and father of Aberdeen's Nicky Devlin – on Good Morning Scotland.
"Young David followed suit. He used to come watch his dad coach, then he signed for Drumchapel before he went and moved on to his professional career."
That career started at Celtic. Moyes made his European Cup debut in 1981 as an 18-year-old, filling in at right-back for Danny McGrain in Turin against Juventus.
Celtic lost 2-0 on the night, and 2-1 on aggregate, but the bright-eyed Moyes impressed.
He won the Scottish Premier Division with Billy McNeil's side that season, before enjoying spells with Bristol City, Dunfermline Athletic and Preston North End among others, in a career that amassed more than 500 appearances.
And Moyes is just one of many graduates from Drumchapel to go on to successful football careers.
"If you back to the days when they started, there weren't any senior club academies so clubs looked to juvenile football to get players from," Devlin added.
"John Robertson, John Wark, Archie Gemmill and Andy Gray are guys who all have European medals as players as well and came from Drumchapel so it's quite a story."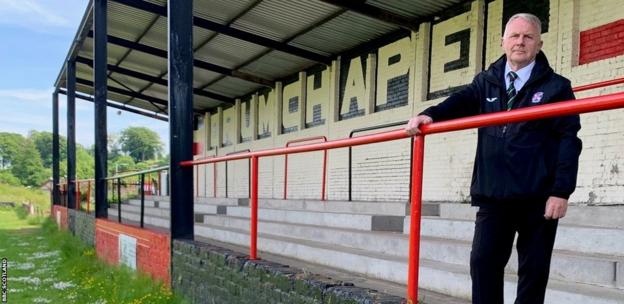 'It's great for our wee club'
Moyes made the move into management 25 years ago. A quarter of a century on, it seems to have worked out pretty well.
Spending more than a decade at Goodison Park with Everton, Moyes continued to call on his father's wisdom and brought him in as a scout for the Merseyside club.
He was recognised three times by his peers in the League Managers Association manager of the year award. But silverware on the pitch always eluded him. He came close in 2009, but lost the FA Cup final to Chelsea.
When Moyes replaced Ferguson at Manchester United, it seemed his time might have come. He won the Community Shield in his first game in charge, but was sacked after a painfully short spell.
Underwhelming stints at Sunderland, Real Sociedad and West Ham followed before he returned to the London club in 2019.
And this victory – West Ham's first major trophy in 43 years – is all on him. And his dad was there to see it, as he always has been on the European tour.
"He was the first one, I thought I should get it round his neck," said the jubilant Moyes after hanging his medal around his father's neck afterwards. "He's watched a lot over the years and I hope he enjoyed it."
Such values and virtues have long been embedded in the fabric of Drumchapel, where it all began for Moyes.
As he displays those qualities on the biggest of stages, not forgetting where he has come from, they don't forget him either.
"I know it's a bit of a cliche but this is absolutely a family club," Devlin said.
"It's amazing to think of where he has came from and what he's achieved. The success he has got is absolutely tremendous and obviously, great for our wee amateur club."