After Su Yiming won the gold medal in the snowboarding platform at the Beijing Winter Olympics, the scene of crying in the arms of his coach reminded people of the Japanese coach Yasuhiro Sato, who was wearing a red knitted hat and a Chinese team uniform. More than a month after returning to China from the Beijing Winter Olympics, Sato accepted an exclusive interview with a reporter from Xinhua News Agency at the Appi Kogen Ski Resort in northern Japan, and reviewed his legend of helping Su Yiming reach the top podium of the Winter Olympics in less than four years. The trip also shared the bits and pieces of their lives.
On February 15, Chinese player Su Yiming (right) and his coach celebrate winning the championship before the final jump in the men's snowboard platform finals at the Beijing Winter Olympics.Photo by Xinhua News Agency reporter Xiong Qi
In February 2017, Sato met Su Yiming for the first time at the Banana Open held in China, which was the highest-level slope obstacle skill competition in Asia at that time.
"At that time, I heard that there is a very talented young skater in China. I watched him skateboard and had a simple conversation with him in the hotel. I felt that he was a very lively child." Said Yasuhiro Sato.
At breakfast the next day, when Sato saw Su Yiming's tray with white rice and a donut in the middle, he reminded the child: "If you eat like this, training will hurt you, and the way you get nutrition is wrong."
After that competition, Sato believed that Su Yiming was in the middle and lower reaches of Chinese players, and he used Chinese "so-so" to describe Su Yiming's level at that time.
"I had a vague sense of his potential at the time: he was very active and mastered the basics of skiing. However, he was not trained systematically, and his talent was a bit of a waste. I felt that if he trained systematically, he also did a little bit of diet. If you improve, you will definitely become the top player in the world."
In 2017, Su Yiming and Sato began to cooperate, but because of Su Yiming's injury, the training could only be postponed. Until August 2018, the two officially joined hands and embarked on the journey of preparing for the Beijing Winter Olympics.
"We insist on systematic training every day. In order to achieve our ideals, we must overcome the goals one by one. This requires you not to waste any day, and every day needs to be accumulated."
After meeting Coach Sato, Su Yiming's talent was quickly brought into play. "He didn't speak much English at the time, but he responded very quickly. After I told him, he immediately understood and could do what I said. I felt his potential on the first day."
In addition to talent, Su Yiming also showed a very brave quality. In the summer of 2019, while competing in New Zealand, Su Yiming suffered a fractured collarbone and had to end his training early and return to China. "The injury should be very painful, but he is not depressed at all, and he is still very happy." Sato showed reporters a video recorded with a mobile phone at that time, Su Yiming was talking and laughing with a strap around his shoulder.
When a reporter asked him when he set the goal of winning the gold medal at the Winter Olympics, Sato said: "We have such ideals from the beginning and are confident that we can stand on the podium. Everything we do is around this goal."
"Xiao Ming is a naughty child"
After winning the championship, Su Yiming described Sato in an exclusive interview with a reporter from Xinhua News Agency: "The earth-shaking change is that he changed my life and my deeper understanding of snowboarding. When I first decided to become a professional skater It's a very lucky thing to be able to get to know him from time to time."
Sato was very moved after hearing these words: "I am very grateful for his evaluation. In fact, the gold medal is the result of his hard work. He brought me when he talked about his success, which is enough to prove his excellent character."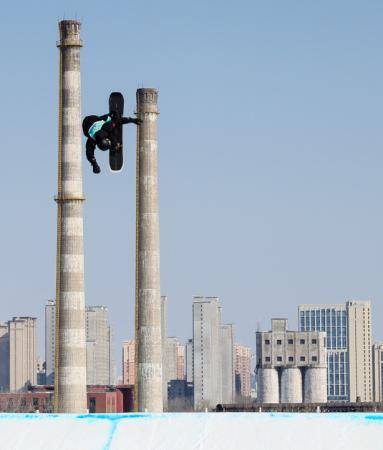 Chinese athlete Su Yiming competes in the men's snowboard platform diving final at the Beijing Winter Olympics on February 15.Photo by Xinhua News Agency reporter Lan Hongguang
Sato believes that the relationship between the two has gone beyond the master and the apprentice. Sometimes they are like father and son, and more often they are friends.
"We trust each other. We are nearly 30 years apart in age. Maybe I have something similar to his father, but more like a friend. As an adult who has experienced a lot of people, I will pass on some lessons to him, but also from him. Learned a lot. We have a great relationship, not just coaches and players, teachers and students."
They "talk about everything", in addition to skiing, they will also talk about future goals, their views on the news, and "talk about girls". Su Yiming treats coaches and even often "pranks".
"He is very naughty. During the Winter Olympics, the weather in Chongli, Hebei was very cold. We lived in two adjacent rooms. He grew up in Jilin and was not afraid of the cold, while I came from Hiroshima in southern Japan. The doors and windows were all open, and it made my room very cold. He smiled happily when he saw that I was freezing."
About the silver medal controversy: "Xiao Ming deserves the gold medal"
Su Yiming lost to Canada's Parrott by 2.26 points in the men's slope obstacle skills final at the Beijing Winter Olympics and won the silver medal. The game was extremely controversial at the time, because Parrott made a mistake in the most crucial jump and was not seen by the referee, and should not have won the highest score of the game. Sato said that the gold medal should indeed belong to Su Yiming, but referee mistakes are common.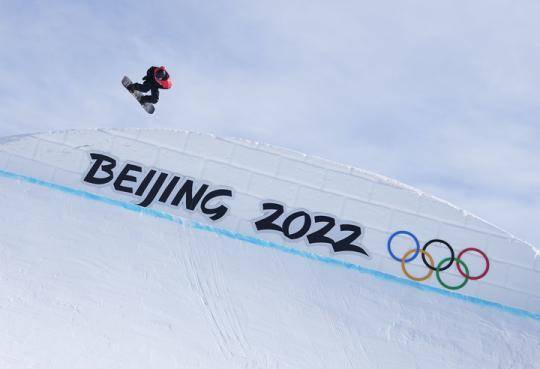 Su Yiming of China competes in the men's slope obstacle course in the snowboard event at the Beijing Winter Olympics on February 7.Photo by Xinhua News Agency reporter Fei Maohua
"The silver medal is also quite remarkable. Of course, if he didn't win the gold medal in the big platform, maybe I will regret it in my heart. I feel that he should have won the gold medal in the slope obstacle course."
"If I was asked if I was dissatisfied with the score given by the referee, I would answer no. Parrott made a mistake and didn't catch the snowboard, the referee didn't see it. But the camera has an angle problem, and the referee has a time limit for scoring, With those factors in mind, we can't blame the referee, there's no way things like this can be done in a game."
"But one thing is certain, if the referee hadn't seen the mistakes of the Canadian players, Xiao Ming should have won the gold medal."
Next goal: "Win the gold medal at the Milan Winter Olympics and make a girlfriend"
Sato now communicates with Su Yiming mainly in English. In training, he sometimes uses some Chinese vocabulary, such as "walk one", "fly straight", "jump early" and so on. Su Yiming also learned some Japanese, but his level is not much higher than Sato's Chinese.
After the outbreak of the new crown epidemic two years ago, the two were unable to meet for a period of time and could only communicate through video. Sato hopes that the epidemic will end as soon as possible, so that Su Yiming can go to Japan to train. Sato's daughter is a fan of Canadian singer Justin Bieber. Bieber will hold a concert in Japan in November. Sato also bought tickets for Su Yiming, hoping to watch it together.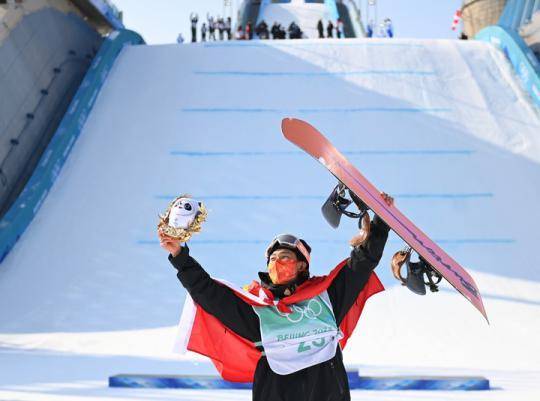 On February 15, Chinese team player Su Yiming celebrates winning the men's snowboard platform jumping championship.Photo by Xinhua News Agency reporter Huang Zongzhi
Daughter Sato Ningyin is 11 years old this year. She has liked snowboarding since she was a child. This time she also came to the snow field with three other team members to train with her father. Sato Ningyin not only likes to watch Su Yiming's games, but is also a fan of his movies. Once Sato took his daughter to China, there happened to be Su Yiming's "Taking Tiger Mountain" in the hotel room. The little girl didn't understand Chinese, but she watched the movie four times in a row.
Sato hopes that Su Yiming can return to the entertainment industry in the future. "When he was 14 years old, I told him that I hope he will continue his acting career after he becomes a world-class skater in the future, because acting is a reward for skateboarding and winter sports, through him We will be very pleased that the impact of winter sports will be made known to more people."
Regarding Su Yiming's next goal, Sato said: "It is of course the gold medal in the slope obstacle course of the Winter Olympics in Milan, Italy. I told him that after winning that gold medal, you can have a girlfriend."
Compared with winning the championship, Sato hopes that Su Yiming can use his influence and popularity to make more contributions to "social development". "It's not limited to snowboarding, and it's not limited to China. I hope he will become an influential person in the world."
"Becoming a bridge of friendship between China and Japan"
The most surprising and touching thing about Yasushiro Sato at the Beijing Winter Olympics was that he walked in the front row of the Chinese delegation when he entered the closing ceremony.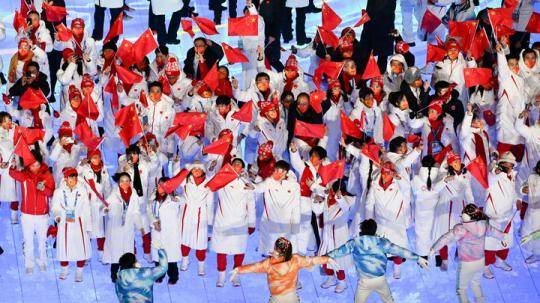 On the evening of February 20, the Chinese delegation entered the venue at the closing ceremony of the Beijing Winter Olympics.Photo by Xinhua News Agency reporter Li He
"As a Japanese, I feel that what I have done has made the Chinese people very happy and happy. In the closing ceremony, only the gold medalists were in the front row, but they said 'Sato is in front' and 'Sato is in front', so they put me In the front row. It doesn't get any more inspiring than that."
Since his first trip to China in 2016, Sato has witnessed the rapid development of winter sports in China. Su Yiming's success has made him more confident in the development of winter sports in China. After returning from Beijing, he shared a photo of his daughter on social media in his China team jersey, and he hopes to remain part of the Chinese delegation at the 2026 Winter Olympics.
"From the day I became the coach of the Chinese team, the leaders of the General Administration of Sports of the People's Republic of China hoped that I could become a bridge of friendship between China and Japan. I feel that this is also one of my goals."Return to Sohu, see more