(Reproduced from The Paper) In the past two weeks, Zhou Guanyu won the F2 championship annual third place, and then participated in the F1 team's post-season testing in Abu Dhabi, and this non-stop rhythm has actually run through his entire season…
Until the 21st, Zhou Guanyu, who had not returned to the UK, finally had the opportunity to be interviewed by the domestic media. Although the road ahead is full of thorns and unknowns, the 22-year-old said that he is ready to meet all difficulties in order to dream.
"There are no holidays this year. I return to the UK to make some adjustments. In mid-January, I will prepare for the new season with the team. It requires a lot of running-in and communication, such as training on simulators and participating in winter tests. The tasks are very full. , There is no plan to return to China (for the Spring Festival)…"
Zhou Guanyu's tone is as calm as ever. He has learned a lot when he left his hometown since he was 16 years old. "With more experience, you will become mature. This road will not be smooth sailing. It can be said that I am improving every year. It is the accumulation of all the hard work of the past few years that I am where I am today."
Zhou Guanyu has reason to be proud of who he is today-in November, he signed with the Alfa Romeo team and became the first official F1 driver in Chinese history. He will compete in the F1 Grand Prix next year.
"I never thought three years ago that I would be so close to F1. Even a year ago, I still felt that I was so close and so far away from F1. If you told me in January 2021 that you would enter F1 this year , I definitely can't think of…"
The Alfa Romeo team recognized Zhou Guanyu very much.
Everything follows the arrangement of the team
After Zhou Guanyu became an official F1 driver, his first task was to conduct post-season testing in Abu Dhabi.
In the youth driver test last Tuesday, Zhou Guanyu drove the Alfa Romeo ORLEN team and the Shinco world champion Verstappen on the same field. Despite frequent accidents throughout the day, he steadily completed a total of 119 laps of test mileage and made his personal fastest lap ranked fifth in the overall results list.
This performance made Alfa Romeo's senior executives quite satisfied, and Zhou Guanyu's retest test was also very rewarding.
"The first day of the test is mainly to let you feel the F1 car. At that time, I was driving an old model a few years ago. The second day was a tire test, mainly for the new season next year. The difference is from C1 to C5. To test the softness…"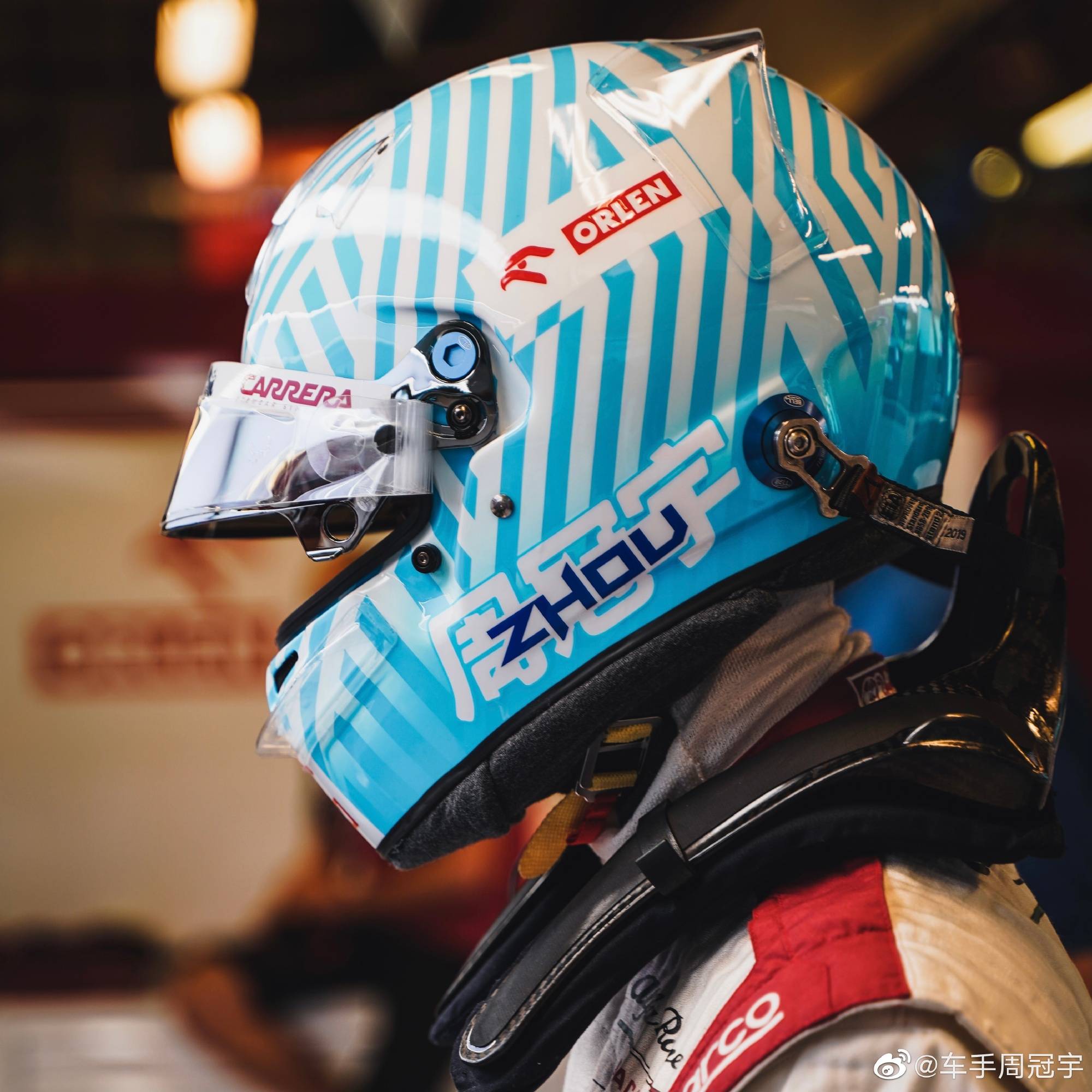 Zhou Guanyu has a very clear division of work goals. What is more gratifying is that he and his partner, the famous driver Bottas, seem to have some tacit understanding. "He only tested for one day, but the communication between us was very good. It's a completely open conversation, especially since our feelings about the test are almost the same, and the feedback is the same."
According to Zhou Guanyu, when the team is concentrated in mid-January, he and Bottas will have more break-in, and strive to have a satisfactory debut in the 2022 season opener in Bahrain.
Counting it all up, it only took less than three months for Bahrain to stand full and count on March 20. Zhou Guanyu admitted that he must count on scoring seconds. Some media asked him how to balance his career and life. Zhou Guanyu said,"The current career is the most important thing. Everything follows the arrangement of the team. There are no more ideas about other things."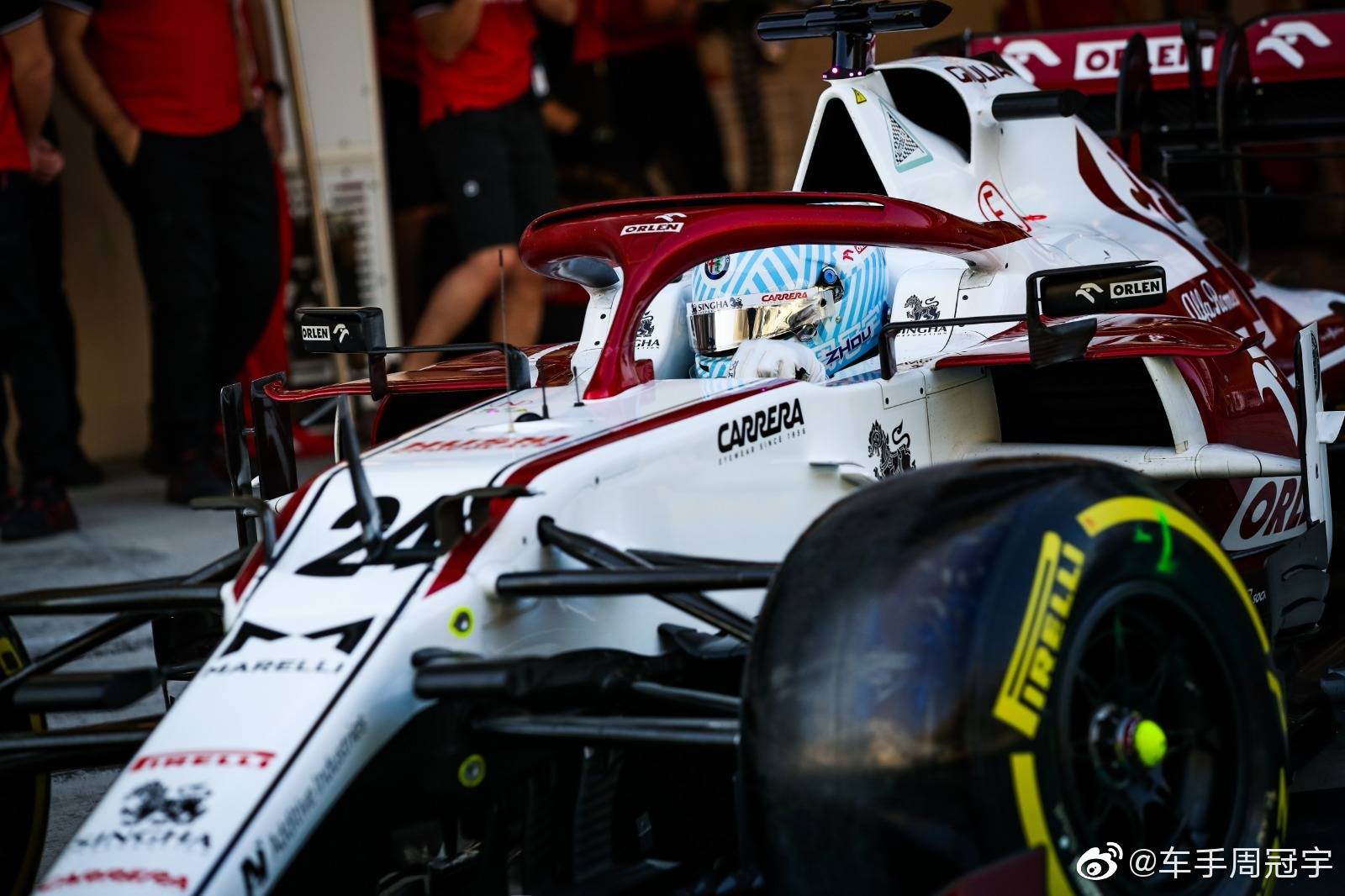 No time to think about the business landscape
Zhou Guanyu didn't think about anything other than work, and he wasn't even so keen on "making money".
After becoming the first official F1 driver in China, in addition to a large number of fans, this young man also attracted the attention of many brands. It is reported that many domestic businesses have come to their door, hoping to reach cooperation with Zhou Guanyu-it is foreseeable that his commercial value will reach the highest point as the new season approaches. So what is Zhou Guanyu's response?
"There will be 23 races in the new season. I have to focus all my energy on the competition. There is no extra time. If I return to China (participate in commercial activities), I will come and go for 3 weeks. This will be too great for me. "
In a few simple words, we outline a portrait of a young man who has exhausted all his dreams. Such Zhou Guanyu is undoubtedly worthy of attention of all car fans and peers.
Of course, Zhou Guanyu, like other young people, also longs for a colorful life. He usually likes many sports such as basketball, football and badminton. In his spare time, he likes to listen to hip-hop music. Other hobbies make way for racing, and he himself smiled and said: "It's been a long time since I had an appointment with friends."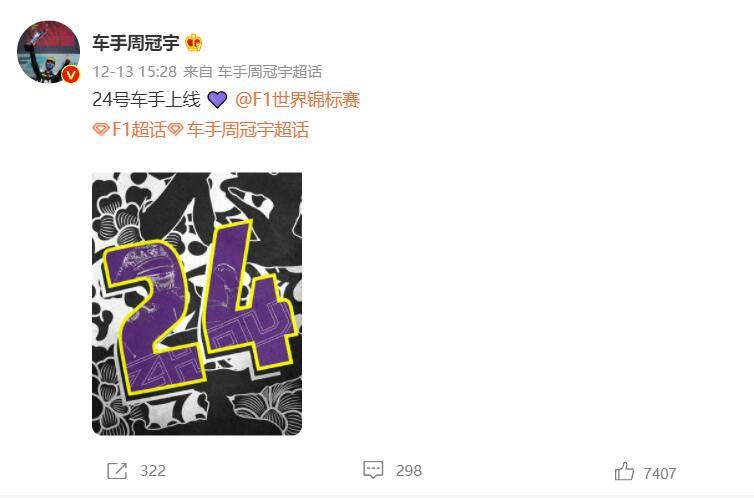 Zhou Guanyu's idol is Kobe.
The power of number 24
In the new season, Zhou Guanyu chose the No. 24 car number. He said before that it was to pay tribute to his idol Kobe, and next week, Zhou Guanyu told us some little-known stories about the "No. 24".
"My previous career has always been associated with 3. There is a 3 in the car numbers I choose to run in different levels of competitions. My personal favorite is No. 33. Along the way, I feel that the number 3 can give me some strength. , But this number belongs to Verstappen in F1 and I cannot choose the number 33. My personal wish has always been the number 24."
"Maybe you don't remember it. The time I won the championship in F1 e-sports opener, I used the number 24."
It is conceivable that in the next few months, Zhou Guanyu will go all out. He will compete with his old acquaintances Ma Zeping and Kakuda on the big stage of F1, and he will also meet his own role models, such as Hamilton and Aron. Seeking these champion drivers-this is a kind of glory, but also the ultimate test.
It is difficult for you to predict what kind of attitude Zhou Guanyu will appear in right now, but one thing is certain, this young man from Shanghai, China will make himself the best, as he said,"Every weekend in F1 makes me look forward to it."Return to Sohu to see more
.