AMD Announces 31 CPU Vulnerabilities! AMD recently announced the security vulnerabilities of as many as 31 processors, involving a variety of home Ryzen, Athlon and EPYC products for servers. Fortunately, the latest generation of Ryzen 7000 series is not affected for the time being.
Among the 31 processor security vulnerabilities announced by AMD, the following 3 vulnerabilities affect the Ryzen, Ryzen ThreadRipper and Athlon series of home-grade processors, involving Ryzen 2000 / 3000 / 5000 / 6000 series desktop and mobile versions, ThreadRipper 2000 / 3000 / 5000 series, Athlon 3000 Series Mobile Edition.
【Featured News】Whatsapp Communication Tips for Chinese Zodiac Year of the Rabbit! Gemologists explain fortune!
【Featured News】iPhone 15 has entered the trial production stage! The appearance and specifications of the new machine are finalized!
One is the high-risk level, which exists in the BIOS communication buffer and service authentication, and the attacker can execute arbitrary code in the SMM system management mode.
The second is the medium-risk level, which exists in the ASP security processor, and the attacker can create an integer overflow in the L2 Cache target and launch a DoS denial-of-service attack.
The third is the low-risk level, which exists in TOCTOU and can induce DoS attacks.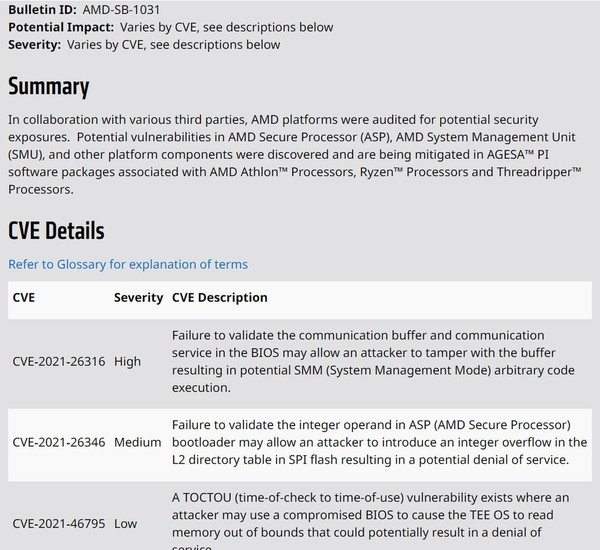 AMD has released AGESA code versions required to fix vulnerabilities for different products, but each motherboard manufacturer still needs to use the new AGESA code to release independent BIOS update files for each motherboard model. You can pay attention to the updates released by each manufacturer. As for the remaining 28 vulnerabilities, they correspond to EPYC, including EPYC 7001 / 7002 / 7003 series.
AMD Processor Security Vulnerability Official Information: For Home Use (Click Here), For Server Use (Click Here)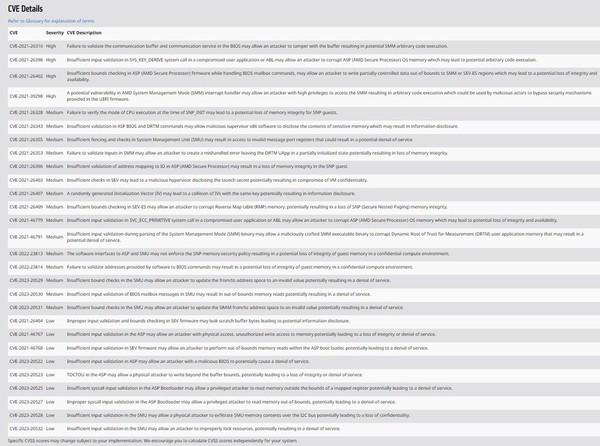 【Related Report】AMD Ryzen 9 7900‧Ryzen 7 7700‧Ryzen 5 7600 Tested! 65W TDP power saving‧Zen 4 new force!
【Related Report】AMD Releases Radeon RX 7900 XTX‧XT! Apply the new architecture of RDNA 3!
Immediately 【Click here】, use the app to watch more product unboxing technology videos
Source:AMD