Recently, the blogger @数码问话站 broke the news, saying that the new Xiaomi Flip folding screen machine has been approved, adopting a vertical inward folding design, and the main feature is "extremely light and thin".
It is worth mentioning that Xiaomi has launched two generations of "MIX Fold" models on the horizontal folding screen to attack the folding screen market. However, the two models are generally rated moderately by the outside world, and the same is true in terms of sales performance. The vertically inwardly folding "Flip" new machine approved this time may be positioned in the same group as Xiaomi's previous "Civi" series targeting trendy young women, and will be divided into specific market segments on the price gradient.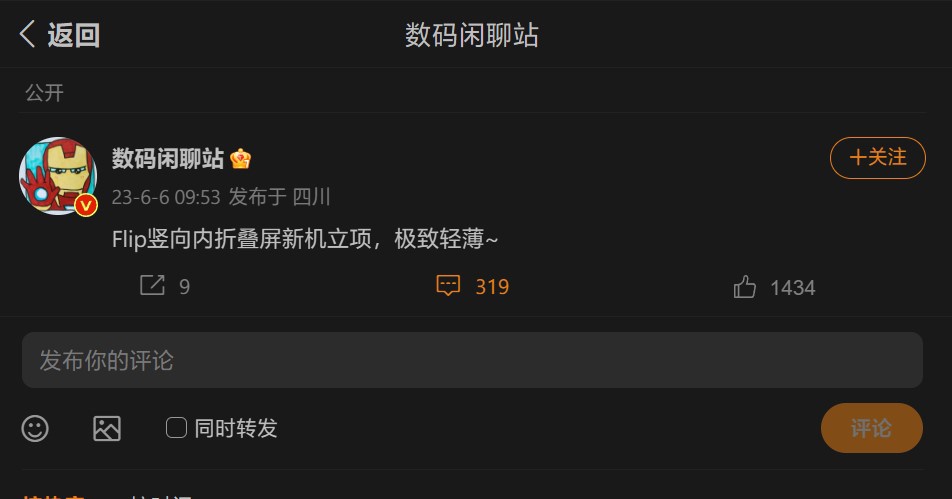 When Lu Weibing, general manager of the Redmi brand, introduced the Xiaomi Civi series, he said that "the Civi series of mobile phones can lead to changes on the track and redefine new trendy mobile phones." Combined with the current vertical folding machines of other manufacturers, which are mostly positioned at female users who consider light and portable, the new Xiaomi Flip folding screen machine is not surprisingly also focused on this market segment.
In terms of price, considering the price positioning of the released Moto Razr 40, Samsung Z Flip 4 and other mobile phones, the price of Xiaomi's vertically inward folding "Flip" is expected to be in the range of 3999 yuan to 5999 yuan (RMB).