The Chinese manufacturer Wanbo has long made a name for itself with small, portable projectors. The portable Wanbo TT impresses with a native full HD resolution, 650 ANSI lumen brightness, HDR10 and Widevine L1 coverage for streamed full HD content. In terms of price (as an import) it is also quite interesting.
Currently you get the small full HD projector with HDR10 support and a brightness of 650 ANSI lumens 279,89€ on Geekbuying.com on offer.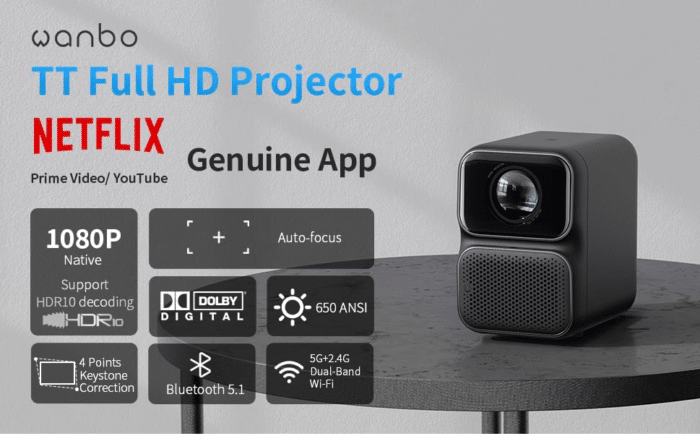 Specifications Wanbo TT
Wanbo TTMore
Technology
DLP, LED 20,000 h lifespan
resolution native
1920 x 1080 Pixel
brightness
650 ANSI Lumens
projection size
40 to 120 inches
autofocus
and
automatic keystone correction
and
processor
MTK9266 Quad-Core, 1 GB RAM / 8 GB Speicher
connectivity
Bluetooth 5.1, Dual-Band WLAN, HDMI, USB, 3,5mm Klinke
Audio
360Dolby Atmos, 2x 5 Watt Lautsprecher
3D
no
App Store
yes, over 200 apps
Features

Netflix certified
Widewine DRM L1
HDR10 Support

Dimension/ Weight
17 x 12 x 17,5 cm, 1,67 kg
consumption
120 Watt (19 V / 6,31 A)
The Audi among the projectors?
Ok, of course I couldn't get my head around that little play on words. Of course, Wanbo has nothing to do with Audi and the TT offshoot. But the reasonably small model of a projector is technically impressive. On the one hand, it is of course handy and small so that it can also be transported in hand luggage. With 17 x 12 x 17,5 cm and good 1,67 kg it's definitely okay.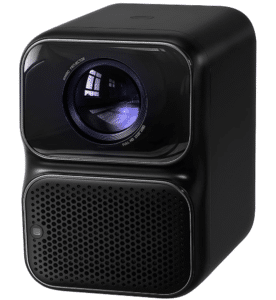 Optically one remains true to the designs of the past Wanbo projectors: connections on the Back side, power button on the top and on the Front of course the speaker opening as well as above it the round porthole with the lenses and the one behind projection technique.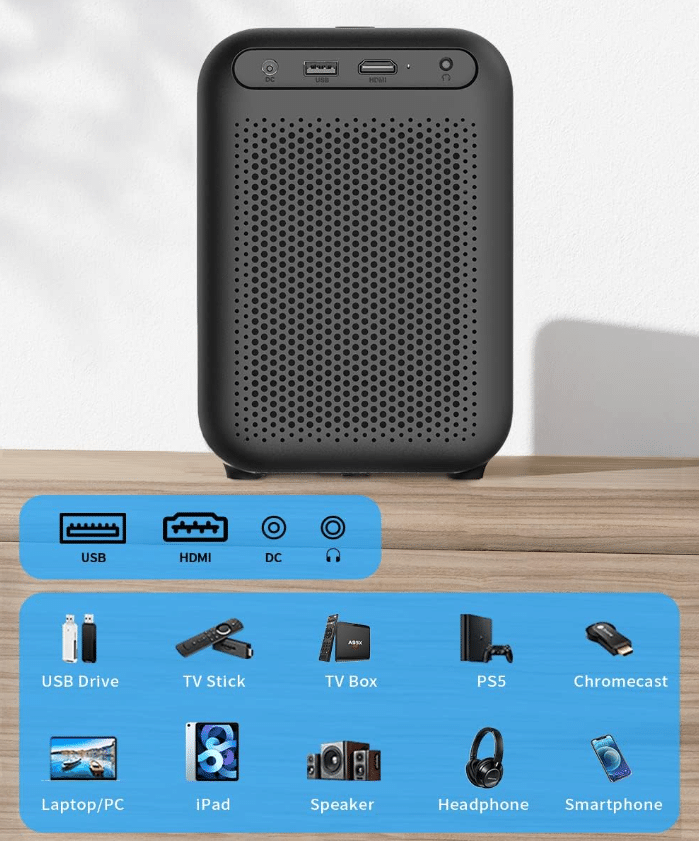 If we're already talking about technology, then of course that has to be LED bulbs be mentioned, one thing brightness von 650 ANSI Lumens spits out. What does ANSI lumen actually mean? ANSI lumen is the brightness measured on the screen, i.e. the brightness that remains after it has been emitted from the projector and is responsible for the overall brightness of the image.
The device itself is measured in LUMEN, but no information is available here. Nor how high the contrast ratio is. Here, however, one can assume standard values ​​of 1000:1. The color space coverage is also included 98% NTSC. Other color spaces are not specified. Of course, you shouldn't expect 100% correctly covered color spaces based on this value.
Full HD resolution
Unlike most small portable projectors, the Wanbo TT also uses one native Full-HD representation with 1920 x 1080 pixel resolution. So you can HDMI Input everything currently enjoy a full HD, even modern consoles or simple Blu-ray players.
Die image diagonal, which can be reached with the smallest distance is included 40 inchesthe largest diagonal at full 120 inches. In order to use the full potential, the rooms should also be completely dark so that no light rays from windows or other light sources can influence the projected image.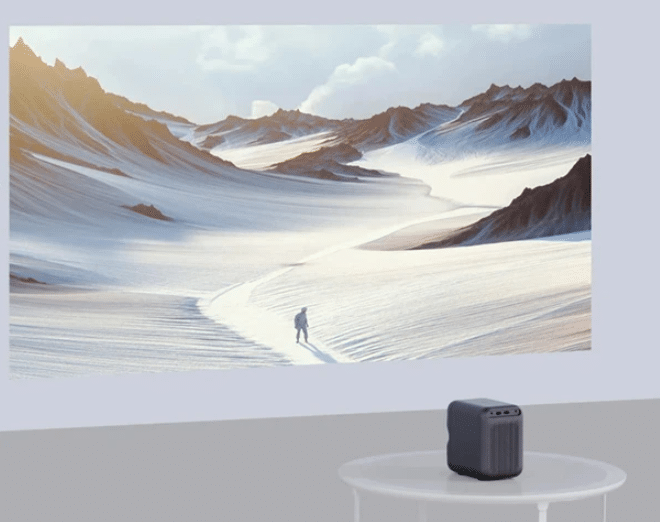 You don't have to do a lot to align the picture yourself, because a autofocus as well as one automatic keystone correction were integrated. In other words, place the projector in front of the screen/wall and the projector does the rest by itself. Even positioning it at an angle should work. If the autofocus doesn't sit quite correctly, it can also be adjusted by remote control speak to.
Of course, what is really exciting is the image quality in the first place. Here we can speak from experience that Wanbo has always delivered cleanly. Our test device has already arrived, so there will of course be more information about it sooner or later.
App Store and Widewine L1
The Wanbo TT has a Netflix certification to play it directly from the projector without additional playback devices in full HD. You can probably find around 200 apps in the App Store and install them later if necessary. For licensing reasons, Amazon cannot be played back directly from the projector, but must be fed in via a player. it seems to be its own operating system, Android TV is not mentioned anywhere.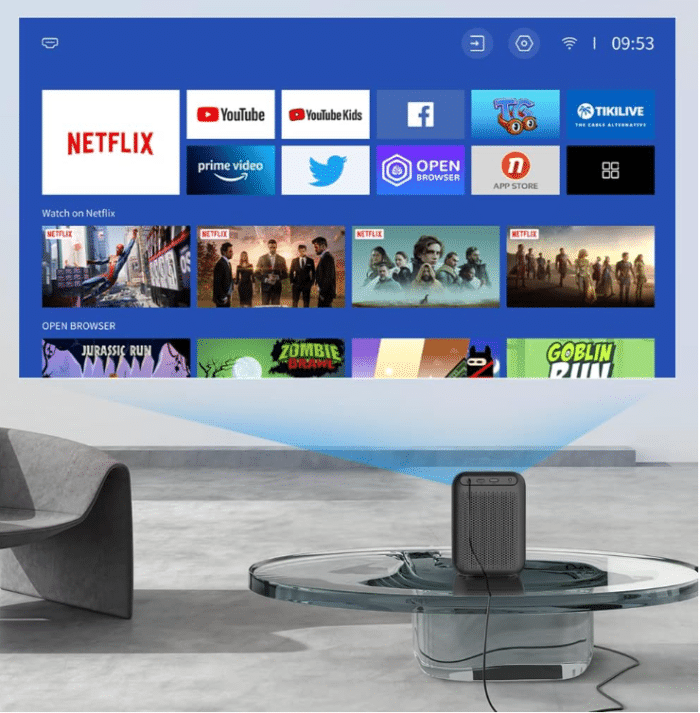 The Reflect von content on the smartphone will be part Android devices supported, Apple users need on one wired Lightning to HDMI connection To fall back on.
Operation is via a Power adapter. The projector did not have an integrated battery, this is due to the consumption in the operation of gut 120 Watt. A battery can do this on a compact level, if only for a short time.
Dolby Atmos speakers
Die two built-in speakers afford is 5 Watt and are intended to be an immersive 360° Audio can create. Ok, that's of course an exaggeration and a Dolby Atmos logo on the packaging is far from doing what Dolby Atmos really can.
Of course, two speakers cannot replace a real Dolby Atmos speaker setup with 5.1.2 or more speakers. Nevertheless, the two built-in speakers should fulfill their target and achieve a pleasant playback when watching films and series.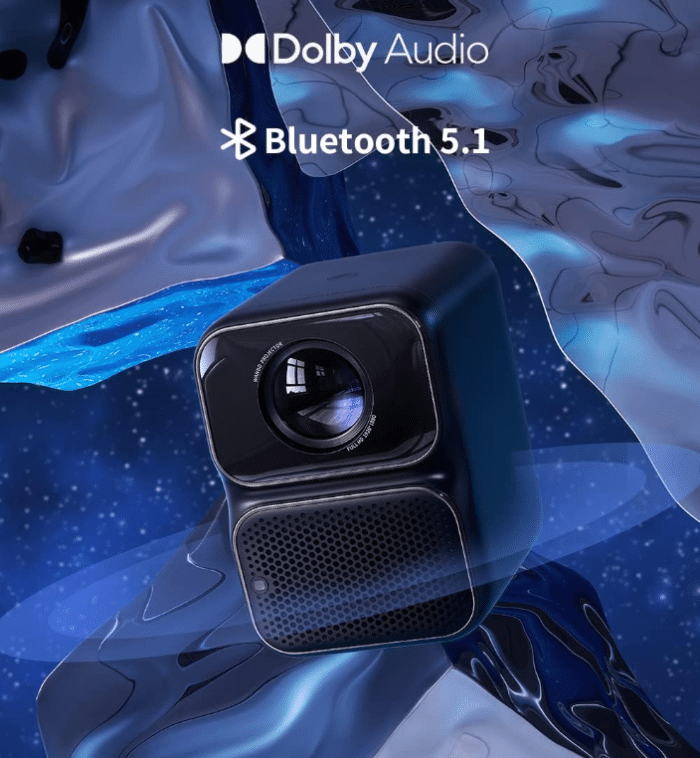 Conclusion / assessment: Buy Wanbo TT?
Anyone who knows Wanbo will probably be able to guess our intention. Of course there are much cheaper Wanbo projectors, and I don't think there are any third-party providers. But those who value resolution and a slightly higher brightness (for a portable projector) will like the Wanbo TT.
Likewise, connectivity and connection options and features such as HDR10 playback and Widewine Level 1 should not be ignored. Basically, the projector offers what you could need in such a small format. What cannot be played internally can be fed in via the HDMI port.
However, the manufacturer does not rely on Android TV, but rather its own interface with its own store connection. You may not find all apps and streaming providers.
What do you think of such portable and small projectors? Do you have an insider tip that we don't have on the screen yet?