WhatsApp double-panel interface exposed! The functions and interface of WhatsApp are continuously enhanced. In addition to supporting smartphone platforms, WhatsApp has also begun to support tablet platforms. Recently, a new WhatsApp interface designed for tablets has also leaked out.
Immediately 【Click here】, use the app to watch more product unboxing technology videos
According to the news from WABetaInfo, in WhatsApp beta for Android 2.23.5.9, a new user interface designed for tablets was found. The interface is a double-panel design, divided into left and right sides, similar to the WhatsApp web version. Select "Community", "Chat", "Status" and "Calls", and the relevant conversation content will be displayed on the right after clicking. Compared with the traditional mobile phone version, this double-panel design can make use of the large-area screen of the tablet, which is convenient for users to switch between different functions and dialogue interfaces.
【Featured News】【ChatGPT Hot】ChatGPT Jailbreak Teaching! Turn on the DAN mode‧Liberate the moral framework of AI!
[Featured News]Sony PS5 Pro release date revealed! Announce the game masterpiece at the same time!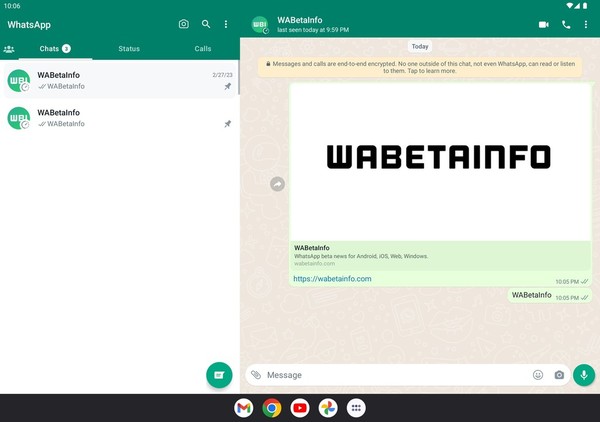 [Related Report]WhatsApp Mobile Adds Sticker Creation Tool! Self-made stickers are super convenient!
【Related Report】WhatsApp Pushes "Retain Messages" Feature! Prevent automatic deletion of important messages!
Source: WABetaInfo