At present, when users use WhatsApp to send photos, the photos will be compressed by the system first. Although this processing method can reduce the consumption of mobile data and shorten the time of sending and receiving, the disadvantage is that the photos will be distorted. In order to make the photos sent have a better effect, some users have changed to send them in the form of files, but the file size is relatively large. WhatsApp seems to be planning to launch a solution that has the best of both worlds.
Optional standard or HD transmission
The website WABetaInfo found that in the recently launched iOS 23.11.0.76 and Android 2.23.12.13 Beta versions, WhatsApp has added a new HD photo option. After users click, they can get higher quality when sending photos, and the photos will also appear on the recipient's screen. HD is displayed. Under the new function, WhatsApp allows users to choose to send photos in standard or HD high-definition mode. From the screenshots, it can be seen that the highest resolution of the former is 1,600, and the latter is 4,096. While not telling the truth, the high-definition options are much better than today's photo quality.
The original file transfer depends on the old method
WABetaInfo said that there are not many Beta users who have obtained this function, and HD transmission cannot be used as a default, and users need to manually select each time before sending photos. Just like the features that appeared in Beta in the past, it is currently uncertain whether WhatsApp will officially provide them, nor is it sure when they will actually be launched.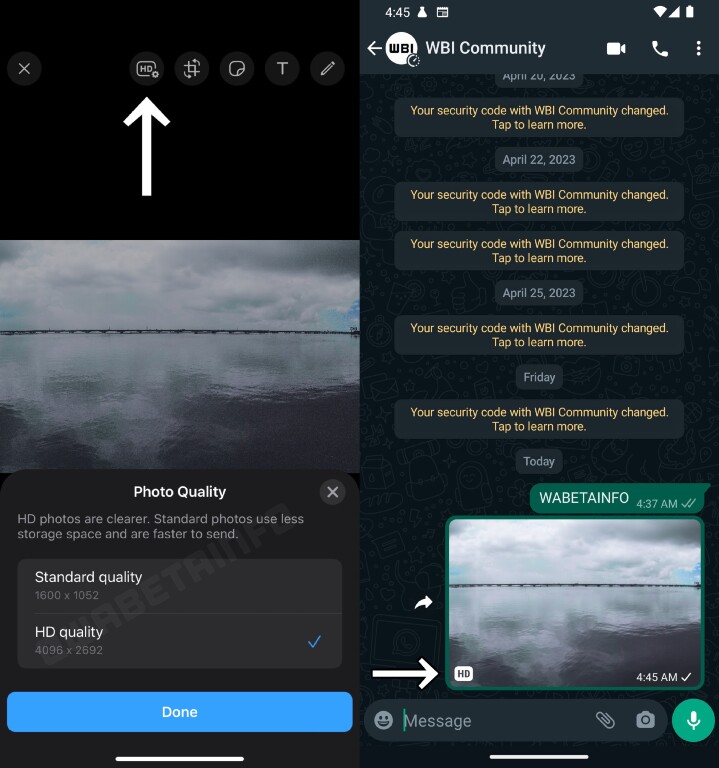 Source: wabetainfo