Original title: Biden's "savior" was left behind by the U.S. Army and evacuated after hiding everywhere
(Observer News) "Hello, Mr. President, save me and my family. Don't forget that I am here."
The Afghan interpreter who had rescued Biden 13 years ago was turned away by the U.S. military when he evacuated. In desperation, he could only ask Biden for help. According to the "Wall Street Journal" report on the 11th, recently, the interpreter and his family finally left Afghanistan.
Aman Khalili is an Afghan interpreter who was hired as a translator in 2001 to work for the US Army. In 2008, he also participated in an operation to rescue Biden.
In 2008, when Biden, then a Delaware senator, visited Afghanistan, he was forced to land in a remote mountainous area because of a sudden snowstorm.
At that time, Biden and his party were at risk of being attacked by the Taliban. Cali joined a small military rapid response force and drove them from Bagram Air Base to the mountain to rescue them.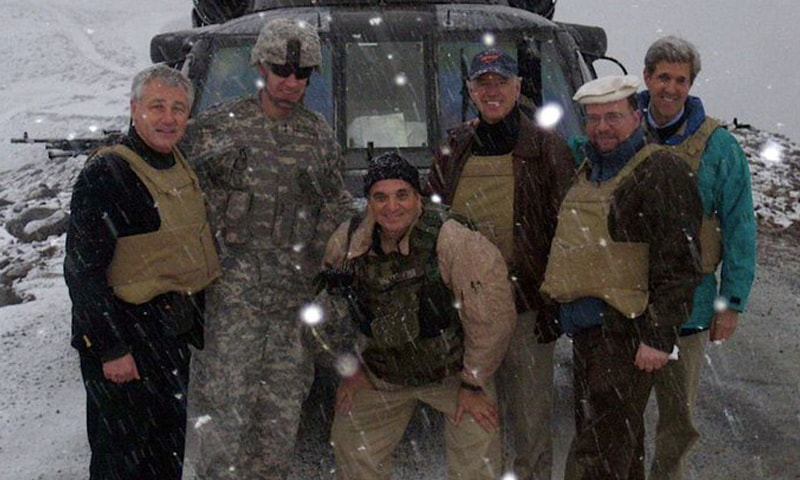 On February 21, 2008, Biden's helicopter was hit by a blizzard and made an emergency landing in Afghanistan.
Picture from The Wall Street Journal
Although it is Biden's "savior",But in 2016, Cali was rejected when he applied for a special immigrant visa to the United States.After the Taliban took over Kabul in 2021, Kali also wanted to evacuate his family.But he was turned away by American soldiers at the gate of Kabul Airport. The American soldiers told him that he could go in, but his family could not.
At the end of August, the United States ended its withdrawal from Afghanistan, and Kali and his family were also "fallen" in Afghanistan. In desperation, Kali chose to ask Biden for help.
  "Hello, Mr. President, save me and my family." He shouted to Biden through the media, "Don't forget that I am here."
On August 31, the Wall Street Journal reported on Kali's story, which quickly gained widespread attention. White House Press Secretary Jane Psaki responded: "We will save you. We will respect your service. We are committed to doing this."
Various organizations, represented by veterans, have begun assistance operations, but have gained little. The rescue plan was proposed and then cancelled. Hope is dashed every day. Neither Kali's wife nor four of his children have an Afghan passport, so they lack the conditions to leave the country.
There is news that the Taliban are looking for people like him to cooperate with the United States in various parts of Kabul, and Kali can only choose to hide around.
With the passage of time, hope has become increasingly diminished. In the end, Kali chose to take the risk and decided to start by land, through Afghanistan, and withdraw from Pakistan.
On October 3, Kali and his family set off from Afghanistan, drove two days to the southern border with Pakistan, and crossed the border into Pakistan.
"I'm crying." He sent a message on the road, "I don't know how to get home. It's too dangerous for me and my family."
After successfully evacuating to Pakistan, he said: "After 144 hours of driving day and night and passing so many checkpoints, my family is very scared, but now I feel in heaven."
It is reported that,Kali and his family have now left Pakistan, but US officials would not disclose their specific whereabouts. They responded, "I don't want to talk about his next whereabouts, but we are already working hard to make arrangements."
However, not everyone had Kali's luck. After the evacuation, there were still a large number of interpreters stranded in Afghanistan. Some veterans who participated in the Kali rescue operation said that the Biden administration has not done enough to help Afghan translators, and countless others are still seeking help from the United States. Currently, more than 75,000 Afghans are still trapped and are seeking assistance.
"People have seen a compelling story. They believe that we can do something special so that everyone can quickly get rid of harm. In fact, compared with individual actions, what we can do as a government There are limitations." A senior official in the Biden administration said.
"I have been betrayed, we have been abandoned." According to a report by the BBC on September 21, an Afghan interpreter who failed to evacuate was forced to live separately from his family to avoid injuring his family. He said angrily: "We are clearly worthy of resettlement."
.