June 04, 2023 12:48:03
Source: Leading News·Heilongjiang Daily
Author: Ma Yimei Li Jian
There is such a group of people who stick to the Dazhan River Wetland, the "Hometown of Hooded Cranes" day after day and year after year. Under difficult conditions, they silently guarded the hooded cranes without complaint or regret, allowing the population of hooded cranes to grow from a dozen to more than 160, effectively maintaining the diversity of wetland species and making great contributions to the protection of the ecological environment.
The leader of this group of people is Gu Yanchang, a model worker in the national forestry and grassland system and head of the scientific research department of the Dazhanhe Wetland National Nature Reserve Administration. In the past 20 years, together with wetland protection workers, he has carried out visits and surveys of more than a thousand people, recorded more than 1,000 cranes, obtained the whole hatching data of Hooded Crane and White-naped Crane, and sorted out photos and videos of rare wild animals5 More than ten thousand copies.
Gu Yanchang's team has successively won the honorary titles of the most beautiful ecological public welfare figure (enterprise) and the advanced unit of national bird banding. He himself has been honored as an outstanding Communist Party member, an advanced worker, and the top ten people who moved the forestry industry. In 2023, he was named a model worker in the national forestry and grassland system.
Feeding Hooded Cranes
indissoluble bond
Protecting wild animals is the original intention that Gu Yanchang has always adhered to. When he was a teacher of Linchang Primary School, he called on the students to love animals and protect nature. By chance, Gu Yanchang met Professor Guo Yumin who came to Zhanhe to look for Hooded Cranes. When he learned that Hooded Cranes had become an endangered species, Gu Yanchang made up his mind to protect them.
In 2005, the Dazhanhe Wetland Nature Reserve Administration was established. Gu Yanchang resolutely decided to leave his familiar position and apply to join the Wetland Research Center. The new work is extremely difficult. More than half a year of the year needs to live in the monitoring station deep in the mountains. In the early spring, the snow is on the feet, and the late autumn is drinking the frost. It also has to face the severe cold and heat, mosquito bites and other difficulties.
But Gu Yanchang was not afraid at all, shuttled back and forth between the vast forest and the endless swamp, measuring the land with his feet, patrolling and monitoring continuously.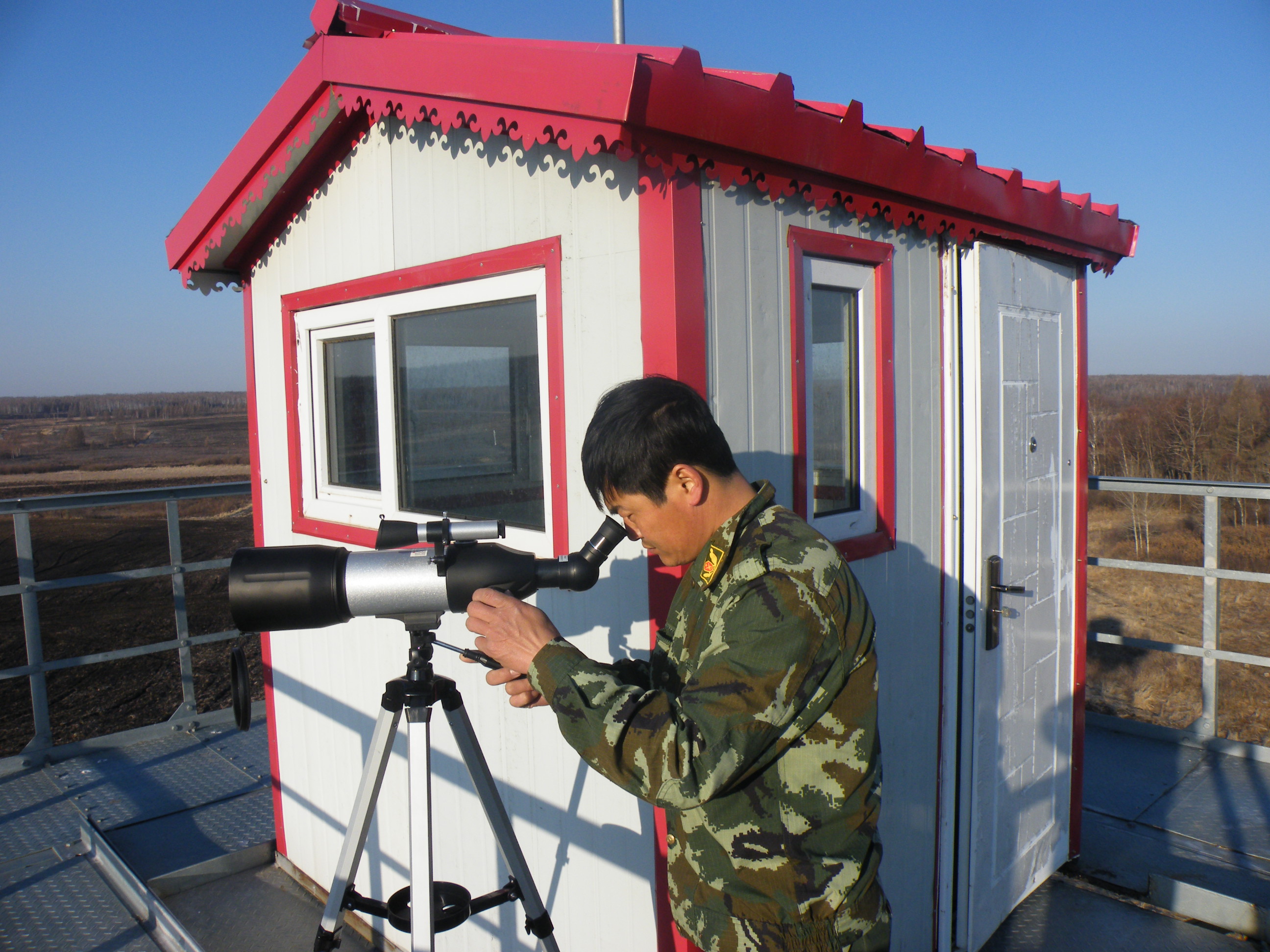 field monitoring
Travel all over the green hills
For Gu Yanchang, the most difficult thing is to monitor and record the living habits of Hooded Cranes. Hooded cranes are extremely vigilant, and once their nesting grounds are disturbed, they will abandon their nests and move away, never to return. The staff can only set up tents in the dense forest very close to the hooded crane, bring enough dry food and water for a week, set up video cameras and cameras, and closely observe and monitor every move of the hooded crane. Sometimes in order to capture a wonderful moment of Hooded Cranes, it is necessary to hide in a wet and cold environment for a long time without making a sound.
In one mission, Gu Yanchang and his colleagues have been crawling next to the breeding nest of Hooded Cranes for 7 consecutive days. But at this time, a completely mad black bear was less than 5 meters away from them. This distance is within a blink of an eye for a black bear. "During the more than 20 minutes of confrontation with the black bear, I thought of a pair of children who hadn't seen each other for several months, a wife who shouldered the burden of the family alone, and parents who were frail and sick and far away from other places…" Gu Yanchang recalled that if the black bear rushed over at that time, the consequences would be Unbelievable, fortunately escaped unharmed.
Dangers like this exist everywhere in forest wetlands, not only the threat of ferocious beasts, but also swamps are deadly. When crossing the swamp one summer, his colleague Xiao Dong who was walking ahead suddenly sank into it. "At that time, the rust-colored water of the swamp quickly covered his body, and he was 1.8 meters tall with only his head exposed." Gu Yanchang recalled that at that moment, he quickly threw the rope he carried with him to Xiao Dong , and tied the other end to his body, dragging Xiao Dong out like a ox plowing the field.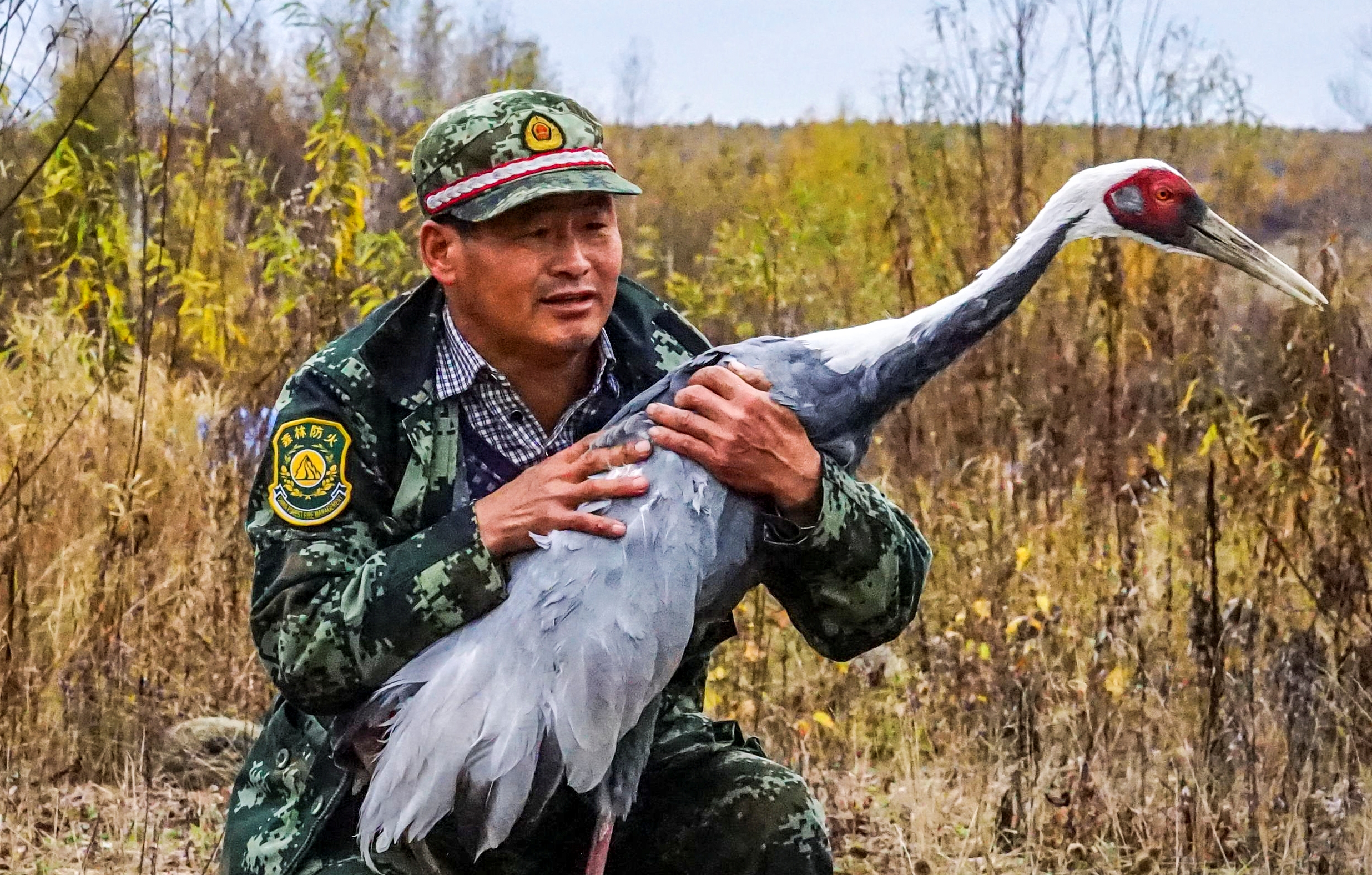 Hooded Cranes are always Gu Yanchang's concern
Unswerving
Gu Yanchang dedicated his best youth to this forest wetland and to his beloved wildlife protection cause.
In the autumn of 2007, a young Hooded Crane broke its wings during migration and lost its ability to fly forever. Gu Yanchang treated it immediately and gave it a lovely name "Tianyi". Since then, the Usmeng Wildlife Protection Station has had a new member. Everyone likes it very much, and sometimes "Tianyi" will snuggle up to Gu Yanchang intimately, until 2022, "Tianyi" was infected with a virus at the broken wing, and finally came to the end of his life. During the 15 years that "Tianyi" has been at the protection station, Gu Yanchang has been by his side carefully.
One day in 2013, a forest fire broke out in Usmeng Forest Farm, and an abandoned crane nest was found near the fire. After Gu Yanchang brought back the crane eggs, he tried to incubate them artificially. Because of his inexperience, Gu Yanchang checked every hour. After more than a week of hatching, the two young cranes hatched. After growing in the monitoring station for a period of time, the two young cranes were successfully released.
In the past 20 years, Gu Yanchang led his team to monitor 36 Hooded Crane breeding nests and 14 White-naped Crane breeding nests, rescued and banded 8 Hooded Cranes and 6 White-naped Cranes, and banded to track 8 wild cranes, of which 5 It has only been detected in Korea and Japan, the wintering places. As a result, detailed information on the living habits, migration rules, reproduction, rescue, and feeding of hooded cranes has been obtained, which has improved the scientific research content and filled the gaps in crane research… Gu Yanchang said that protecting hooded cranes is a contribution to ecological construction. his contribution.