Original title: Putin self-isolated after contacting infected people, and the number of new cases globally dropped sharply last week | International Epidemic Observation (September 15)
Image source: Visual China
(This article is continuously being updated. The time shown at the beginning of the paragraph is the update time of this article.)
worldwide
0800[The total number of confirmed cases worldwide exceeds 225 million]
According to the epidemic tracking data of Johns Hopkins University, as of 8 am on September 15th, Beijing time, a total of 225,725,790 cases of new coronary pneumonia have been confirmed worldwide, and a total of 4,647,639 deaths have been reported.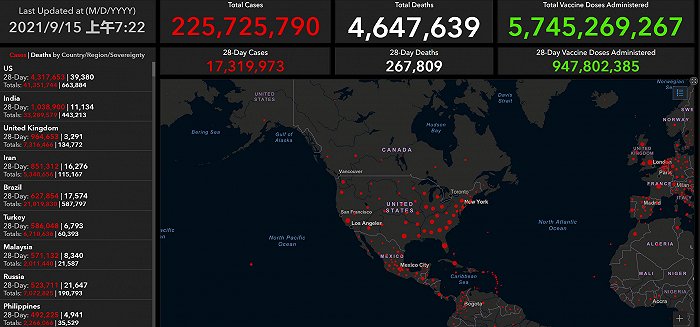 0836[WHO:ThenumberofnewcasesofCOVID-19globallydroppedsharplylastweekwiththeUnitedStatesBritainIndiaIraqandTurkeyreportingthemostcases]
Last week, there were nearly 4 million new cases of new coronary pneumonia worldwide, a decrease of 13% from the previous week. It was the first time in more than two months that the number of new cases in a single week in the world fell sharply, and new cases in all regions fell. The number of new deaths exceeded 62,000, and there has been a decline, with the largest decrease in new deaths in Southeast Asia. The five countries that reported the most cases last week were the United States, the United Kingdom, India, Iran and Turkey.
Kitami
0800[ThenumberofdeathsfromthenewcrownintheUnitedStatesmayexceedthenumberofthe1918fluintwoweeks]
About 675,000 Americans died in the 1918 flu. According to data from Johns Hopkins University, so far, 662,000 Americans have died of new coronary pneumonia.On average, more than 1,000 Americans still die from the new coronavirus every day.
Europe
0800[United Kingdom: If the epidemic causes unsustainable pressure, England will implement "Plan B" in winter]
British Health Secretary Javid said,As part of the "Plan B" response to the new crown pandemic, mandatory masks, vaccine certificates and work-from-home orders may resume this winter.The British government also announced that from next week, it will provide about 30 million people with a "booster shot" of the new crown vaccine, that is, the third dose of vaccine.
0800[Putin will self-quarantine due to contact with patients infected with the new coronavirus]
Putin said that many of his entourages were diagnosed with the new crown a few days ago, and one of them had direct contact with him. Putin said: "This person's antibody titers have dropped, and it took him too long to revaccinate. I have been talking to him all day, and I have been very close to him all day."
The Kremlin Information Bureau announced that because Russian President Putin must self-isolate, he will participate in the Summit of the Collective Security Organization and the Shanghai Cooperation Organization in the form of a video conference.
Asia
0800[Japan reported 6227 new confirmed cases of new coronary pneumonia, an increase of 2106 from the previous day, including 1004 new cases in Tokyo]
0800[Israel newly diagnosed more than 10,000 cases, health officials: the trend of declining infection rate has stalled]
In the past 24 hours, there were 10,556 new confirmed cases of new coronary pneumonia in the country, an increase of nearly 3,000 from the previous day; 690 severe cases, a decrease of 20 from the same period last week.The positive rate of the new coronavirus test rose to 5.9%, compared with 5.24% the day before. The virus infection coefficient is still 1.01.
Africa
0800[Tedros: More than 5.7 billion doses of new crown vaccine have been vaccinated worldwide, of which only 2% were vaccinated in Africa]
The WHO hopes that all countries in the world will be able to vaccinate at least 40% of the population before the end of this year. However, only two African countries have achieved this goal, the lowest among all regions.
.