It is also a jubilee year for the St. Petersburg International Economic Forum, in its 25th edition, and Vladimir Putin's speech scheduled for Friday 17 June will be "of extraordinary importance", warns spokesman Dmitrij Peskov. But this is a Forum marked by the war in Ukraine, by sanctions and by the isolation of the economy: on Wednesday it was inaugurated with two cannon volleys, fired from the ramparts of the Peter and Paul Fortress by governor Aleksandr Beglov and by Denis Pushilin, head of the self-proclaimed republic of Donetsk.
As usual, Putin will not meet the great foreign managers, absent not only in Petersburg but now fleeing the Russian market with their investments. Among the guests, BBC Russia jokes, in place of Merkel and Xi Jinping there will be the Taliban and the separatist leaders of Donetsk. In this 2022, Peskov admits, "a perfect systemic storm" is celebrated.
But it is a storm for which – in the Kremlin's interpretation – Russia has no responsibility. Putin, his spokesman anticipated in an interview with Tass, will talk about the repercussions of anti-virus sanctions on the increase in world energy and food prices: "The economy has become a hostage of politics – says Peskov – and during the Covid crisis, politicians in many countries have made an enormous amount of mistakes. Today the world pays the consequences. Errors that were then aggravated by the economic war declared on Russia. Russia is too big a country for a war against her not to turn into a boomerang ».
Peter's closed window
Since 1997, St. Petersburg has hosted a Forum created as a sign of openness to the world during its white nights. But this year, in which Russia also celebrated the 350th anniversary of the birth of Peter the Great, of the Tsar who with Petersburg wanted to open a window to Europe, we preferred to remember rather the work of expansion and strengthening of the empire. .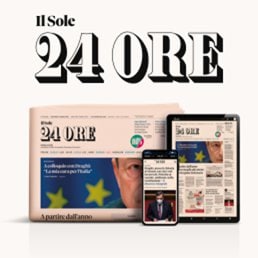 The "Russian Davos" is very far from its roots: "The sanctions will remain for a long time – noted in recent days on the RBK news site Andrej Kostin, CEO of VTB, one of the most important Russian banks -. Globalization, as it has been until now, is over. The world will once again be rigidly divided into "us" and "them". This is Cold War 2.0 ».