[EpochTimesOctober092021]Liu Lixin, the new director of the Taipei Scripture Office in Vancouver, and his wife, hosted the celebration of the Republic of China at 4:30 pm on Friday, October 8th at the Vancouver Convention Centre ( Taiwan) The 110th National Day Cocktail Party, this is the first event hosted by Director Liu after arriving in Wenzhou. Dozens of officials from Canada's three levels of government, a number of consul-generals and honorary consuls in Vancouver, and 300 guests including political, business, overseas Chinese, distinguished guests from academia and the media attended the event.
Canadian Senator Yuen Pau Woo, Representatives Hedy Fry, Randeep Sarai, Ed Fast, Michael Cooper, Tako Van Popta, Brad Vis, Jenny Kwan, BC Ministry of Energy, Mining and Low-Carbon Innovation Technology Minister Bruce Ralston, Minister of Tertiary Education, Technology and Training Anne Kang, Minister of Child Care Ministry Katrina Chen, Minister of Infrastructure Construction Bowinn Ma, Provincial Councillor Janet Routledge, Kelly Greene, Henry Yao, Vancouver Mayor Kennedy Stewart, Burnaby Mayor Mike Hurley, Richmond Mayor Malcolm Brodie, Langley Mayor Jack Froese, Cumberland Acting Mayor Sean Sullivan, The Acting Mayor Hunter Madsen of Port Moody, several city councillors, several consul generals and honorary consuls in Vancouver, Canadian and Western political, business, overseas Chinese, distinguished guests from academia and media, etc., gathered in person to congratulate the scene.
Canadian three-level politicians gave a speech thanking Taiwan for donating Canadian anti-epidemic masks in the early stage of the COVID-19 epidemic, emphasizing that Taiwan and Canada share the diverse values ​​of freedom and democracy, supporting Taiwan's entry into international organizations, and unanimously affirming that Taiwanese overseas Chinese play an important role as a cultural bridge in Canadian society. Seven Canadian three-level dignitaries, including Joyce Murray, who could not be present on the day, also recorded a video to congratulate.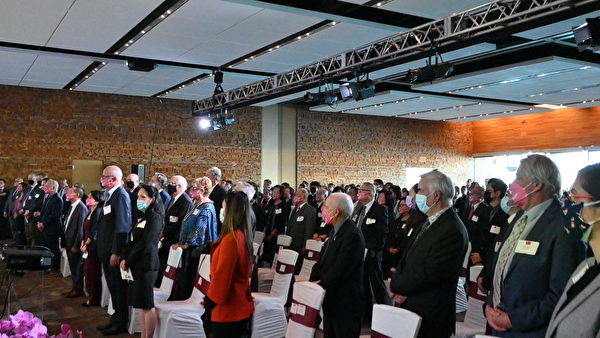 Director Liu first expressed his gratitude to the 74 cross-party senators and congressmen of Canada for joining the "Formosa Club", demonstrating the firm support and affirmation of the transatlantic partners for Taiwan's democracy. Director Liu continued to express his gratification to the release of the two Michaels in Canada and his deep sympathy for their unfair detention in China. Taiwan feels the same for Canada, because Taiwan and Canada are also suffering from China's trade retaliation, and Chinese military aircraft frequently harass Taiwan. So far in 2021, more than 600 sorties have harassed Taiwan's airspace, seriously threatening regional peace.
Nevertheless, Taiwan is actively participating in international affairs and contributing its own strength. Taiwan's effective control of the COVID-19 epidemic has attracted the attention of the global media and actively assisted countries in fighting the epidemic. The international community deeply recognizes the urgency and legitimacy of Taiwan's participation in the World Health Organization (WHO). The "seven major industrial groups" (G7) including Canada clearly support Taiwan's meaningful participation in the WHO and the World Health Assembly (WHA) for the first time. The volume of international soundtracks hit a new peak.
Director Liu continued that President Tsai Ing-wen was awarded the "Halifax International Security Forum" (Halifax International Security Forum, HFX) "John McCain Prize for Leadership in Public Service" (John McCain Prize for Leadership in Public Service) in May this year, HFX Next year, it will move to Asia for the first time to hold a large-scale seminar in Taipei, highlighting the fact that Taiwan is the most active democracy in Asia.
Taiwan and Canada continued to deepen economic and trade exchanges this year. Taiwan's Minister of Economy, Wang Meihua, and Canada's then Minister of International Trade and Development, Mary Ng, were invited to attend the first video conference of the Canadian Business Delegation to Taiwan by Women Entrepreneurs in March this year. Director Liu said that the conference attracted 385 female entrepreneurs from all over Canada, showing that the industry recognizes that Taiwan plays a strategically important role in semiconductors and other key industries.
Director Liu continued to point out that Taiwan is Canada's 15th largest trading partner in the world and British Columbia's 6th largest trading partner, as well as the 21st largest economy in the world. As a member of the World Trade Organization, Taiwan has met the high standards set by joining the "Comprehensive and Progressive Agreement for Trans-Pacific Partnership" (CPTPP) in many aspects. It will naturally be a good partner for Canada in pursuing progressive trade. Director Liu looks forward to the Canadian government. Seeing the support of many countries in the United States, Japan, and Europe for Taiwan, international friends from Taiwan have greatly increased their voices and continue to support Taiwan.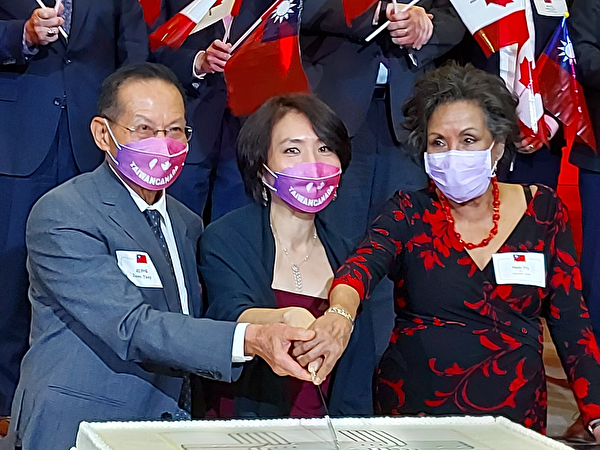 The Vancouver office specially prepared Taiwan-Canada friendship masks this year as a souvenir to congratulate the long-lasting friendship between Taiwan and Canada. In 2020, due to the epidemic, the office celebrated the National Day with a film. This year, in accordance with the Canadian government's epidemic prevention measures, the physical method was restored, but the celebration party was held on a reduced scale. In addition, to show the vitality and creativity of outstanding Canadian youths of Taiwanese origin, two Taiwanese artists-cross-field new media performing arts creator Sammy Chien and modern visual artist Edward Fu-Chen Juan were invited to perform this year. And exhibited his works, which won unanimous praise from the guests.
Editor in charge: Xie Yuxin
.