Original title: This photo went viral on Twitter when Afghanistan announced the new regulations for college girls
(Observer Network News) As the Taliban gradually stabilizes their regime, more policy details have surfaced, especially women's rights issues that are of concern to the outside world.
According to a report from the BBC on September 13, the new minister of higher education in Afghanistan, Abdul Baqi Haqqani, said on the 12th that the Taliban will allow women to enter schools, but gender segregation and Islamic dress requirements must be implemented when teaching. The Taliban will also "review" the courses taught in the school.
Recently, a photo of Afghan women collectively holding an Afghan flag, wearing a burqa covering their entire body, and even covering their eyes, has aroused heated discussion on social media. It turned out that this photo was taken by Agence France-Presse on the 11th. Women who support the Taliban's gender policy gave a speech in a university in Kabul and then marched. Agence France-Presse believes that although the Taliban has taken a relatively moderate stance compared to the previous ruling, the actual policy is still unclear.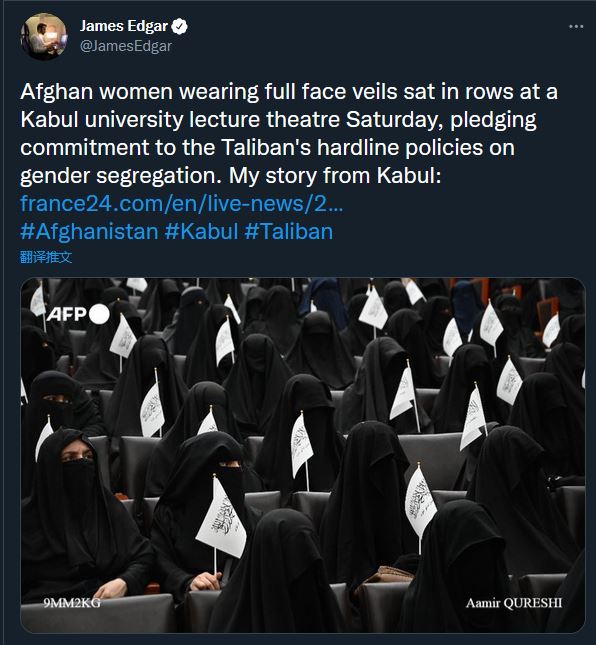 Photos of Afghan women wearing black robes giving speeches on the 11th, aroused heated discussion on Twitter
Haqqani said on the 12th that the Taliban will allow women to attend school, but not with men. This policy is in sharp contrast with the period of the former government of Afghanistan. At that time, Afghan female students could study with men without observing Islamic dress codes.
But Haqqani believes: "We have no problem in ending the (male and female) mixed education system. The people are all Muslims, and they will accept it." In addition to universities, separate classes for men and women will also be implemented in primary and secondary schools.
As for the technical issues in implementation, Haqqani believes that there are "enough enough" female teachers in Afghanistan, and the Taliban will make every effort to find and provide female teachers for female students. In addition, universities can also allow male teachers to teach behind the curtain, or use technology such as remote communication to teach.
Haqqani also mentioned that all female students must wear Islamic headscarves, but did not specify whether this means that they must wear headscarves or cover their faces.
Headscarves worn by Islamic women include hijab, niqab, and burqa. A woman wearing a hijab can show her face, compared to a niqab, which can only show her eyes. If you wear a burqa (burqa), the woman is wrapped tightly from head to toe, and can only be seen outside through a small piece of mesh.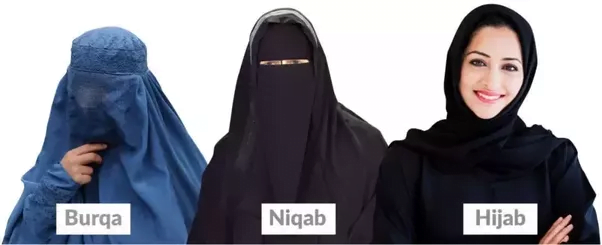 According to a previous report by Agence France-Presse, in recent years, burqas and veils have become harder to see on the streets of Kabul, but they are more common in small cities and towns. But as Atta entered Kabul, some women chose to wear a robe and a veil, or go out directly in a burqa.
Regarding the university education under the Taliban's rule, Haqqani also revealed that the Taliban will "review" the subjects taught by universities. He told reporters that the Taliban hope to "create a reasonable Islamic curriculum that is consistent with our Islamic, ethnic and historical values, and on the other hand, can compete with other countries."
Haqqani assured reporters that the new Taliban government appointed last week will "start building the country on existing foundations" and does not want to turn the clock back to when the Taliban last took power 20 years ago.
Segregated teaching on the campus of Afghan University
On the 11th, a group of Afghan women who support the Taliban's gender policy held a demonstration at the Shaheed Rabbani University of Education in Kabul.
These Afghan women under the AFP lens, holding the white Taliban flag, wearing black gloves and burqa, some of them even covered their eyes. On both sides of the podium in the university conference hall, huge Taliban flags are hung.
After the Taliban came to power, protests against the Taliban's women's policies appeared in Afghanistan. On the 8th local time, the Afghan Ministry of Interior issued a statement on relevant regulations regarding demonstrations. The statement stated that some current "political intent" demonstrations disrupt security and harass civilians. All future activities of this kind need to obtain the permission of the judicial department in advance and report to the security department. Any unauthorized demonstrations and protests will be punished by law.
At the meeting on the 11th, these Afghan women also criticized the demonstrators against the Taliban's women's policy. And this demonstration obtained permission from the Afghan government.
"We oppose women who protest on the street, claiming to be women's representatives," the first speaker said in a head-to-head burqa. "Is it freedom to like the previous government?" No, this is not freedom. The previous government abused women. They recruit women only by beauty. "
A student named Shabana Omari told people that she agreed with the Taliban's policy that women should wear headscarves. "Those who don't wear a headscarf are hurting all of us… The headscarf is not a personal thing."
Another spokesperson, Somaiya, said that history has changed since the return of the Taliban. "After this, we will not see'bihijabi' (people who do not wear a headscarf). After this, women will be safe. We are fully supporting our government."
After the lecture in the school conference hall, the women walked a short distance in an organized line on the street outside, holding banners with slogans, flanked by Taliban soldiers carrying rifles and machine guns.
For this photo, Twitter netizens interpreted it from different angles. Some people believe that this demonstration is "political propaganda" by the Taliban, "ordering" Afghan women to do so.
However, some people say that the West has always wanted to add its own values ​​to the Afghans for the past 20 years. After the West withdrew, they returned before. Westerners must take care of their own affairs.

Agence France-Presse said that during the Taliban's administration from 1996 to 2001, the rights of Afghan women were significantly weakened. But since returning to power last month, the Taliban said they would implement a "less extreme" rule.

This photo was also "PS" (modified). A photo circulated on the Internet showed that a woman in the conference hall "showed her face" as a man. However, after verification by "India Today", it was found that this was an out-and-out fake photo.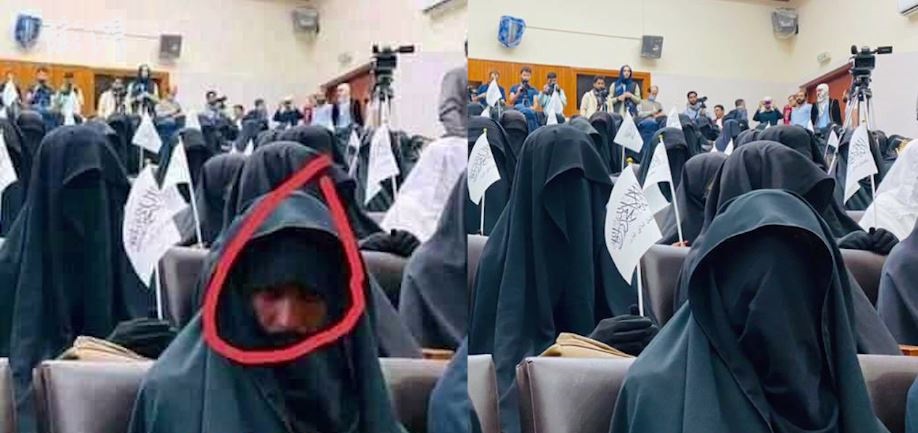 On the 5th of this month, the Taliban's education department issued a long document specifying various details. The document states that female students' classes must be taught by female teachers. If they do not have the teaching conditions, they can be taught by "old men" with good character.
An Afghan media person told the Global Times reporter at the end of August that, in fact, in many areas of Afghanistan, including major cities such as Kabul, the teaching model of separate schools or classes for men and women was originally adopted.
In addition to schools, a Taliban spokesperson has also stated that they will allow women to serve in the new government that is about to be formed, but there may be no women in the cabinet or other senior positions. But what exactly these claims mean, the Taliban did not give many details.
.