What could be more exciting than a "unique" power bank with 100W and an extra large capacity? Right for me nothing!
We have exactly such a power bank in front of us here with the 4smarts Lucid Ultra. What makes this exciting?
100W USB C Port
40000 mAh
A semi-transparent case
A display with performance values
There are now quite a few power banks with a 100W USB C port, but models that combine this with a particularly high capacity and a practical display are rare. The 4smarts Lucid Ultra does not seem to be simply a rebranding of a well-known model.
So let's take a look at these in the test! Can the 4smarts Lucid Ultra convince here?
At this point many thanks to 4smarts for providing the Lucid Ultra for this test.
Die 4smarts Lucid Ultra im Test
With a capacity of 40000mAh, the 4smarts Lucid Ultra is of course not a small power bank, quite the opposite.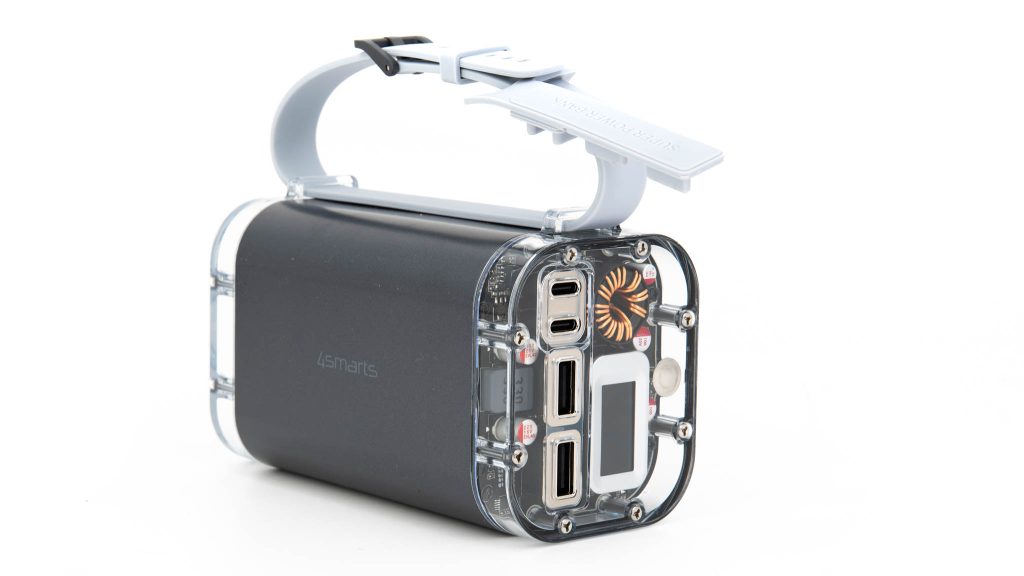 At 127 x 72 x 63 mm, the Lucid Ultra is quite a chunk. The same applies to the weight of 806g.
806g is not small, but the power bank is still lighter than the Anker 347 PowerCore 40K, which also has 40000mAh but only 30W.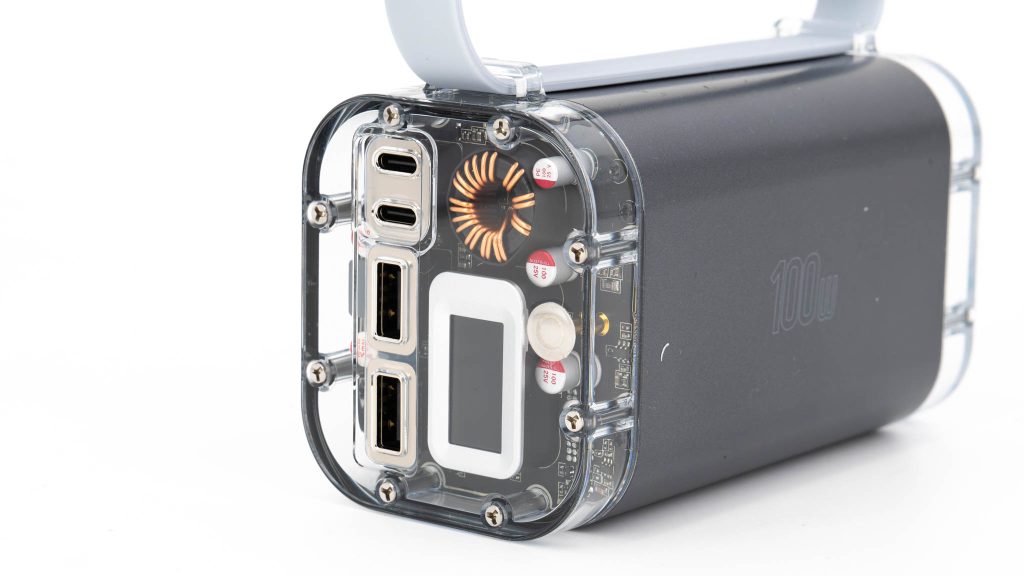 Interestingly, 4smarts has given the power bank a small carrying strap, which can be removed. With the help of this carrying strap, the power bank also presents itself as a mini power station.
Exciting, 4smarts uses transparent plastic for the end pieces of the power bank. This looks pretty cool, because you can see the components of the power bank under the plastic.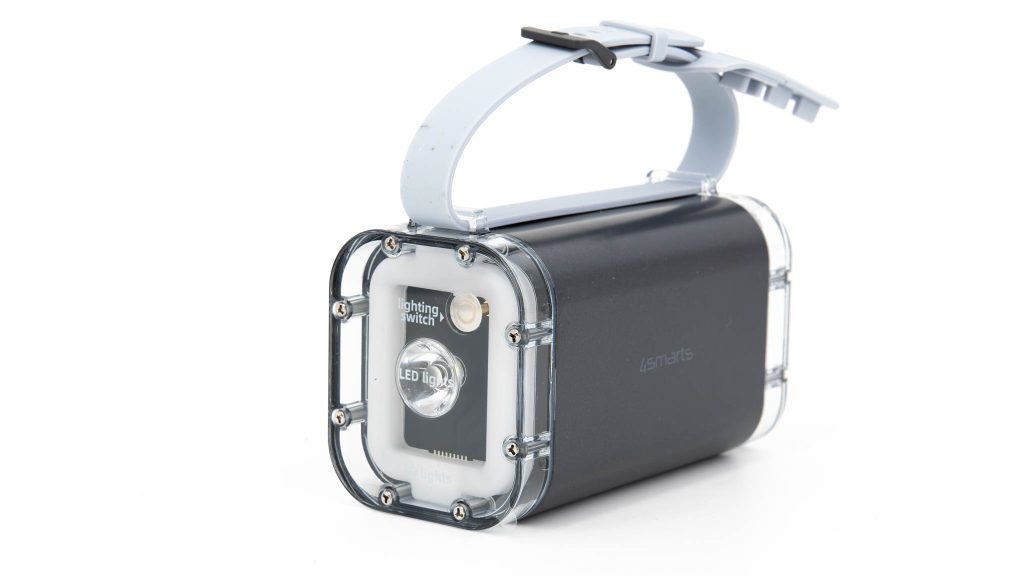 Finally, there is a small LED flashlight on the back of the power bank.
The connections of the 4smarts Lucid Ultra
The 4smarts Lucid Ultra has 2x USB C and 2x USB A on the front.
USB C 1 – USB Power Delivery 100W – 5V/3A, 9V/3A, 12V/3A, 15V/3A, 20V/5A
USB C 2 – USB Power Delivery 30W – 5V/3A, 9V/3A, 12V/2,5A, 15V/2A, 20V/1,5A
USB A 1 und 2 – Quick Charge 3.0 18W – 5V/3A, 9V/2A, 12V/1,5A
The primary USB C port of the power bank has 100W of power. This makes the power bank ideal not only for smartphones, but also for notebooks.
We also have a secondary USB C port with 30W, as well as two USB A ports with Quick Charge.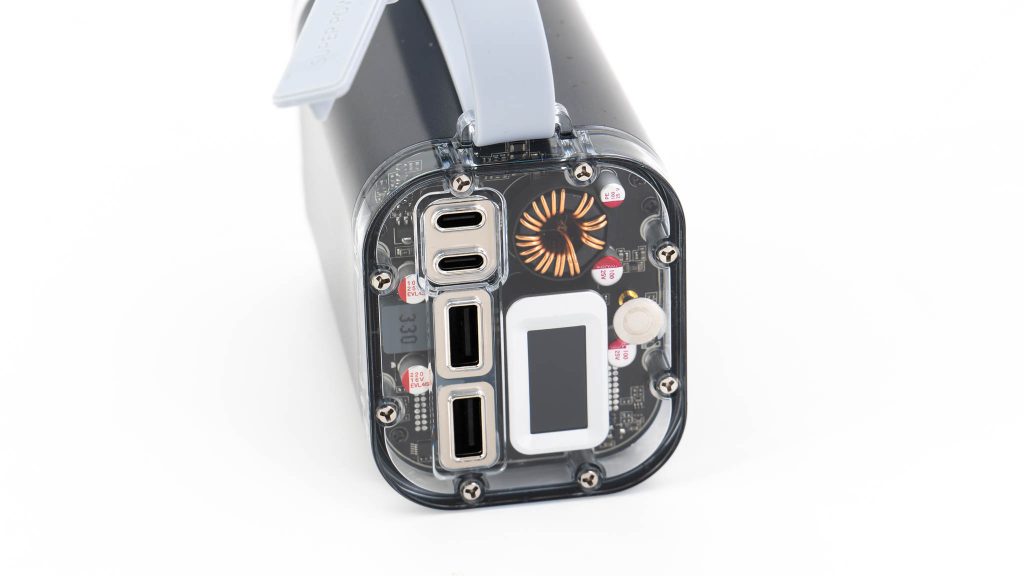 The primary USB C port is also used as an input. The power bank can also charge with up to 100W.
the display
In addition to the connections, there is also a small LCD display on the front. This shows you the following information:
Ladestand in %
Duration until power bank full/empty
Power in/out in watts
internal tension
Current directly from the cells in amperes
Temperature Controller
temperature cells
I think displays in power banks are great and, above all, practical! On the one hand, it is of course always interesting how much power is going into or out of the power bank. On the other hand, this can also help to diagnose problems.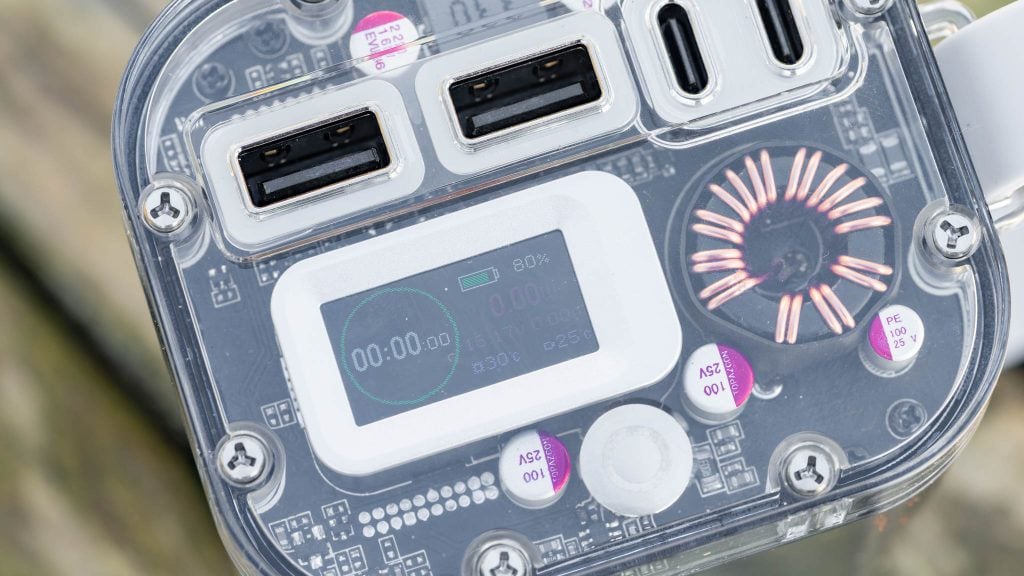 You don't know if a connected device is really charging? The display tells you!
I find it a bit unfortunate that we don't have a breakdown of the performance values ​​into the individual ports. But I'm still a big fan of the display!
With PPS, but only up to 3A
The 4smarts Lucid Ultra also supports the PPS standard.
USB C 1 – 3.3-21V at up to 3A
USB C 2 – 3.3-11V at up to 3A
In itself it's nice that we have PPS, but it's a bit unfortunate that the PPS level is only "up to 3A". For example, the Lucid Ultra can "only" charge the Samsung S23 Ultra with up to approx. 28W and not with the full 45W, which would require a PPS level of up to 5A.
PPS stands for Programmable Power Supply. The normal USB Power Delivery offers your smartphone several voltage levels, usually 5V, 9V, 15V and 20V. Here it can choose a level and load it. PPS now allows your smartphone to freely select a voltage within a certain range, for example 3.3-16V. If your smartphone thinks it would be ideal to charge with 6.5V, then a PPS charger can supply it with 6.5V.
Some smartphones like the Samsung S20/S21/S22/S23 series models need PPS to reach the full charging speed, see here Charging the S23 Ultra. An S23 Ultra can charge with a normal USB PD charger with a maximum of 14W, with a PPS charger with 45W. If your smartphone does not support PPS, it simply ignores this function and treats the charger as a normal USB PD charger.
The capacity, really 40000 mAh?
Certainly one of the most exciting points about the 4smarts Lucid Ultra is the massive capacity of 40,000 mAh! What could I measure in practice?
Important, you are not allowed to take the power bank on board an airplane! Only capacities of up to 100Wh or 27,000 mAh are permitted here without a special permit.
| | | | |
| --- | --- | --- | --- |
| | Wh | mAh | % of HA |
| 5V/1A | 127,55 | 34473 | 86% |
| 9V/1A | 132,46 | 35800 | 90% |
| 20V/1A | 137,84 | 37254 | 93% |
| 20V/3A | 135,68 | 36670 | 92% |
| 20V/5A | 123,08 | 33265 | 83% |
Yes, the 4smarts Lucid Ultra is a legitimate 40,000 mAh power bank. It doesn't quite reach this value in the test, but at best I was able to measure 37254 mAh or 137.84Wh, impressive!
This is one of the largest power banks I have held in my hands for Techtest so far.
But even in the worst case, when discharging at 5V/1A, we still get a whopping 34473 mAh, which is a great result!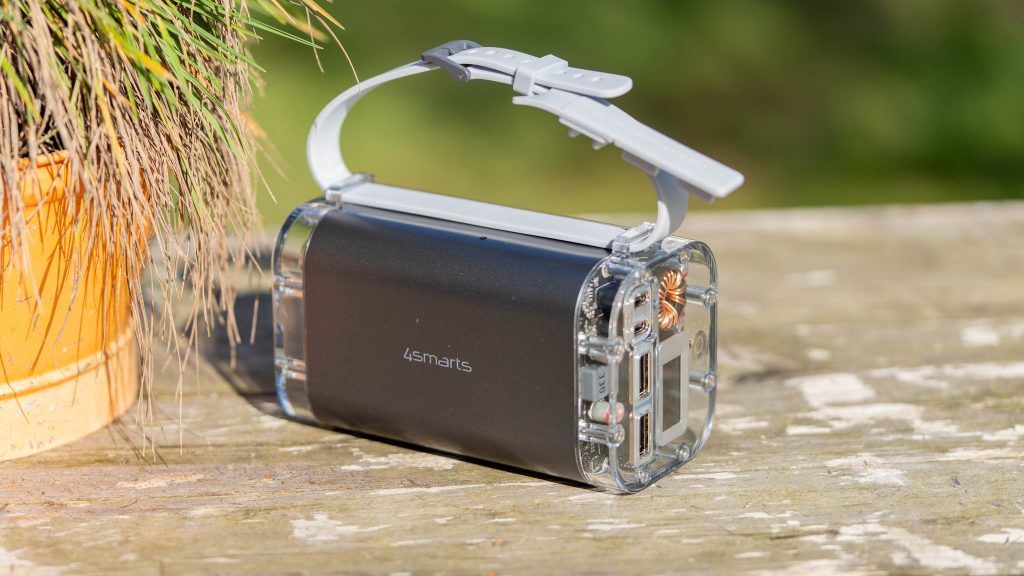 In general: The capacity specification for power banks always refers to the capacity of the battery cells inside. However, their discharge is not 100% efficient. There is always a certain loss in the form of heat due to internal processes, voltage conversions, etc. This is especially true when using Quick Charge, USB PD or other fast charging standards. 80-90% is the usual "good" value for usable capacity. Over 90% are very rare and under 80% are uncommon. Also consider that your smartphone does not charge 100% efficiently! If this has a 2000mAh battery, approx. 2600mAh are required for a 100% charge. However, this depends on the model and the type of charging.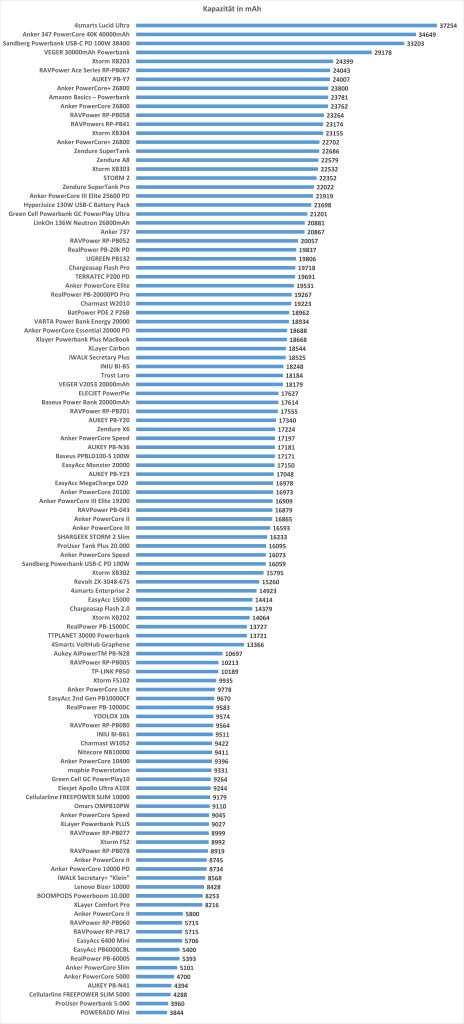 temperature shutdown
Unfortunately, the 4smarts Lucid Ultra can go into a temperature shutdown if you constantly discharge it at 100W. So far I have only been able to reproduce this on an electronic load and not in "practice".
The power bank heats up to 84 degrees at a constant 100W (according to the display, controller, cells remain below 50 degrees), after which it switches off.
But it takes a very long time to reach this temperature! At this point, a whopping 92.474 Wh had already been discharged from the power bank and it still had 32% charge remaining.
Will this be a problem in practice? In midsummer maybe, otherwise not. Even most large notebooks do not charge constantly with 100W, but there are always slight fluctuations depending on the notebook's load. This gives the power bank enough leeway not to overheat or switch off.
But positive, the temperature shutdown clearly works!
Assessment of the loading speed
| | |
| --- | --- |
| | Expected loading speed |
| Apple iPads | +++ |
| Apple iPhones | +++ |
| Apple MacBooks | +++ |
| Google Pixel | +++ |
| Huawei Smartphones | + |
| OnePlus Smartphones | + |
| Realme Smartphones | + |
| Samsung Galaxy Smartphones ("S" Serie) | ++ |
| Windows Notebooks (Dell XPS, ASUS, etc.) | +++ |
+++ = "perfect" maximum possible loading speed to be expected
++ = very high loading speed to be expected
+ = brisk loading speed to be expected
0 = "Standard" loading speed to be expected
– = Slow loading speed to be expected
— = not compatible or only suitable to a very limited extent
Thanks to the 100W USB C output and the high capacity, the power bank is of course ideal for notebooks.
I tried it on the MacBook Pro 13 M1 and Dell XPS 13, both admittedly not 100W notebooks, but the power bank worked perfectly here!
The same applies in combination with the iPad Pro M1 and the iPhone 14 Pro, which are also charged at full charging speed.
Thanks to PPS, the power bank can also quickly charge the Samsung Galaxy S20/S21/S22/S23, just like the Pixel 6/7.
However, since the PPS level only goes up to 3A, the 45W charging of the Samsung Ultra models does not work here. These are "only" charged with 25-28W.
Charging time
The 4smarts Lucid Ultra can charge with up to 100W! But how long does it take to charge on a 100W USB C charger?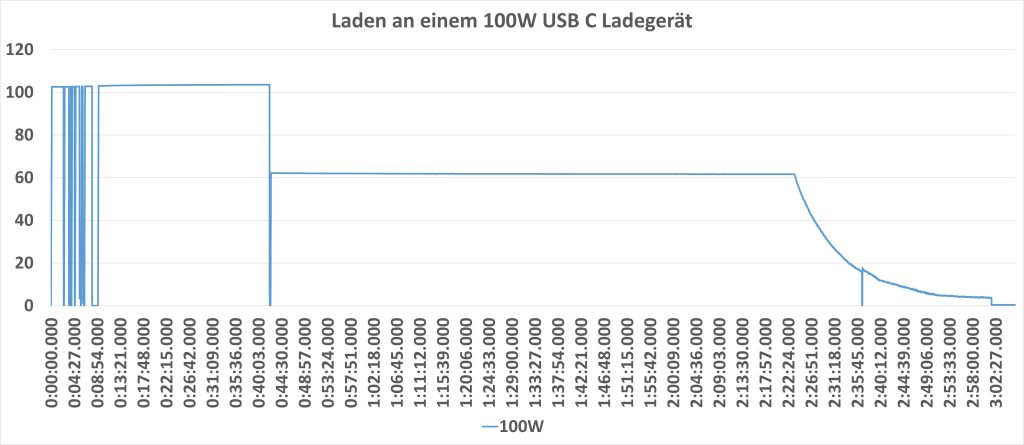 Charging is relatively fast at 3 hours, but not extremely fast either! So you can see that the power bank only charges with 100W for a short time and that it is also less stable. Most of the time, the power bank charges with 60W.
I've also checked this multiple times and the behavior is +- similar each time.
But you can of course also charge the power bank on weaker chargers, which then takes longer.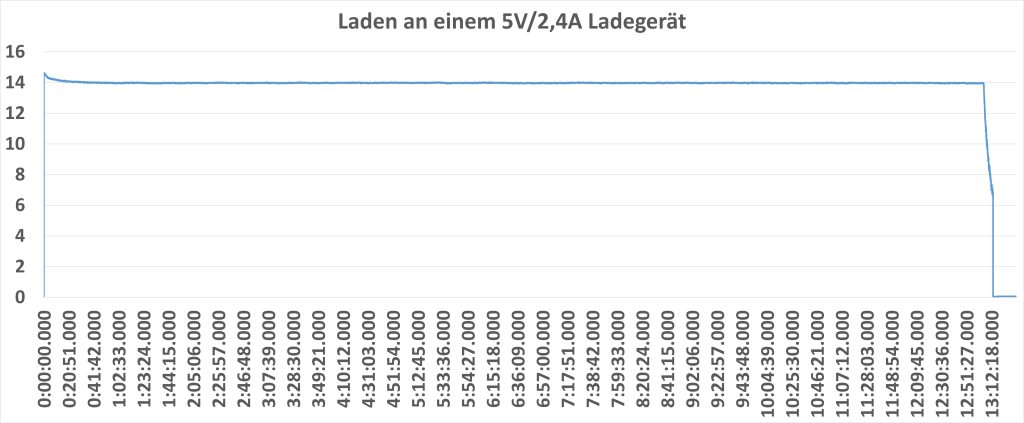 For example, on a normal 5V/2.4A charger, charging would take a whopping 13 hours. Not surprising with such a thick power bank!
Charging efficiency of the 4smarts Lucid Ultra
Finally, let's take a look at the charging efficiency of the 4smarts Lucid Ultra. So here we compare the amount of energy that the power bank needs to charge with the amount of energy that you can use in the end.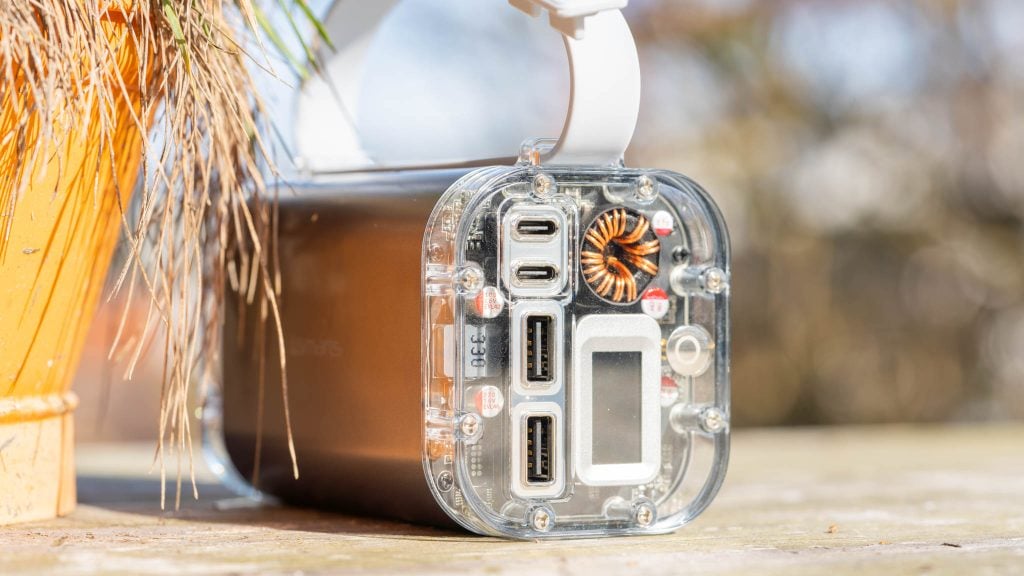 When charging with a 100W charger, the power bank required 182.3753 Wh for a full charge. The power bank required 184.4455 Wh on a 5V/2.4A charger.
| | | |
| --- | --- | --- |
| | In the best case | In the worst case |
| USB PD 100W | 76 % | 67 % |
| USB A 5V/2,4A | 75 % | 67 % |
This results in a charging efficiency of 76% in the best case and 67% in the worst case. These are fairly average values.
Conclusion
The 4smarts Lucid Ultra is a unique and extremely good power bank! From my point of view, this has three major advantages.
Extremely large capacity up to 37254 mAh
100W USB C Port
Convenient screen
Certainly the most extraordinary thing about the 4smarts Lucid Ultra besides the design is the capacity. Powerbanks with 40000mAh are extremely rare! In practice, too, we get a whopping 37254 mAh, which is a top value!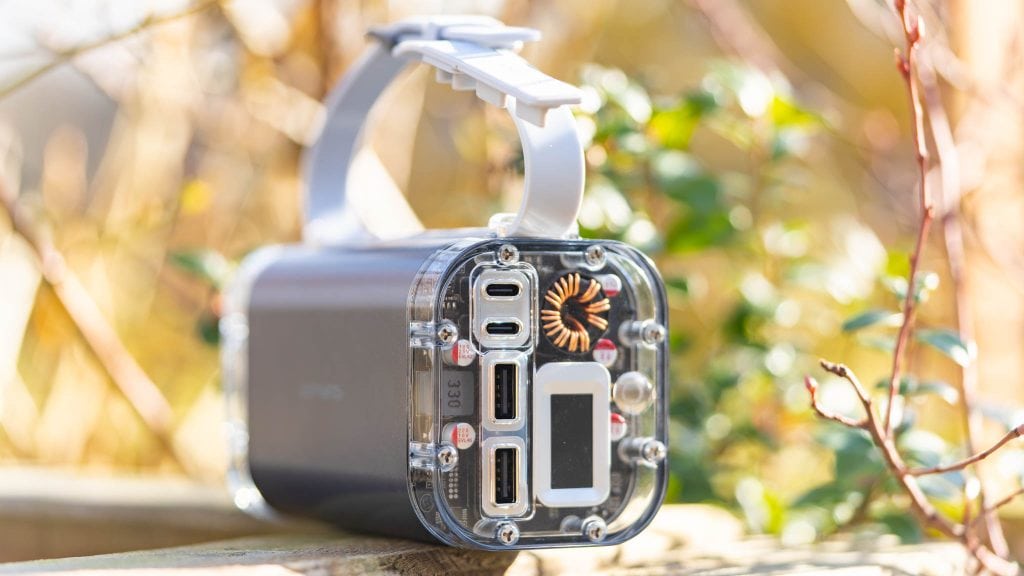 Yes, due to the high capacity, the power bank is a bit larger, but especially if you want to use it in combination with notebooks, this is not the end of the world, on the contrary, the additional capacity is absolutely welcome.
We also have the 100W USB C port, which also allows fast charging/discharging. Yes, the 4smarts Lucid Ultra can "overheat" or switch off due to excessive temperature if you discharge it at a constant 100W. However, in practice this was not a big problem, because here you usually do not have a "smooth" 100W, as is the case with my electronic load. In addition, this only occurs very late (after approx. 70-80% discharged capacity). Not all 100W power banks have similar problems, but many models do! Due to the high capacity, the 4smarts Lucid Ultra can simply deliver 100W longer than most models, this may be a little more noticeable here.
A 0% to 100% charge on a 100W charger takes about 3 hours, which is sufficiently fast, but not record-breaking either.
The small display, which shows you performance values, battery status, temperature, etc., is super practical. This is simply helpful in many situations, especially if you are not sure whether the current loading speed is right!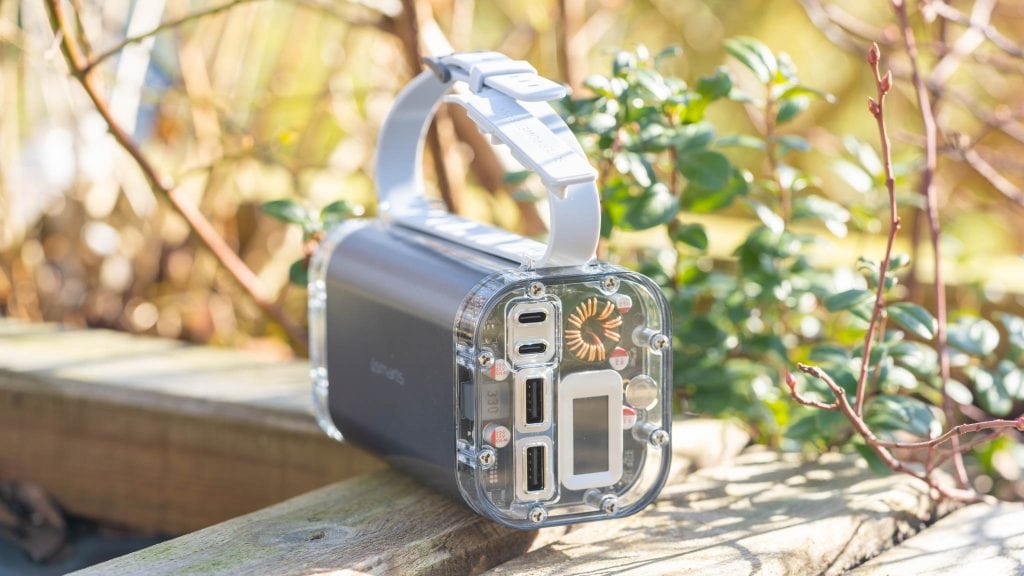 PPS is a bit of a shame. So the 4smarts supports Lucid Ultra PPS, which is great! But we only have a range of 3.3-21V at up to 3A, so the S23 Ultra, for example, cannot be charged at full speed. For the normal S23, S22 etc. is
The bottom line is that the 4smarts Lucid Ultra is an absolutely unique power bank! Especially if you are looking for the combination of very large capacity + 100W USB C port and display, there are few alternatives. The price of 180-200€ is certainly not "cheap", but is ok considering the performance and the exceptional nature of the power bank.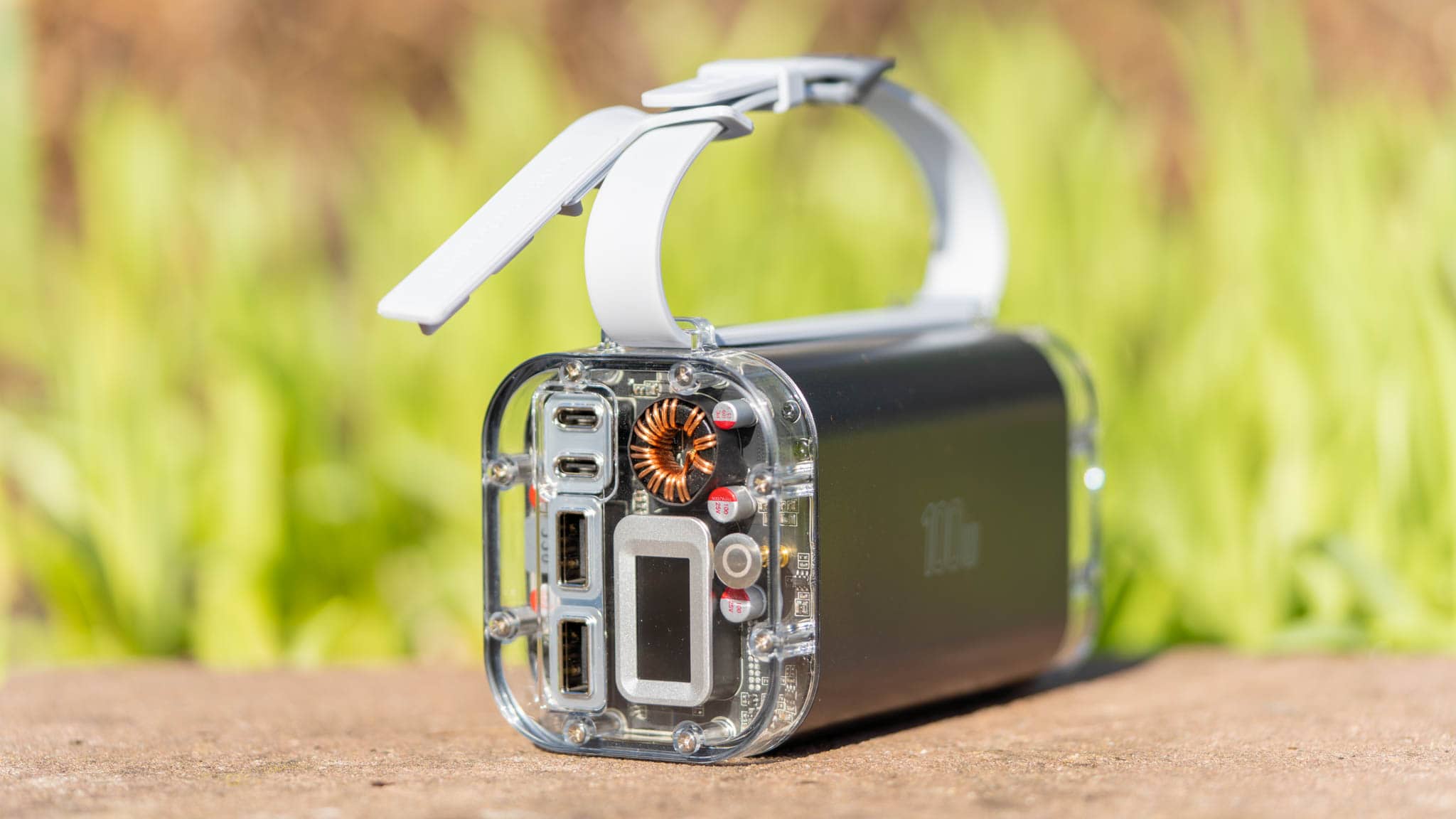 POSITIVE
Extremely large capacity up to 37254 mAh
100W USB C input/output
Fast charging, 0% to 100% in about 3 hours
Very practical display with performance values
Quite large, but still handy
Mit PPS Support
2x USB C und 2x USB A
NEGATIVE
PPS rank up to 3A and not up to 5A
May shut down due to over temperature in a theoretical scenario