(Author: Pan Yiheng)
Yingwei Financial Investing.com – According to US media statistics, at the beginning of this year, Tesla CEO Musk bought 46,000 bitcoins at an average price of $32,600. In the first quarter of this year, he sold 10% of his bitcoin holdings, or 4600 bitcoins, at a price close to historical highs of US$59,100, bringing in revenue of US$272 million, and achieved 1.01 in the first quarter. Billion dollars in pre-tax profit.
Bitcoin reached a record high of $64,778 in mid-April this year, but since late May, the selling pressure of cryptocurrencies has continued to increase, and Bitcoin has started a downward pattern, and finally recorded a year low of $2,8901.8 in June. Its price dropped by half within two months.
Bitcoin once again fell below $30,000 this Tuesday, with the lowest plummeting to around $29,300, a drop of 5% within the day. At present, Bitcoin has regained its position at the $30,000 mark. Tesla's Bitcoin holdings have shrunk significantly. If Bitcoin continues to fall, Tesla's investment will be at a loss. If the Bitcoin price drops to $25,000, Tesla will lose $300 million. If it drops to 20,000 U.S. dollars, the loss may further expand to 500 million U.S. dollars, which is equivalent to Tesla's entire pre-tax profit in the first quarter.
As can be seen from the K-line chart, Bitcoin has basically completed the head-and-shoulders pattern. As long as the neckline falls, Bitcoin may once again usher in a sharp decline.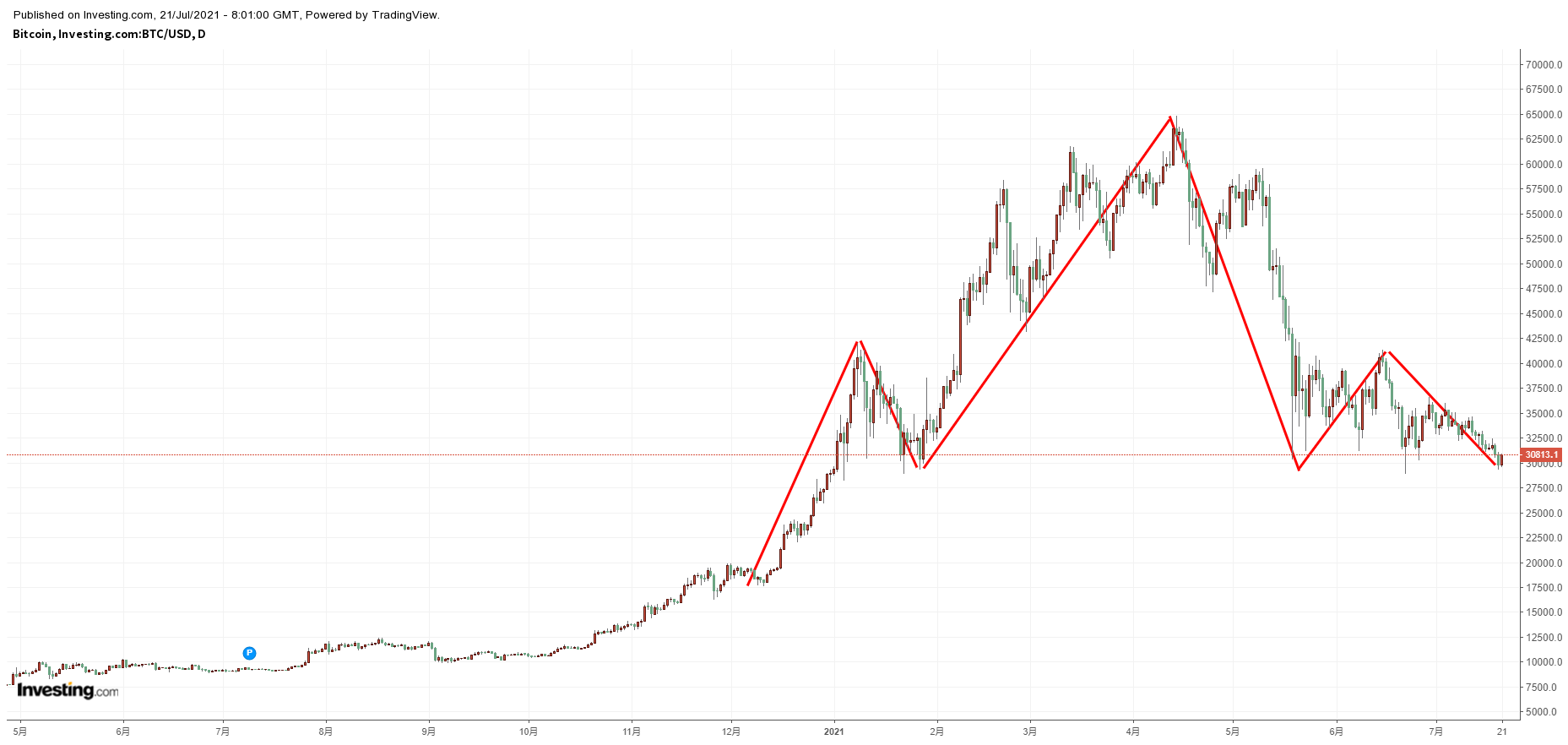 Bitcoin daily chart, source: Investing.com
On July 26 (next Monday) Tesla will release its second quarter earnings report after the market. Looking back at the Q1 financial report, after Tesla announced 184,000 vehicle delivery data, the market generally expected its revenue to perform well. However, unexpectedly, Tesla's average selling price has dropped, which has led to the company's sales. Closed below expectations. It is not difficult for us to see the problems exposed by Tesla behind the "crazy price cut". Although the net profit exceeded expectations, from the point of view of subsequent stock price performance, investors do not seem to buy it.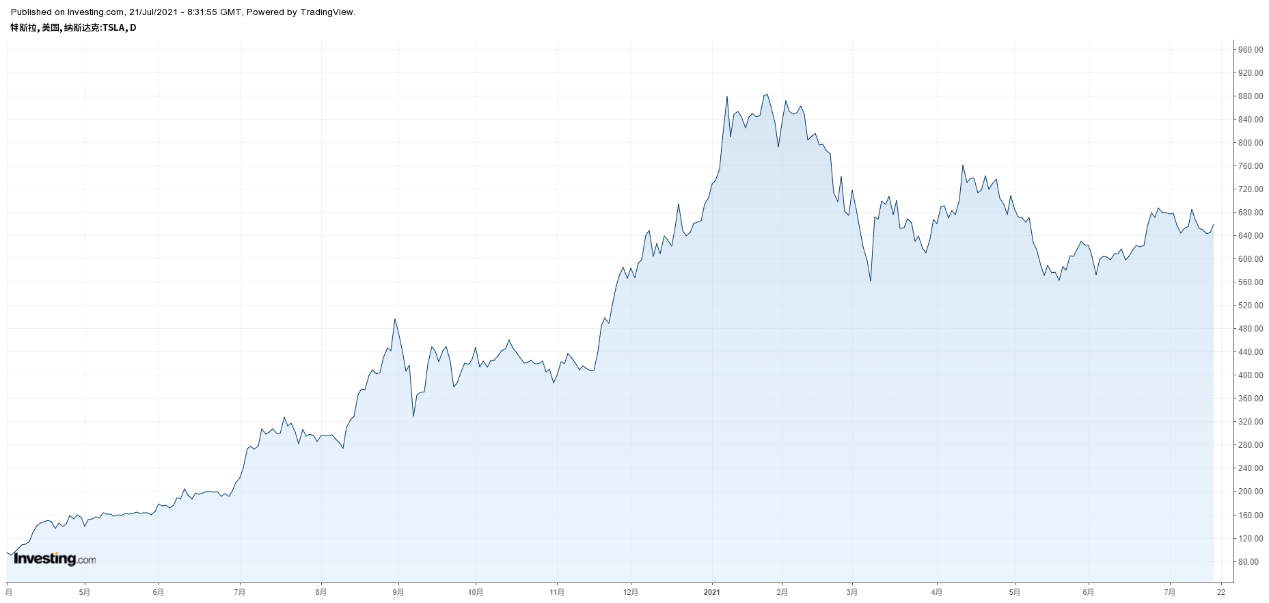 Tesla daily chart, source: Investing.com
As of Tuesday's close, Tesla reported 660.5. Although the stock price has fallen by only 6.4% this year, it has fallen nearly 27% from the January high of 900.4.
Regarding Tesla's Q2 financial report, it is not difficult to calculate his revenue based on the previously announced new car deliveries. Tesla Q2 delivered a total of 201250 electric vehicles. Based on the previous bicycle price of about 50,000 U.S. dollars, its sales are about 10 billion U.S. dollars, plus the income from energy and maintenance services is about 1 billion U.S. dollars. , And about 500 million U.S. dollars in revenue brought by carbon credits, Tesla is likely to have revenue over 11.5 billion U.S. dollars.
However, Tesla's net profit may not be so attractive. The reason why Q1 can have a net profit of 438 million US dollars is inseparable from the popularity of Bitcoin. But Q2 Bitcoin's sharp drop may cause it to have a book loss of nearly 100 million U.S. dollars. Therefore, the issue of Bitcoin's income is definitely a major highlight of this financial report.
Tesla's investment in Bitcoin at first seemed like an adventurous and even leading move. The irony is that it may now stifle the company's profit for a quarter, or even worse.
Are you optimistic about Tesla's financial report this time?
[ThisarticlecomesfromYingweiFinanceInvesting.com, Please log in to read morecn.Investing.comorDownload 英为财情 App】
Recommended reading
Disclaimer:
Fusion Media
I would like to remind you that the data contained in this website may not be real-time and accurate. All CFDs (such as stocks, indices, futures), cryptocurrency and foreign exchange prices are provided by market makers rather than exchanges, so prices may not be accurate and may differ from actual market prices. That is to say, these prices are only indicative prices and should not be used for trading purposes. Therefore, for any transaction losses that may result from the use of such data,
Fusion Media
We do not assume any responsibility.
Fusion MediaOr anything withFusion MediaThe person concerned does not accept any liability for loss or damage caused by relying on the data, quotations, charts and buy/sell signals contained in this website. Please fully understand the risks and costs associated with financial market transactions. This is one of the most risky forms of investment. The English version of this agreement is the main version. If there is a discrepancy between the English version and the Chinese version, the English version shall prevail.