CCTV, Beijing, September 22 (Reporter Liu Baixuan) According to a report by the Voice of Economy of China Central Radio and Television "Tianxia Finance", Beijing Universal Resort, which has been prepared for 20 years, officially opened its doors on the 20th. This is currently the largest global theme park in the world. What is the "business experience" behind this "Big Mac" cultural tourism project? How will the revenue "transcript" be handed in?
Zhan Dongmei, Director of Scenic Area Research of China Tourism Research Institute, and Lin Huanjie, Director of China Theme Park Research Institute, were interviewed by reporters from Central Broadcasting Corporation for in-depth interpretation. The point of view pointed out that Beijing Universal Resort will become a "new traffic entrance" for Beijing's cultural tourism consumption.
The picture shows the entrance of Universal Studios Beijing (photographed by Liu Baixuan, a reporter from Central Broadcasting Corporation)
Expected passenger flow and revenue are based on preliminary research
reporter:According to estimates from various sources, the first phase of the Beijing Universal Resort is expected to receive more than 10 million tourists per year; when the third phase of the project is completed, it is expected to receive more than 30 million tourists each year; when the overall project is mature, the annual turnover will be Reach 25 billion to 30 billion yuan. Is it difficult to achieve these goals?
Zhan Dongmei:I personally think that the difficulty is not too great, and such figures are estimated not in a vacuum. There is a solid foundation for preliminary research. Universal Beijing Resort is a "twenty years of sharpening a sword." Relevant parties have been very cautious about the approval of this project, as is the preliminary investigation of the project. From the inspection and screening of theme parks around the world, to the distribution of domestic theme parks, the market distribution of 500 kilometers and 200 kilometers around Beijing, and the source of tourists, to the selection of projects in the park… Detailed investigation and research.
Industry estimates: per capita consumption per day is about 1,000 yuan
reporter:In addition to annual passenger flow and annual turnover, let's focus on another indicator-per capita consumption. Forecasts show that the per capita consumption of Universal Beijing Resort may exceed 1,500 yuan. What is the concept of 1500 yuan? Is it high or low?
Lin Huanjie:If the per capita consumption is 1,500 yuan, the unit price is relatively high for domestic tourists. As far as domestic large-scale theme parks are concerned, normal tickets account for approximately 60%-70% of total consumption, and secondary consumption (such as catering, derivatives, etc.) accounts for approximately 30%-40%. If it can reach 40%, It's pretty good.
In addition, in the domestic statistical caliber, hotel fees are generally not included, only theme park tickets and all consumption after entering the park. My personal judgment is that the per capita daily consumption of Universal Beijing Resort is between 900 yuan and 1,000 yuan, which is basically the case.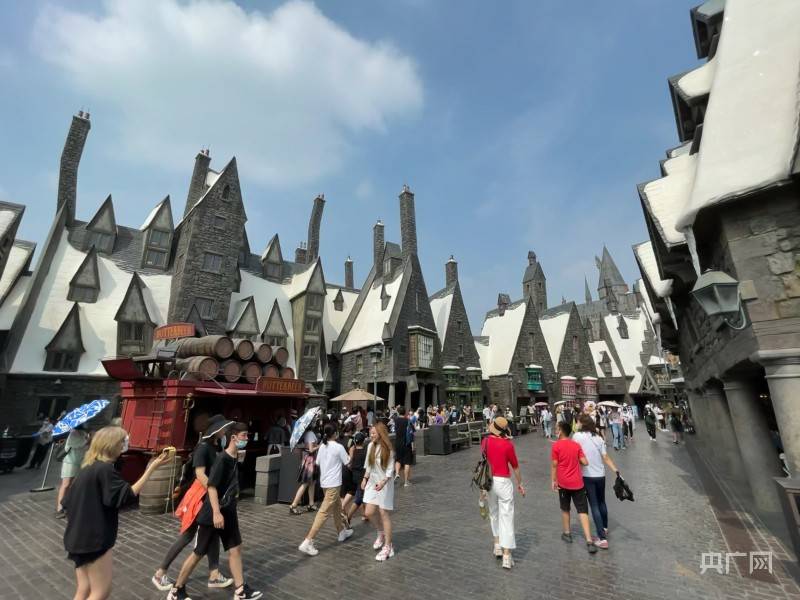 The picture shows the interior of Beijing Universal Studios (photographed by Liu Baixuan, a reporter from Central Broadcasting Corporation)
Universal Studios Beijing is a new traffic portal
reporter:The expected output is very impressive. In fact, our investment is also very large. Data show that the investment in the construction of the first phase of the Beijing Universal Resort, plus government departments' investment in supporting infrastructure such as subways, expressways, and overpasses, has accumulated more than 100 billion yuan. What does such a "Big Mac" cultural tourism project mean to Beijing?
Zhan Dongmei:It should be said that under the background of the normalization of epidemic prevention and control but occasional epidemics and the accelerated recovery of the tourism market, the opening of the Beijing Universal Resort will produce positive economic and social effects.
Beijing Universal Studios actually broke the lack of heavyweight theme parks in the northern tourism market in my country, and provided new products to the market. The surrounding homestays, hotels, catering and other supporting commercial formats will gradually become popular, which will bring employment opportunities and stimulate regional economic growth. In addition to attracting local tourists, Beijing Universal Resort will also become a new traffic entrance for the city of Beijing, attracting foreign tourists.
reporter:Similar questions are thrown to you. Universal Studios landing in Beijing, is it a bonus for Beijing's tourism resources?
Lin Huanjie:Except for the very few projects in Beijing such as Happy Valley, which are experiential, Beijing's original scenic spots are basically for viewing. As a high-tech entertainment project, Universal Studios Beijing will become a new "tipping point" in Beijing's cultural tourism market, which can further enhance Beijing's influence as a world-renowned tourist city and attract more international tourists in the future.Return to Sohu to see more
Editor:
Disclaimer: The opinions of this article only represent the author himself. Sohu is an information publishing platform. Sohu only provides information storage space services.
.