(The article is transferred from Chinanews.com)
Ke Jie and Tang Weixing replay after the game.Photo by He Shaoqing
China News Service, Chengdu, June 19 (Reporter He Shaoqing) "I am very grateful to Mr. Ma Xiaochun for winning this championship. He recently gave me a very pertinent suggestion, saying, 'Don't always use moves that are close to AI'." On the afternoon of the 19th, Ke Jie won the 21st China Go Southwest Chess Championship with Bai defeating Tang Weixing at Du Fu Thatched Cottage in Chengdu. After the game, the newly promoted Southwest King said that a night talk with Ma Xiaochun not long ago made him think more deeply about Go. "That is to say, can I play my own things, can I play my own chess."
The "Sichuan Airlines Panda Road" Cup 2022 21st Southwest China Go Championship will be held in Chengdu from the 18th to the 19th. The tournament attracted 16 players including 8 world champions including Chang Hao, Gu Li and Ke Jie.
In the first round on the morning of the 18th, Mi Yuting beat Chengdu player Tu Xiaoyu with 150 hands, and Ke Jie beat Guli with 170 hands to advance to the quarterfinals. Yang Dingxin defeated Shi Yu to advance. In the battle of specially invited chess players, Chang Hao lost to Shi Yue.
In the 8-to-4 game on the afternoon of the 18th, Ke Jie quickly won the championship favorite Li Xuanhao and took the lead in advancing to the semi-finals. The defending champion Yang Dingxin defeated Chen Zijian, and the more he was invited to the chess player, the more he lost to the teenager Liu Yuhang. In addition, Tang Weixing reversed in the final official stage. Mi Yuting won the last semi-final ticket.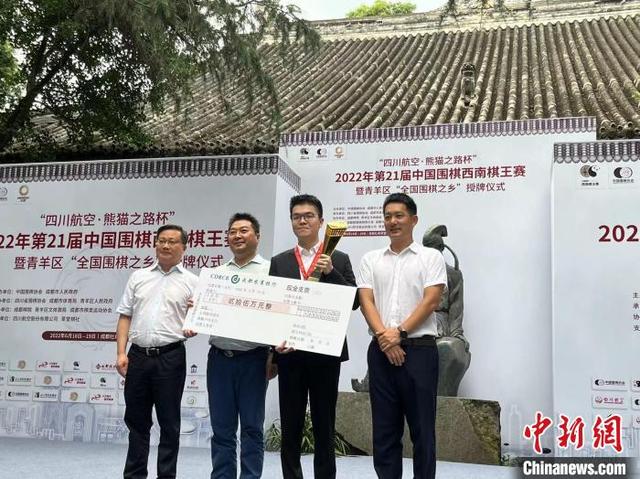 Photo by Ke Jie and He Shaoqing, King of the Southwest of Go
In Ke Jie's view, during the 21st China Southwest Go Championship, he played well in all four games, which was not unrelated to Teacher Ma Xiaochun's suggestion. "Because of memorizing AI and notation, I really don't have any advantage over young people. Teacher Ma said, 'Now young people are so good at chess, and they are so familiar with AI routines, maybe your computing power will be better than that of young people. Okay, this sentence actually touched me very much." Ke Jie said that she has been number one for a long time, and what she has to do now is not how to beat others, but whether she can surpass herself again and develop her own style.
Speaking of Chengdu, Ke Jie sighed: "Chengdu is the best place in the country to carry out Go activities. Every time I come to Chengdu, I have many pleasant experiences and I am very happy. I would like to thank everyone who worked hard for this competition."
It is understood that Chengdu is also known as the "Chess City". The portrait bricks unearthed from the Han Tomb in Fenghuangshan, Chengdu, have the picture of "Liu Boqi". A set of extremely precious Go cultural relics from the Han Dynasty in the museum of Chengdu Institute of Physical Education, including 21 black pieces and 4 white pieces, are all housed in a pot with a beam mouth. Based on this, it can be speculated that as early as more than 2,000 years ago, Go became popular in Chengdu, the Land of Abundance, and became a leisure and entertainment activity for people in Chengdu. (Finish)