Dismissed 60,000staff, Revenue is reduced by 80%!New Oriental really has to work hard in 2022!!!Spicy hot comments for small V↓↓↓An annual summary of Yu Minhong, founder of New Oriental, was posted on the Internet, and the topic #新东方关关600000 employees# also appeared in the hot search.
access:
ECS year-end special: cloud server as low as 38 yuan/year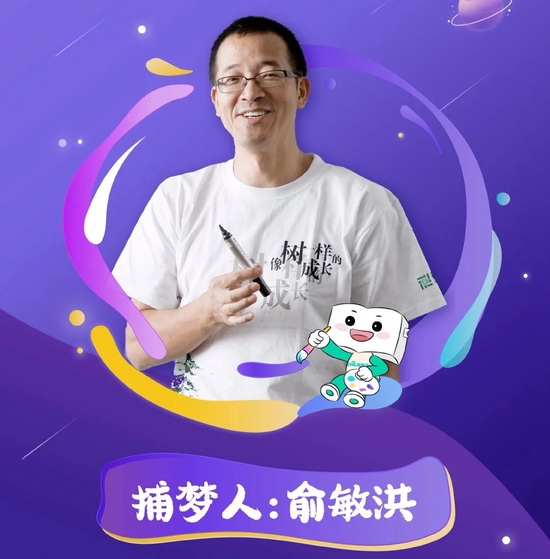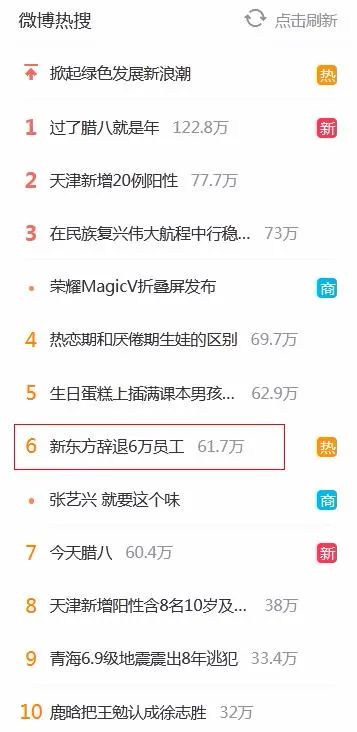 On January 8, Yu Minhong published the title "Laoyu Gossip" on his personal WeChat public account "Laoyu Gossip丨Work hard, study hard, and try to find new directions!" "article. In the article, he mentioned, "New Oriental's development is still my responsibility and mission. It seems that I can't help me like it or not. I must go all out. Set the purpose of working together with everyone and let New Oriental move to the next stage of development."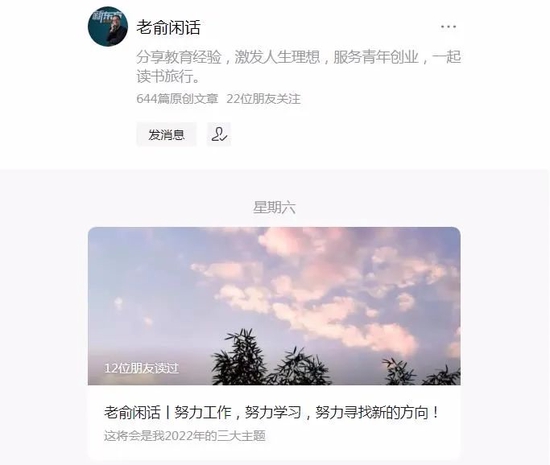 Yu Minhong said that the beginning of the year is a time to summarize the past and plan for the future. On the 4-5th (January 4th-5th), for two consecutive days, the various departments and subsidiaries of the New Oriental headquarters conducted work reports, summarized the work in 2021, and deployed the work in 2022.
He said,In 2021, New Oriental has encountered too many changes, and many businesses are in uncertainty.In the past six months, thanks to everyone's hard work, New Oriental has finally survived and saved a little bit of strength.
"New OrientalMarket value fell by 90% and operating income fell by 80%,60,000 employees have been dismissed, tuition, N+1 dismissal of employees, and lease of teaching sites, and other cash expenditures of nearly 20 billion. "Yu Minhong said that in this process, New Oriental decided to completely stop the K9 ground and online training, and the strong man broke his arm to do more projects that provide services for the overall growth of students, such as quality, literacy, research, camp education, etc., and at the same time decided to add University's investment in the university student market and overseas Chinese market.
Facing the future, Yu Minhong asked to "do certain things amidst uncertainty." The so-called doing certain things is to always do things that are valuable, help others, and help the progress of society, that is, "practice yourself and benefit others."
Yu Minhong also revealed that working hard, studying hard, and finding new directions should be its three major themes in 2022.
In the secondary market, as of January 7, Eastern Time, New Oriental's stock price closed at US$1.86 per share, down 0.53%, and the total market value was US$3.2 billion.
At noon closing on January 10, Hong Kong stocks New Oriental rose 2.24%, quoting 14.58 Hong Kong dollars per share; New Oriental Online rose 6.67%, quoting 4.80 Hong Kong dollars per share, an intraday surge of more than 13%.
Author | Zhang Shunan Editor | Dong Wenbo Reviewer | Jia Yifu
.