"A large number of young'villagers' born in the 90s and 00s have taken NetEase Cloud Music to the Hong Kong Stock Exchange."
On August 1, the official website of the Hong Kong Stock Exchange showed that NetEase Cloud Music had passed the listing hearing and announced the post-hearing data set. The listing co-sponsors were Merrill Lynch, CICC and Credit Suisse.
The latest data revealed that NetEase Cloud Music's total revenue in the first quarter of this year was 1.491 billion yuan, an increase of 74.6% year-on-year; monthly active users reached 183 million in the first quarter of this year; online music payment rate was 13.3%. Up to now, the shareholders behind NetEase Cloud Music include NetEase, Baidu, Alibaba, etc.
From the submission of the prospectus to the Hong Kong Stock Exchange in May this year, more than two months have passed, and the entire online music entertainment market environment has undergone tremendous changes. The "involution" of competition is no longer confined to music platforms. Short video players such as Kuaishou and Douyin are also eyeing the music entertainment landscape.
As the second largest domestic music platform after Tencent Music, the impact of NetEase Cloud Music on the market will inevitably make the competition between the two major camps in China's online music market increasingly fierce. In the future, under the challenge of the short video platform, how big is the imagination of NetEase Cloud Music?
Data shows that NetEase Cloud Music's revenue in the first quarter of 2021 was nearly 1.5 billion yuan, an increase of 74.6% year-on-year; the adjusted net loss in the first quarter narrowed to 300 million yuan from 500 million yuan in the same period last year; the gross loss rate was from the same period last year. 26.8% narrowed to 3.6%. From 2018 to 2020, NetEase Cloud Music's annual revenue will be 1.148 billion yuan, 2.318 billion yuan, and 4.896 billion yuan respectively.
NetEase Cloud Music, which is affectionately called "Cloud Village" by netizens, is mainly monetized from online music and social entertainment and other revenues. In 2021, Q1 online music segment revenue was 759 million yuan, and social entertainment and other segments revenue was 731 million yuan.
For music streaming media platforms, users are one of the foundations for monetizing the online music sector. Data show that in Q1 of 2021, NetEase Cloud Music's MAU (Monthly Active Users) increased to 183 million; the number of online music paying users increased from 12.68 million in the same period last year to 24.29 million; the online music payment rate increased from 8.8% in 2020 Increase to 13.3% of Q1 in 2021. Among them, about 90% of NetEase Cloud Music users are post-90s or post-00s.
The growth of the social entertainment sector is mainly due to the live broadcast business. As of 2020, its social entertainment service MAU has reached approximately 19.4 million. The number of paying users in Q1 of 2021 reached 438,100; the monthly ARPPU (average revenue per paying user) of social entertainment services was 553.3 yuan, a year-on-year growth rate of 21.9%.
"NetEase Cloud Music's live broadcast is relatively late. In the future, this part will be the main source of NetEase Cloud Music's revenue and profit. In the community, there are not only musicians, celebrities, and content experts, but also many Mlog ( Music records), this playback data is very high." Analysys Liao Xuhua, a senior analyst at the Interactive Entertainment Industry Center, pointed out in a salon interview earlier.
However, although NetEase Cloud Music's revenue has grown rapidly in the past three years, it has not yet shaken off its losses. From 2018 to 2020, the company's adjusted net losses were 1.8 billion yuan, 1.6 billion yuan and 1.6 billion yuan, respectively.
For NetEase Cloud Music, copyright issues have always been a major problem, and high content payments are one of the main reasons why it has not been profitable. The prospectus shows that from 2018 to 2020, the company's content cost expenditures were 1.971 billion yuan, 2.853 billion yuan and 4.787 billion yuan, and the cumulative expenditure in the three years exceeded 9.6 billion yuan.
Image source: NetEase Cloud Music official WeChat
As early as in the 2019 Q4 earnings conference call, Netease founder Ding Lei said: "In the past few years, the exclusive sales model of the three major record companies in China has caused Chinese music operators to pay two to three times the reasonable price. The above cost."
However, with the cessation of the exclusive copyright model recently, the price of music copyright content is expected to return to reasonable in the future. According to industry insiders, NetEase Cloud Music may further reduce copyright costs in the future, and it is expected to turn losses into profits.
Zhang Yi, Dean and Chief Analyst of iiMedia Research Institute, believes: "From the perspective of user preference, NetEase's core competitiveness in community and user retention, interaction with users, and emotions. From the perspective of copyright resources and user monetization. It's almost the same. The community is the core competitiveness, and it is also the direction to make the moat deeper in the future."
After copyright is no longer a moat, the biggest rival of online music is short video
According to iiMedia Consulting's data, the scale of China's digital music market has maintained a steady growth trend, and it is expected that the market size will grow to 42.89 billion yuan in 2021.
Some analysts believe that the internal competition in the online music industry is fierce and the industry landscape is volatile, and copyright is the key point of competition. Strengthening the layout of the copyright field is conducive to enhancing user activity and viscosity, and is conducive to the development of the platform.
Previously, the competition barriers of several major platforms mainly came from copyright advantages. For example, Tencent Music has exclusive music copyrights including Jay Chou, Mayday, Liang Jingru, etc.
Liao Xuhua said in a salon: "1% of music has a relatively large impact on users. If you watch Moonlive, the overlapping users of QQ Music and NetEase Cloud Music will reach more than 50 million, and many people will have to use this at the same time. For the two music platforms, we believe that a large part of these users is caused by the 1% influence."
On July 24, the State Administration of Market Supervision issued an administrative penalty decision, ordering Tencent and its affiliates to terminate exclusive music copyrights and stop payment methods for copyright fees such as high prepayments within 30 days. The upstream copyright party must not be required to give it superiority to its competitors without justified reasons. Conditions and so on. For NetEase Cloud Music, which is preparing to go public, it is an excellent opportunity to grab users.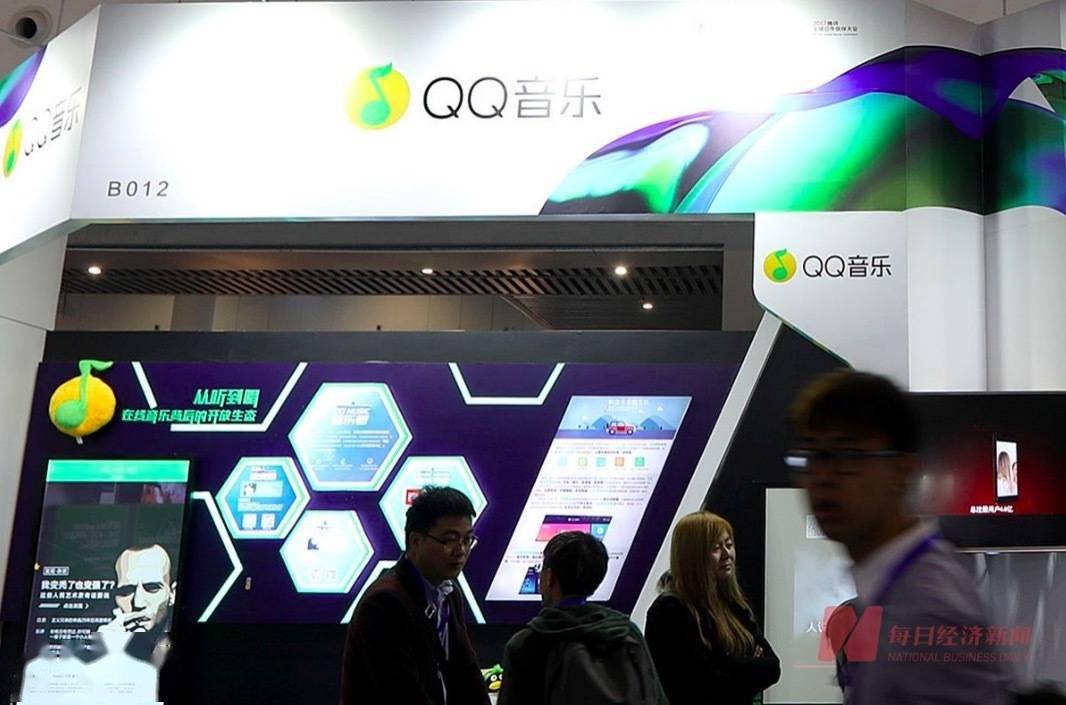 Picture source: every photo by reporter Zhang Jian (data map)
Liao Xuhua said: "From a business or financial perspective, TME's community has live broadcast income on the one hand, and on the other hand, it can do some publicity and brand operations in the community with celebrities. NetEase Cloud Music can also do it, but it's more Pay attention to the output of content, which is equivalent to its UGC ecology. Mlog has a large playback volume, which means user stickiness, and user stickiness means advertising space. NetEase Cloud Music relies on social content and some professional talents to produce content. , Keep users on the platform, maintain its advantage of stickiness, and also have the opportunity to fill more advertising spaces and distribute more music content."
The latest data disclosed by NetEase Cloud Music shows that monthly active users reached 183 million in the first quarter of 2021; while Tencent Music's monthly active users of online music in the first quarter were 615 million, a year-on-year decrease of 6.4%. The industry generally believes that short video platforms have robbed users of their time.
Therefore, the major platforms of NetEase Cloud Music and Tencent Music not only compete horizontally, but also face the challenges of short video platforms such as Kuaishou and Douyin.
According to the "Research Report on China's Internet Audiovisual Development 2020", as of June 2020, the number of short video users reached 818 million, accounting for 88.3% of the total Internet users, and the average daily usage time per capita reached 110 minutes. Analysys has done user research. Music users discover and acquire new music. Less than 50% of users will discover new songs through music platforms, and 16% of users will discover new songs through short video platforms.
More popular Divine Comedies have become popular on short video platforms, and they have also brought a large number of users to short video platforms. Therefore, NetEase Cloud Music and Tencent Music have also joined hands. For example, at the end of 2019, Douyin and Tencent Music reached a music sublicensing cooperation. Massive song copyrights from TME will be sublicensed to Douyin, and Douyin will also serve as TME's music announcement. Export; On August 3, 2020, NetEase Cloud Music and Douyin officially announced that they have reached a cooperation, focusing on musician support, music publicity, music copyright, music IP and other aspects to carry out more innovative explorations, and work together to "music + short "Video" content ecological construction.
Daily economic newsReturn to Sohu to see more
.