Tencent ADR fell nearly 4%, and its net profit in the first quarter fell 51% year-on-year to 23.413 billion yuan.
Related Reading:
R&D +36% Profit -23%! Between one liter and one drop, Musk "praises" Tencent's next big game?
Tencent released the first quarter of 2022 on the 18thperformanceAccording to the report, the company achieved revenue of 135.471 billion yuan in the quarter,net profit(Non-IFRS) 25.545 billion yuan, down 23% year-on-year.
Despite the pressure of structural adjustment in the Internet industry and declining profits, Tencent's investment in research and development has increased instead of falling.
According to the financial report, on the basis of a record high of 51.88 billion yuan in R&D investment in 2021, Tencent's R&D investment in the first quarter of 2022 will increase by 36% year-on-year to 15.383 billion yuan, which is the fifth consecutive quarter of its R&D expenses have increased by more than 25% year-on-year. .
  "Focus on key businesses and insist on innovation" – this keyword first appeared in Tencent's financial report, revealing the logical changes behind the financial report data.
Looking back on the first quarter of 2022, with the repeated epidemics and the continued decline in stock prices, Tencent, like many Internet platform companies, is at the center of the storm in the capital market.
Tencent also revealed a signal of strategic adjustment in its latest financial report.
"During the challenging first quarter of 2022, we implemented cost control measures and adjusted some non-core businesses, which will help us achieve a more optimized cost structure in the future. and corporate WeChat tools to help Chinese companies and consumers overcome the difficulties of the new round of epidemics and continue to invest in strategic growth areas, including enterprise software, video accounts and international marketsgame. "Tencent said in the financial report, "Looking forward, we will focus on key businesses and insist on innovation under various challenges and cyclical changes, and continue to create value for users, partners and the entire society." "

  See trade-offs in "Focus"
The financial report shows thatIn the first quarter of 2022, Tencent's financial technology and enterprise services segment achieved revenue of 42.768 billion yuan, a year-on-year increase of 10%, accounting for 32% of total revenue.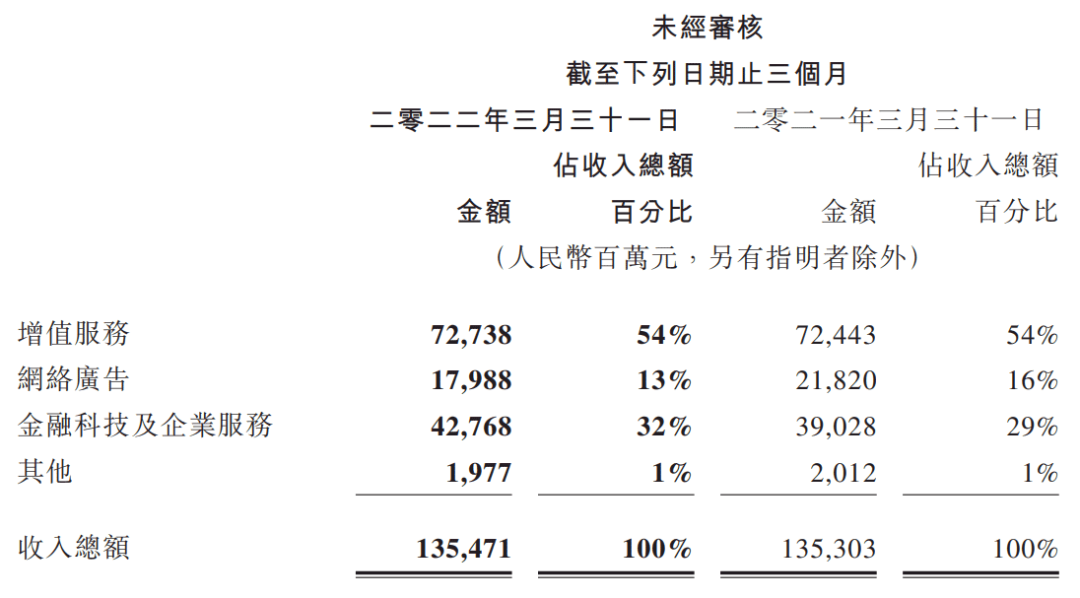 Serving the real economy has become an important business focus of Tencent. Statistics show that up to now, Tencent has joined forces with more than 9,000 partners to launch more than 400 industry solutions in 30 industries that meet digital needs. Since the epidemic, WeChat Pay has continued to reduce fees and give profits, and has helped small and micro enterprises through actions such as the "Fireworks Plan" and "New Coronary Pneumonia Protection". A number of initiatives are expected to invest more than 10 billion yuan.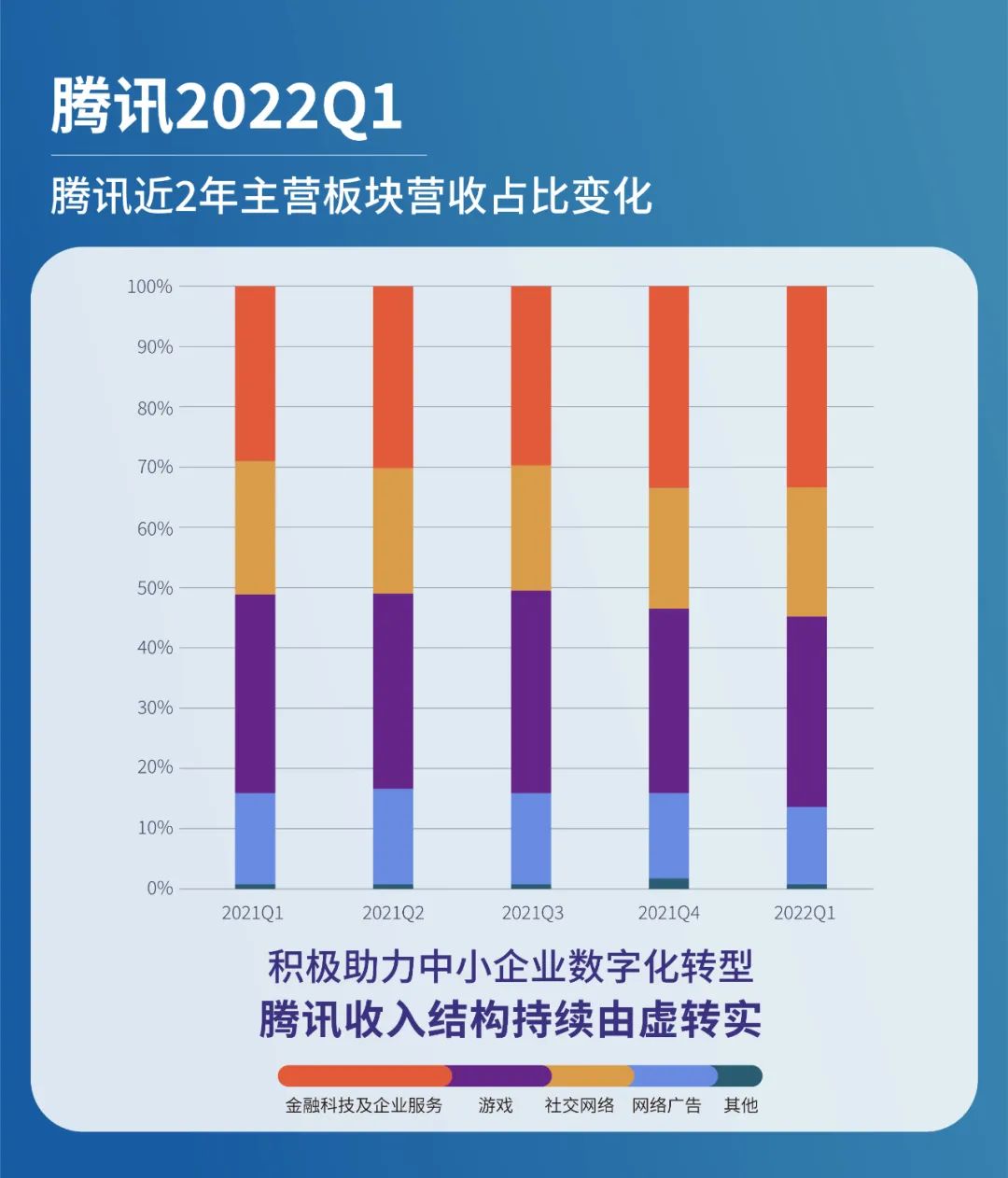 At the level of enterprise service software, the number of registered users of Tencent conference reached 300 million, and the number of monthly active users exceeded 100 million.
But the "adjustment of some non-core businesses" is also reflected in cloud and other enterprise services. The financial report shows that Tencent has refocused on the healthy growth of enterprise services, actively reduced loss-making businesses, and concentrated its resources on PaaS solutions in the fields of video cloud and network security.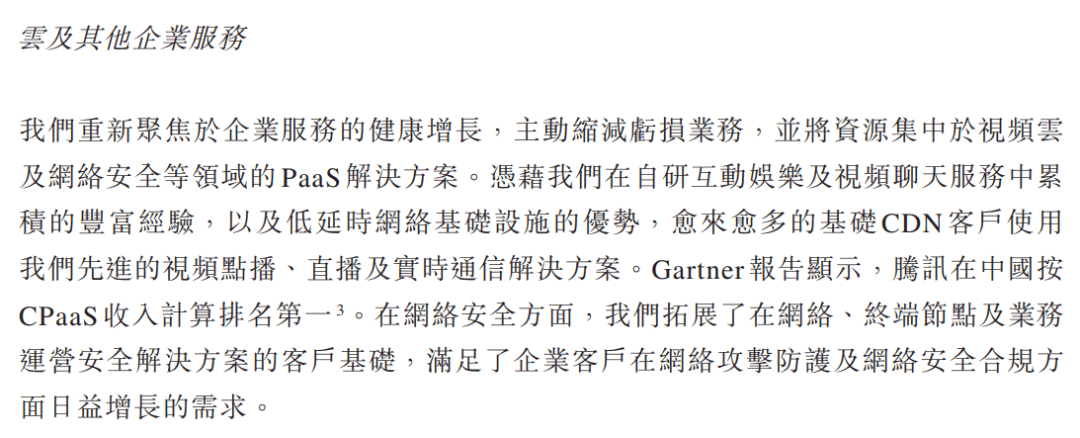 However, looking back at Tencent's key cooperation projects since 2022, Tencent Cloud and industry-leading listed companies have not been impacted in the field of industrial Internet.
On January 8 this year, Tencent Cloud andLinglong tiresHuazhi Intelligent signed the third phase of new retail based on the previous strategic cooperation. The three parties will integrate their superior capabilities and resources toLinglong tiresThe smart marketing platform has been comprehensively upgraded. By building high-level infrastructure such as industry data center and cloud computing base, it has created a digital transformation benchmark for the tire industry and helped the high-quality development of the tire industry.
Tencent andFiiCooperation, using an integrated industrial quality inspection machine to replace human eye recognition, the production efficiency has increased by 10 times, and the two parties have also cooperated to build an industrial Internet platform, which has served more than 1,000 industrial enterprises; in addition, Tencent has also cooperated withSany Heavy Industriesco-createdconstruction machineryThe industry's first smart service center, introducing a new generation of customer service AIrobot。
  Under Musk's "high praise"
  WeChat MAU increased by 3.8% year-on-year to 1.288 billion
Interestingly, just before the release of Tencent's financial report,TeslaSpaceX CEO Elon Musk at an event praised WeChat, which he sees as China's all-encompassing "super app" where people can basically live.
Despite alleged 'fake account' issue, Musk's $44 billion acquisitionTwitterTwitter's project may face changes, but it still favors such social software.
According to Tencent's financial report, as of the end of the first quarter of 2022, the combined monthly active users (MAU) of Tencent's WeChat and WeChat were 1.288 billion, an increase of 3.8% over the same period last year and a month-on-month increase of 1.6%.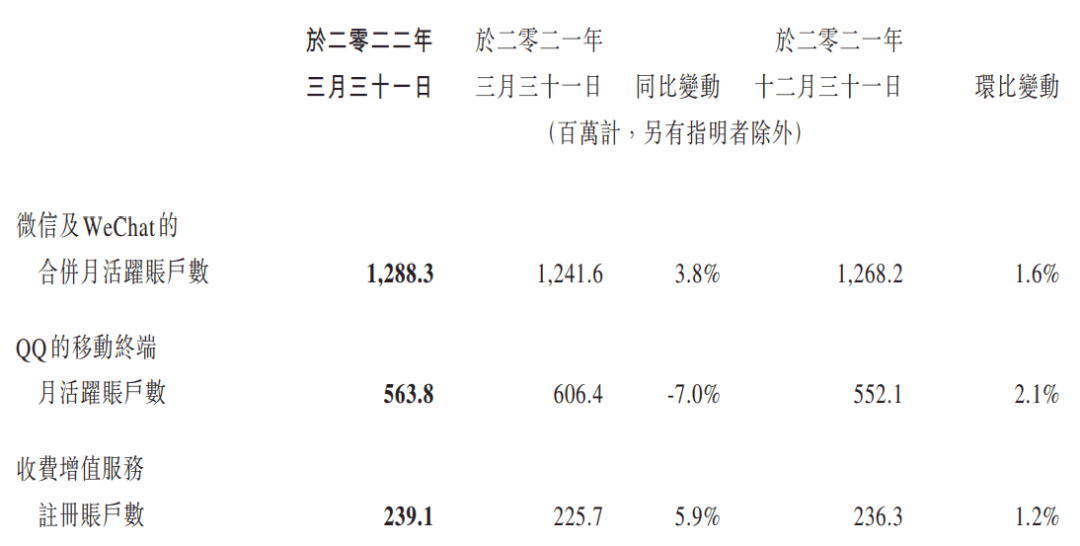 R&D investment for five consecutive quarters
  Year-on-year growth of over 25%
During the painful period of performance, Tencent's pace of promoting the industrial Internet and "digital-real integration" has not slowed down, and it is realizing the transition to high-quality growth through increased R&D investment.
  In the first quarter of 2022, Tencent's R&D investment increased by 36% year-on-year to 15.383 billion yuan, and R&D expenses increased by more than 25% year-on-year for five consecutive quarters.
The previously released 2021 financial report disclosed that Tencent's R&D investment in 2021 will be 51.88 billion yuan, a year-on-year increase of 33%. Tencent's latest 2021 R&D big data report also shows that in 2021, the number of Tencent's R&D personnel will increase by 41% year-on-year, with more than 6,000 new R&D projects, an increase of 51% year-on-year in 2020.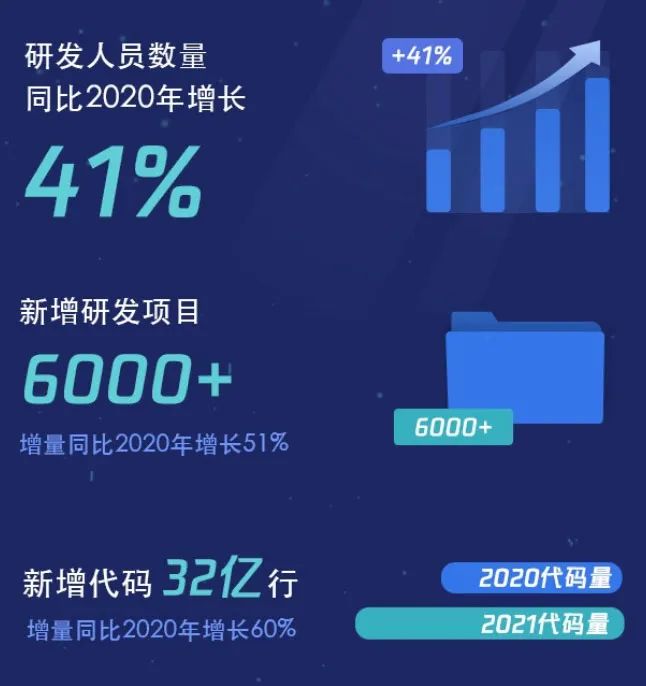 Data shows that in the past three years, Tencent has invested more than 136.5 billion yuan in research and development, and established a complete self-developed system including servers, operating systems, chips, and SaaS.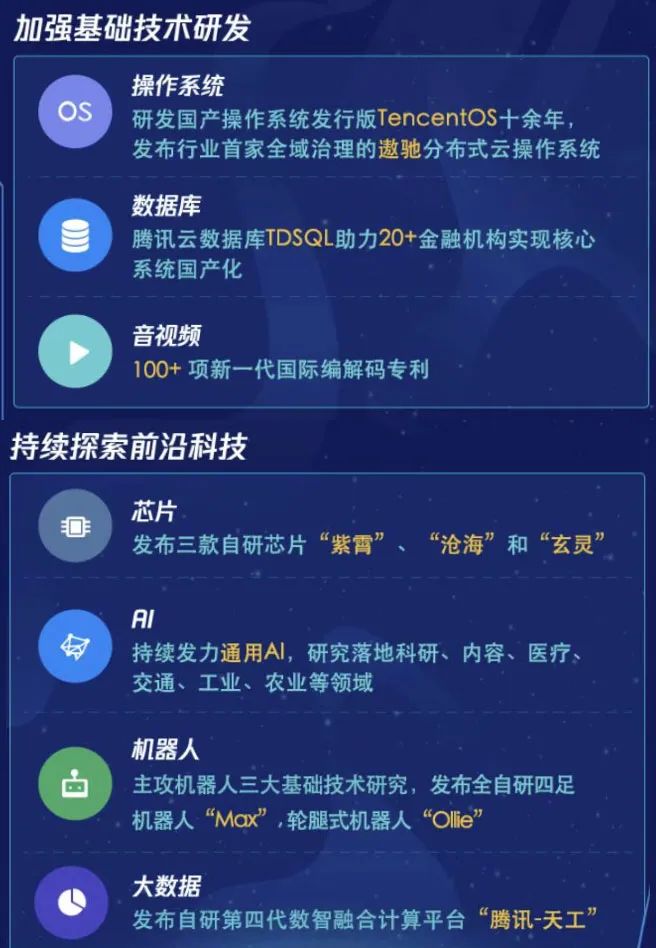 As of April 2022, Tencent has published more than 56,000 patent applications in major countries and regions around the world, and more than 26,000 patents have been authorized, of which invention patents account for more than 90%.
  gameThe sector also looks at international business
existgameIn the business sector, the international market is still a growth point. Data Display,Tencent Games' revenue in the first quarter reached 43.6 billion yuan, of which the international market game revenue was 10.6 billion yuan, a year-on-year increase of 4%; the local market game revenue was 33 billion yuan, a year-on-year decrease of 1%.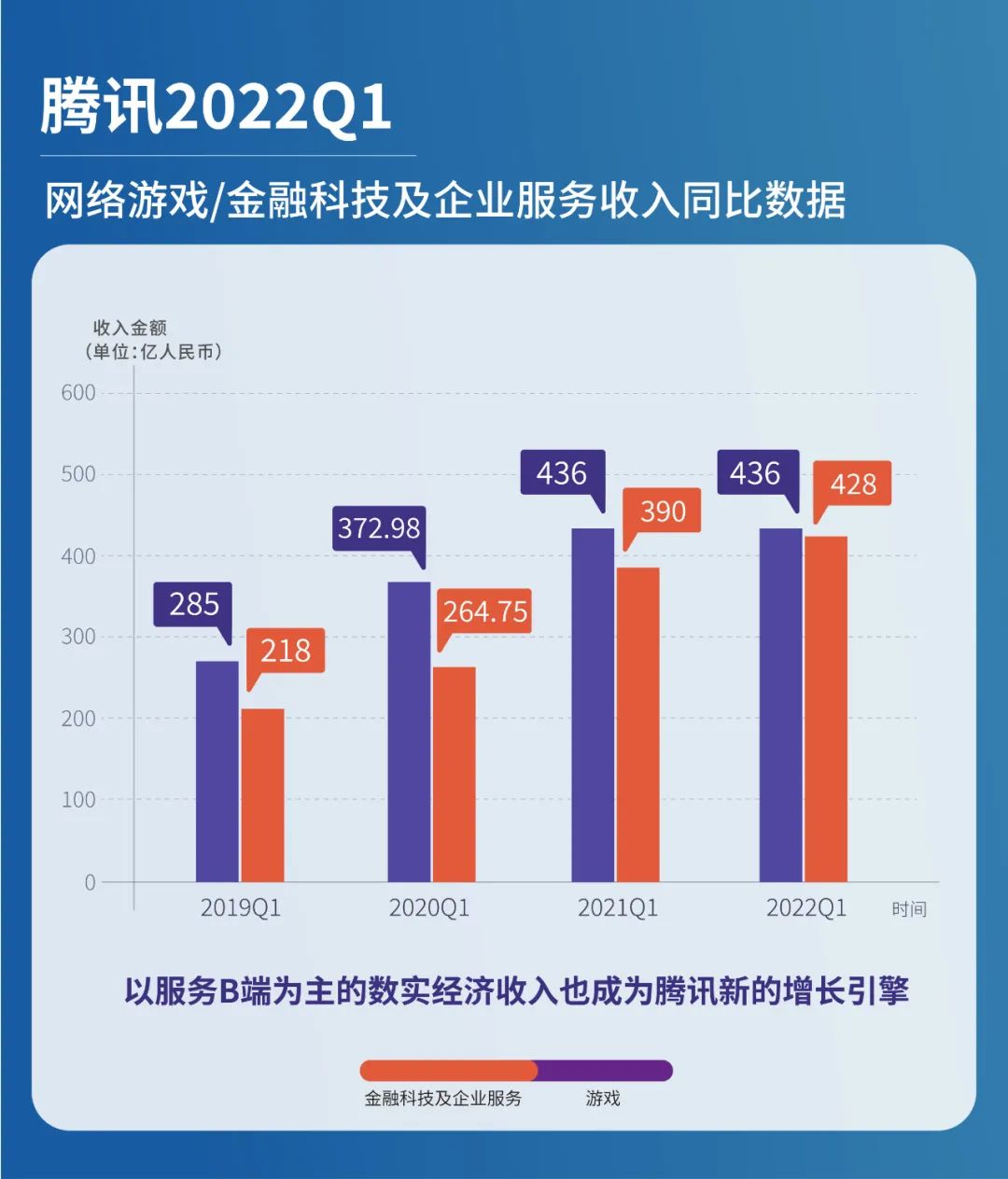 Tencent stated in its financial report that the increase in game revenue in the international market in the first quarter of this year was mainly due to the increase in revenue from games such as "VALORANT" and "Clash of Clans". Among them, "VALORANT" maintained a strong performance, with an increase in the user base and an increase in willingness to pay.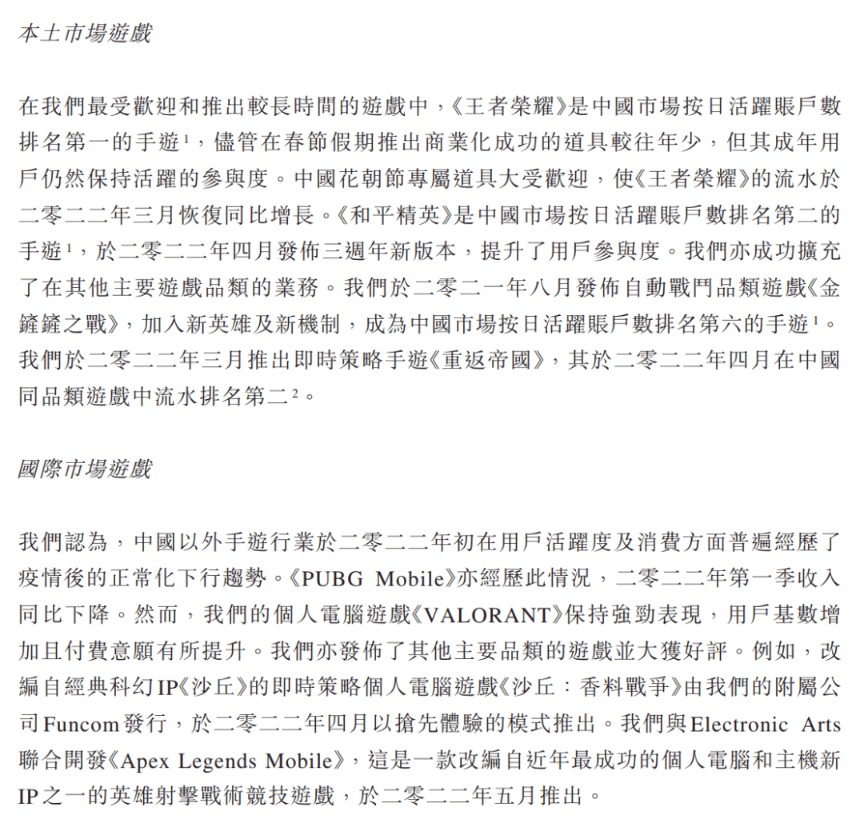 the first quarterrepoHK$3.697 billion shares
Although the short-term performance is under pressure, the pace of Tencent's repurchase has not slowed down.
The latest data disclosed in the financial report shows that within the three months ended March 31, 2022, Tencent repurchased 8.8644 million shares at a total consideration of approximately HK$3.697 billion (excluding expenses), which have been cancelled, aiming to increase long-term growth.shareholdervalue.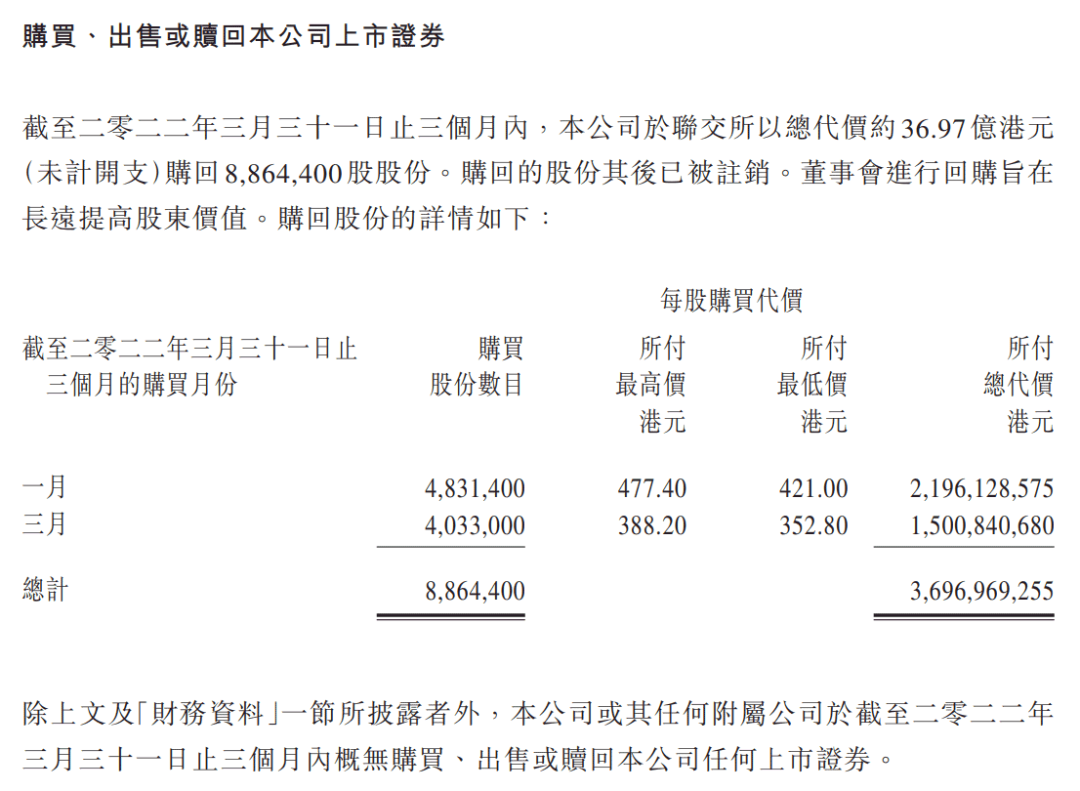 (Article source: Hafu Information)