(Photo/Pixabay)
If your Android phone has recently experienced abnormal power consumption, unexplained heat, etc., you should pay more attention, or it may be caused by the invasion and infection of apps that hide malicious Trojan programs and fraudulent stealing of personal information.
According to the latest report released by the information security agency "Dr.Web", security researchers recently found on the Google Play Store that there are many apps that have been secretly implanted with malicious Trojans, which will disguise as the app names of general application tools. Stealing Facebook credentials and personal information of mobile phone users, and earning illegal income by displaying a large number of advertisements and asking victims to click.
Please read on…
Not only that, it will also occupy the bandwidth of the mobile phone network traffic, abnormally consume the power and life of the mobile phone, and cause the mobile phone to become hot and overheated from time to time. They even secretly subscribe to high-paying application services without authorization, causing the victim's mobile phone bill to skyrocket for no reason, resulting in monetary losses.
Up to now, it is known that there are at least 5 apps containing malicious Trojans, which are still active on the Google Play Store, and have not been forcibly removed from the shelves. The total number of downloads is estimated to be at least 2 million times, and the threat of damage is not high. Small.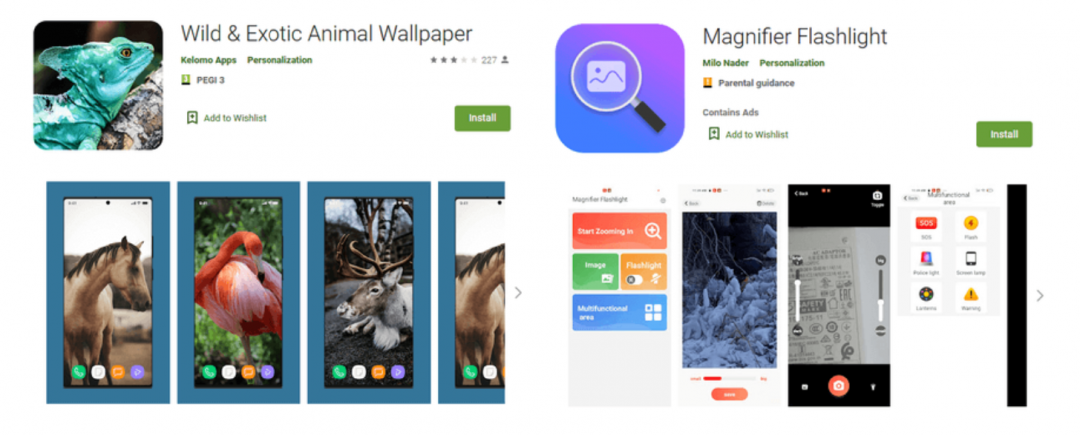 (Photo flipped by Dr.Web)
5 Android apps with hidden malware: PIP Pic Camera Photo Editor for photo editing (1 million downloads) and PIP Camera 2022 (500,000 downloads), ZodiHoroscopr for fortune-telling (500,000 downloads) ), Wild & Exotic Animal Wallpaper for wallpapers (500,000 downloads), and Magnifier Flashlight for magnifying glass and flashlight (10,000 downloads).
If Android phone users have installed and downloaded the above five apps, be sure to delete and uninstall them as soon as possible. In addition, if you want to avoid the threat of malicious Trojan infection on your mobile phone, it is recommended to install genuine and reliable mobile phone antivirus software.
you might also want to see
The 10 Most Common "Leaked Passwords" in Underground Markets Don't Use Anymore!Free tools crack in 1 second
No need to draw, no need to grab, now use the APP to watch the news to ensure that you win the prize every day, I download the APP and press me to watch the event method