Status: 05/29/2023 06:51 a.m
Powered by wind or water – there are hundreds of lovingly renovated mills in northern Germany. Traditionally, many of them open on Mill Day on Whit Monday.
They are fascinating to look at, and the robust mechanics are amazing: Mills are among the first complex machines that made work easier for people. They used to be in every larger village, but since the 1950s mills have largely disappeared from the landscape. In the meantime, enthusiasts are taking care of the remaining specimens and making sure that the technical masterpieces of the past do not expire.
Many of the historic mills open today German mill day. Often you can not only experience the buildings while they are being ground, but also see how the freshly ground flour is processed into bread in bakehouses.
Lower Saxony: Mills from all over the world in Gifhorn
In Gifhorn, visitors can also admire mills of Greek or Portuguese origin.
In Lower Saxony alone, around 800 watermills and around 600 windmills have been preserved, many of which can be visited on Whit Monday. These include the post mill in Hermann-Löns-Park in Hanover from 1701, the Water mill in Moisburg, the Windmill Paula in Steinhude or the two historic mills in the outdoor area of ​​the bread museum in Ebergötzen. A visit to the International Mill Museum in Gifhorn, which reopens for the first time at Pentecost after a long period of closure and renovation. A total of 13 mills from different countries around the world can be seen, along with specimens from Germany, mills from Greece, Spain, Portugal, France, Russia and Korea.
Variety of mills in Schleswig-Holstein
In Schleswig-Holstein, too, there are a number of mills on Whit Monday, such as the Renata windmill in Schwensby (fishing), the Fortuna windmill in the Unewatt landscape museum, the Hoper mill "Edda" in St. Michaelisdonn, the "wedding mill" in Wenningstedt or the Amrum windmill. The Molfsee open-air museum near Kiel has four mills to offer. A special feature there is a post mill, which dates back to the 16th century. You can also see a windmill from Hollingstedt in operation, a watermill and a spinning head mill. During special tours on Mill Day, visitors can learn more about the technology behind the buildings.
Mecklenburg-West Pomerania: visit wind, water and motor mills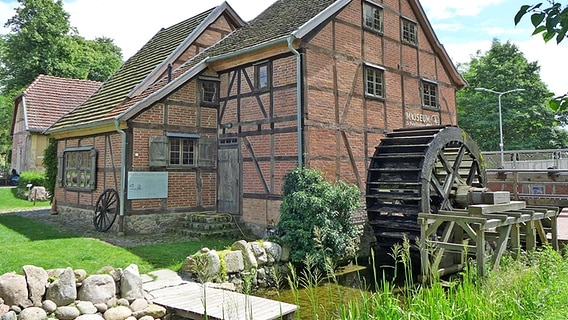 The grinding mill in Schwerin has never ground grain, but was used for stone processing.
In Mecklenburg-Western Pomerania, a total of 22 historic wind, water and motor mills open on Mill Day, including the beautiful Malchow town mill and the more than 300-year-old one Schwerin grinding mill, whose large water wheel drives machines to work stones – from small gems for jewelry to heavy base blocks for monuments. There is also a museum attached to the mill.
Hamburg: Rieckhaus shows Schöpfmühle
In the Hamburg Vierlanden, the Rieckhaus invites you to visit its scoop mill, which was once used to drain the fields. It's not far away Riepenburger Mühle openly interested visitors, Hamburg's largest and oldest mill, in which grain is ground to this day.
A A map on the website of the Deutsche Gesellschaft für Mühlenkunde provides an overview of all participating mills.