Yesterday, strong rainfall developed in the eastern part of Southwest China, southeastern Northwest China, Huanghuai, North China and other places. Monitoring showed that northeastern Sichuan, most of Chongqing, western Hubei, southeastern Gansu, central and southern Shaanxi, central and southern Shanxi, and northern Henan. Heavy to heavy rains occurred in parts of western, western Shandong, southern Hebei, Guang'an and Dazhou in Sichuan, Dianjiang, Kaizhou and Chengkou in Chongqing, Ankang in Shaanxi, Yuncheng, Jincheng and Changzhi in Shanxi, Luoyang, Jiaozuo, Xinxiang and Hebi, Henan , Anyang and Puyang, Handan, Hebei and other local torrential rains.
Two days before the Mid-Autumn Festival holiday, there was a strong precipitation process from west to east in the east of Southwest China, Jianghan, Huanghuai, North China, and Northeast China.
Specifically, the Central Meteorological Observatory predicts that today, there will be moderate to heavy rains in parts of the central and eastern North China, southern Northeast China, Huanghuai, most of Jianghuai, Jianghan, western Jiangnan, southern Southwestern, and central and southern Guizhou. Among them, Liaoning Heavy rains occurred in parts of the west and southeast, eastern Hebei, Tianjin, northern Shandong, northeastern Henan, central and southern Hubei, southern Guizhou, etc., and heavy rains occurred in parts of southeastern and northeastern Hebei, southern Tianjin, and northern Shandong. .
Tomorrow, there will be moderate to heavy rains in parts of central and eastern Inner Mongolia, central and southern Northeast China, northern North China, and southwestern Yunnan. Among them, there will be heavy rains or heavy rains in parts of eastern Inner Mongolia, most of Liaoning, and northern Hebei.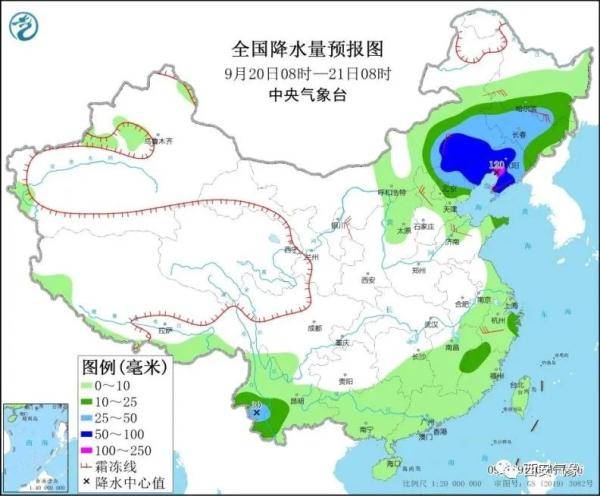 The day after tomorrow, the rainfall process is basically over. Except for light to moderate rain in the Northeast, most of the rest of the country is mainly sunny to cloudy. It is estimated that there will be light to moderate rain in parts of eastern Inner Mongolia, most of the northeast, northwestern Tibet, central northwestern, southern Jiangnan, southern southwestern, most of southern China, Taiwan Island and other places. Among them, southeastern Inner Mongolia and southwest Heilongjiang There were heavy rains in parts of the northeast, western Jilin and other places.
Meteorological experts reminded that there will be heavy rainfall in Huanghuai, North China, Northeast China and other places today and tomorrow, and mountain torrents, geological disasters, geological disasters, and The meteorological risks of disasters such as floods in small and medium-sized rivers and waterlogging in urban and rural areas are relatively high, especially in northern Henan where the soil continues to be too wet, and it is necessary to strengthen prevention of disasters caused by the superimposition of rain areas. The road is slippery on rainy days and visibility is low. The public should pay attention to traffic safety when traveling on rainy days.
[责任编辑: ] Return to Sohu to see more
Editor:
Disclaimer: The opinions of this article only represent the author himself. Sohu is an information publishing platform. Sohu only provides information storage space services.
.