The Asian Games Women's Go Women's Team Trials ended, Yu Zhiying, Zhou Hongyu and other four qualifiedFly into the homes of ordinary people
Zhou Hongyu (right) and Li He in the game
The 2022 Asian Games Chinese National Go Team Training Trial Tournament Women's Group's second stage, the final round ended today in Quzhou, Zhejiang Province. Yu Zhiying, Zhou Hongyu, Li He and Lu Minquan finally qualified and will represent China in the Hangzhou Asian Games Go competition .
The Asian Games Chinese Go Team Trials were held in two stages. The women's team participated in the selection of the champion and runner-up of the latest international and domestic competitions and a total of 14 members of the national women's team of the year. Among them, the top four domestic chess players directly entered the first place. Stage two. In the first stage, Chen Yiming, Rui Naiwei, Wu Yiming and Li He advanced. They competed with Yu Zhiying, Zhou Hongyu, Wang Chenxing and Lu Minquan in the second stage for a total of 14 rounds of competition, and 4 Asian Games places were decided.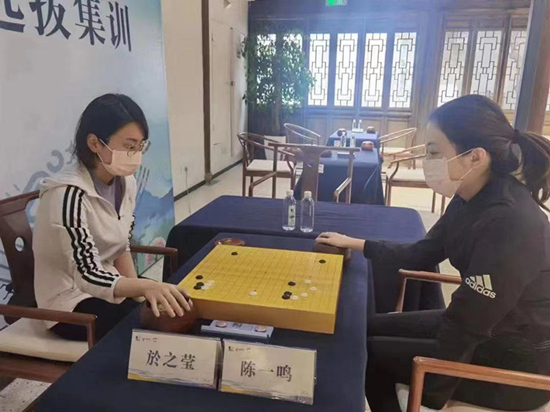 Yu Zhiying (left) won the Asian Games seat
After the 13th round yesterday, Yu Zhiying won 9 wins to qualify ahead of time, and Li He, who won 8 wins, also qualified early due to his small points advantage. The remaining 2 places are created between Lu Minquan, Zhou Hongyu and Wu Yiming. In the last round of today's game, Zhou Hongyu captured Li He and won 9 wins, and Wu Yiming defeated Lu Minquan. In the other two unrelated matches, Yu Zhiying defeated Chen Yiming and Rui Naiwei defeated Wang Chenxing.
In this way, the list of Chinese Go men's and women's teams for the 2022 Asian Games has been released. The six players of the men's team are Ke Jie, Gu Zihao, Yang Dingxin, Fan Tingyu, Qi Jiaxi and Li Xuanhao. The four players of the women's team are Yu Zhiying, Zhou Hongyu, Li He and Lu Minquan. Go back to the Asian Games after 12 years, and they will represent China in the Go men's and women's team competitions. (Xinmin Evening News reporter Jin Lei)
Editor: Lu Weixin