Whether Amazon, eBay or Alibaba – there are literally no limits to online trading. Because the e-commerce shops make it easy for consumers in Germany to order goods from abroad. According to a survey by IPC of more than 33,000 respondents from 40 countries, Amazon is the most frequently chosen retailer for cross-border purchases – 27 percent stated that they made their last foreign purchase through Amazon. Alibaba and AliExpress are in second place with 17 percent. The Chinese supplier mainly sells goods from Asia – including many plagiarisms. eBay (9 percent), Shein (6 percent) and Wish (5 percent) are also frequently used.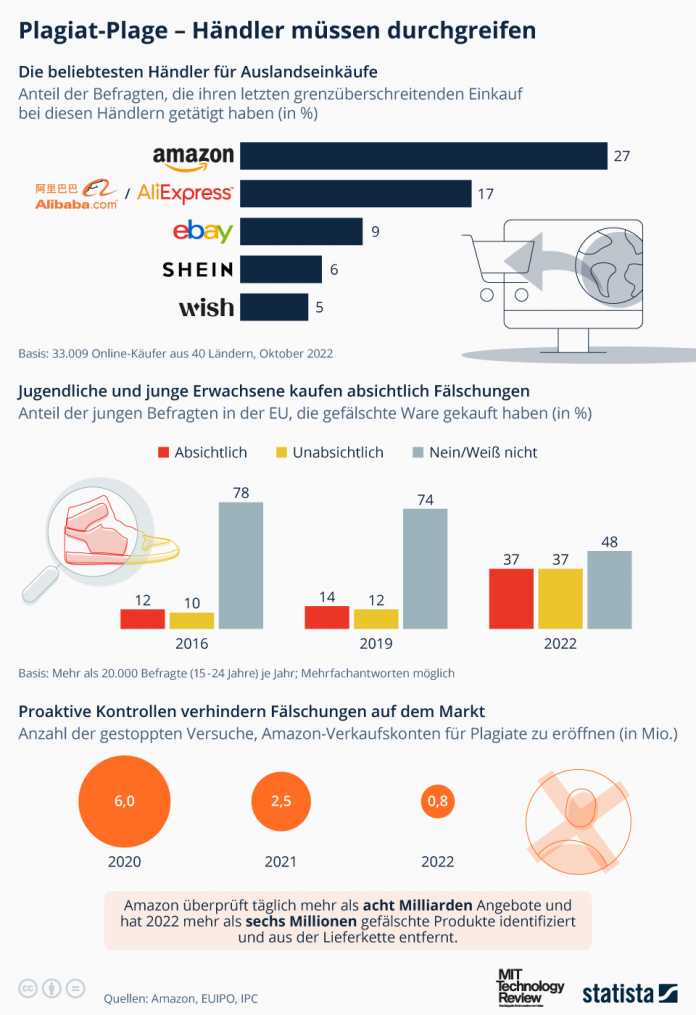 Brand and product piracy is becoming a serious problem in Germany due to easy access to foreign goods. The value of goods confiscated by customs has risen steadily in recent years. In 2022, border guards confiscated products worth 435 million euros. This corresponds to an increase of around 38 percent compared to 2021 and even 82 percent compared to 2020. More than half of all seizures registered by customs come from China (57.9 percent) and Hong Kong (16.3 percent).
In our weekly column we present numbers, curves and diagrams from technology and science.
Knowingly bought fakes
Another reason for the increased occurrence of counterfeit articles is the willingness of many consumers to consciously buy counterfeits. According to an EU-wide survey, in 2022 more than a third of respondents between the ages of 15 and 24 said they had bought counterfeits on purpose, and 37 percent also confirmed that they had also done so unknowingly. Compared to previous years, the proportion of those has more than doubled. Mostly counterfeit branded clothing is bought. Around half of the buyers cited the price advantage as a reason, 27 percent say they simply don't care if it's a fake.
Amazon in particular is committed to fighting counterfeit products. According to its own Brand Protection Report 2022, the company automatically checks more than eight billion offers every day and discovered around six million counterfeits last year and was thus able to remove them from the supply chain. The online retailer's efforts seem to have borne fruit in recent years: while around six million attempts to open counterfeit sales accounts were stopped in 2020, by 2022 there will only be around 800,000. The platform is becoming increasingly unattractive to scammers.

(jl)