Fukuoka festival man Bogey (father), Mondo (19 years old) who is active as a painter, Appare (15 years old) who debuted as an actor, Kon-chan (10 years old) who has an idol temperament, and the backbone baby (mother) who supports the family. A summer vacation tour where a spontaneous family band made by people travels all over the country in a single car, interacting, having fun, and raising excitement! In the daytime, the caricature shop in the gate,Bogey family live at night! Let's make summer memories together!




"Summer Vacation! Bogey Family Tour 2023"

8/17 (Thursday) Hiroshima / Koharu Cafe / Music Cafe Oorganza
8/18 (Fri.) Yonago/Live Shin One Make
8/19 (Sat) Kotoura-cho/Arienoon Sunset / Naruishi no Hama OITOMA
8/20 (Sun) Nishiakashi / BAR TRASH2nd
8/22 (Fire) Osaka・THE PAX Shinsekai
8/25 (Fri.) Shimokitazawa BASEMENTBAR "Viva Young!" w/ Tomovsky
8/26 (Sat) Furukawa / SAKAKAN CAFE
8/27 (Sun) Aoyama / Tsukimiru Kimifu (daytime performance) * Streaming available!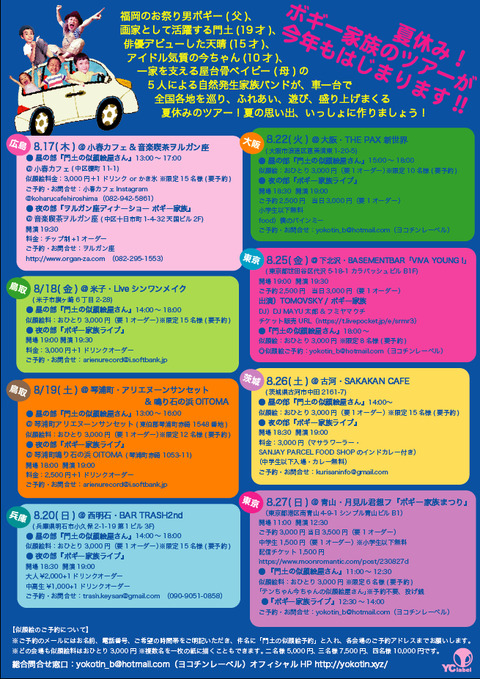 ーーー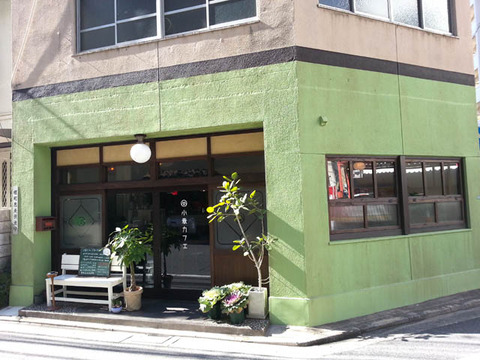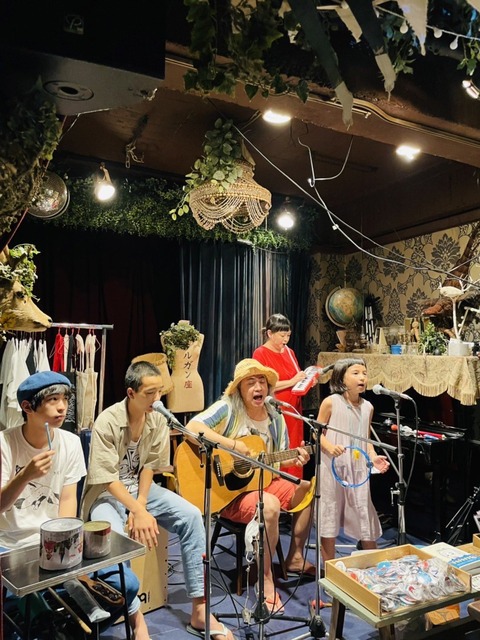 8.17 (Thursday) "Summer Vacation! Bogey Family Tour 2023 in Hiroshima"
@Hiroshima Koharu Cafe & Organza

● Afternoon section "Caricature artist of Mondo"
@Koharu Cafe
(11-1 Enokicho, Naka-ku, Hiroshima City)
13:00~17:00
Portrait fee: 3,000 yen + 1 drink or shaved ice *Limited to 15 people

Reservations/Inquiries:
Please specify your name, phone number, and desired time above, put "Mondo-kun portrait reservation" in the subject, and make a reservation by DM on Instagram of Koharu Cafe below. We will reply from here.

Koharu Cafe Instagram
@koharucafehiroshima
https://instagram.com/koharucafehiroshima?igshid=MmIzYWVlNDQ5Yg==
Koharu Cafe
082-942-5861

● Evening Part "Oruganza Dinner Show Boggy Family Tour 2023"
@Music cafe Oorganza
(Tengoku Building 2F, 1-4-32 Tokaichi-cho, Naka-ku, Hiroshima)
Start 19:30
Price: Tip system (1 order required)

Reservations/Inquiries: Organ-za
082-295-1553
http://www.organ-za.com

ーーー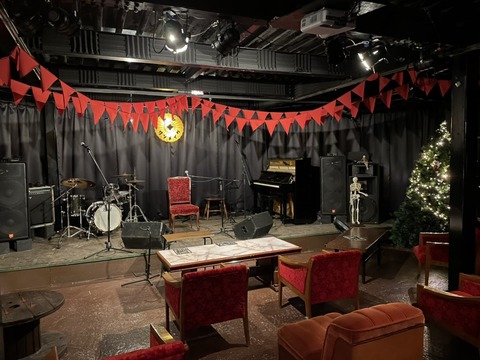 8/18 (Fri.) "Summer Vacation! Bogey Family Tour 2023 in Yonago"
@Yonago Live Shin One Makeup
(6-2-28 Hatagasaki, Yonago City)

● Afternoon section "Caricature artist of Mondo"
14:00~18:00
Portrait fee: 3,000 yen per person (1 order required) *Limited to 15 people (reservation required)

● Evening "Boggy Family Live"
Open 19:00 Start 19:30
Price: 3,000 yen (1 order required)

Reservations/Inquiries:
arienurecord@i.softbank.jp

ーーー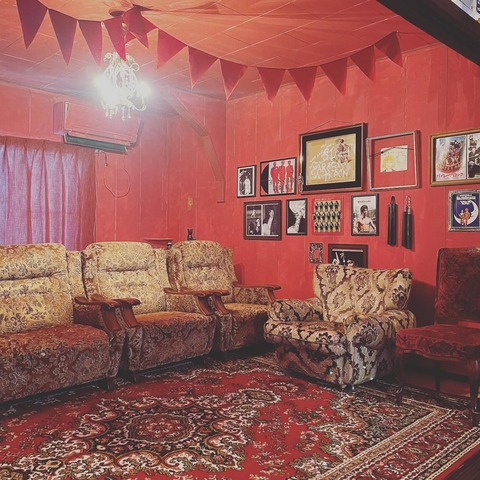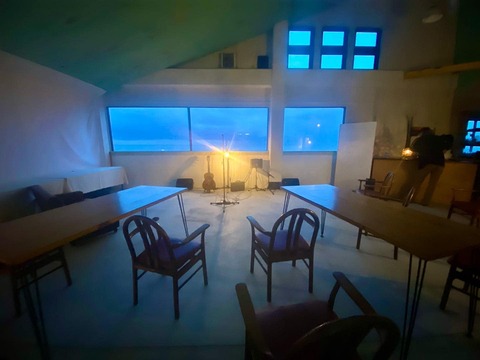 8/19 (Sat.) "Summer Vacation! Bogey Family Tour 2023 in Kotoura"
@ Kotoura Town Arie Noon Sunset & Nariishi Beach OITOMA

● Afternoon section "Caricature artist of Mondo"
@ Kotoura Town Arie Noon Sunset
(1548 Akasaki, Kotoura-cho, Tottori Prefecture)
13:00~16:00
Portrait fee: 3,000 yen per person (1 order required) *Limited to 12 people (reservation required)

● Evening "Boggy Family Live"
@ OITOMA beach of Naruishi, Kotoura town
(1053-11 Akasaki, Kotoura-cho)
Open 18:00 Start 19:00
Price: 2,500 yen (1 order required)

Reservations/Inquiries:
arienurecord@i.softbank.jp

ーーー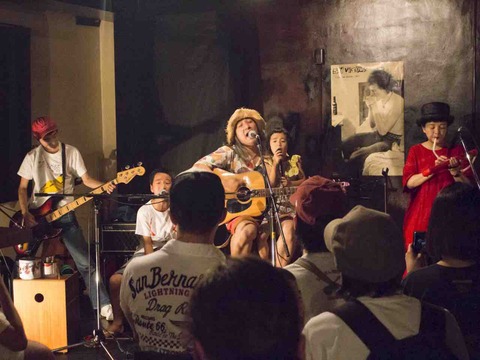 8.20 (Sun) "Summer vacation! Bogey Family Tour 2023 in Nishi-Akashi"
@Nishiakashi BAR TRASH2nd
(1st Building 3F, 2-1-19 Kokubo, Akashi City, Hyogo Prefecture)

● Afternoon section "Caricature artist of Mondo"
14:00~18:00
Portrait fee: 3,000 yen per person (1 order required) *Limited to 15 people (reservation required)

● Evening "Boggy Family Live"
Open 18:30 Start 19:00
Adult ¥2,000 (1 order required)
Junior high and high school students ¥1,000 (1 order required)

Reservations/Inquiries:
trash.keysan@gmail.com
090-9051-0858


ーーー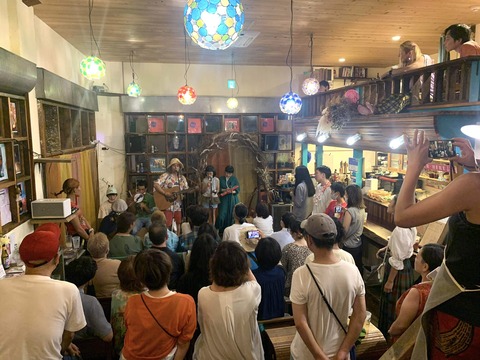 8.22 (Tue) "Summer Vacation! Bogey Family Tour 2023 @ Osaka"
@Osaka・THE PAX Shinsekai
(1-20-5 Ebisuhigashi, Naniwa-ku, Osaka-shi)

● Afternoon section "Caricature artist of Mondo"
15:00~18:00
Portrait fee: 3,000 yen per person (1 order required) *Limited to 10 people (reservation required)
◎Portrait reservation: Yokochin label
yokotin_b@hotmail.com

● Evening "Boggy Family Live"
Open 18:30 Start 19:00
Reservation 2,500 yen Same day 3,000 yen (1 order required)
Free for elementary school students and younger
food) my banh mi

Reservations/Inquiries:
yokotin_b@hotmail.com

ーーー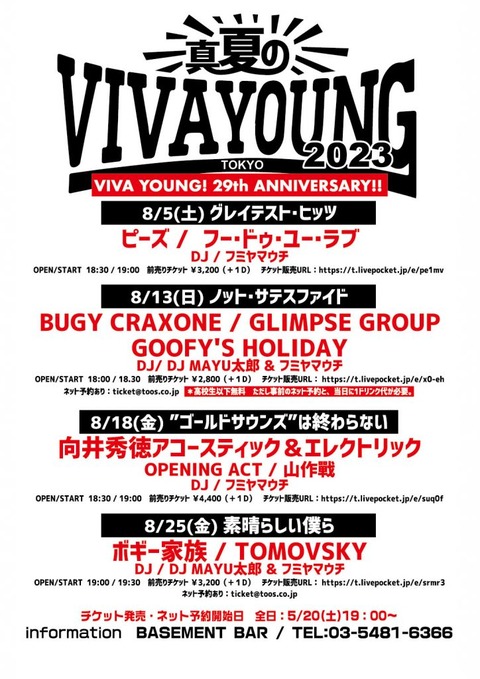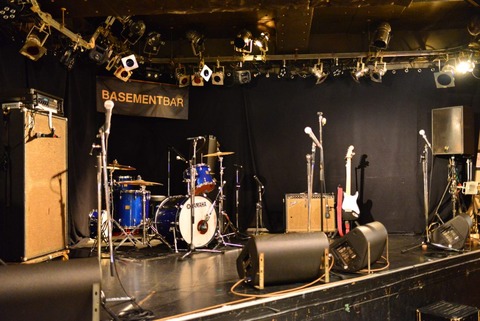 8.25 (Fri) ~VIVA YOUNG! 29th ANNIVERSARY!! ~VIVA YOUNG!
@ Shimokitazawa BASEMENT BAR
(5-18-1 Daisawa, Setagaya-ku, Tokyo Calabash Building B1F)
Doors open 19:00 Start time 19:30
Reservation 2,500 yen Same day 3,000 yen (1 order required)

Appearance) TOMOVSKY / Bogey family
DJ) DJ MAYU Taro & Fumiya Mauchi

Ticket sales URL
https://t.livepocket.jp/e/srmr3

● "Caricature artist of Mondo"
18:00~
Portrait fee: 3,000 yen per person (1 order required) *Limited to 8 people (reservation required)
◎Portrait reservation: Yokochin label
yokotin_b@hotmail.com

ーーー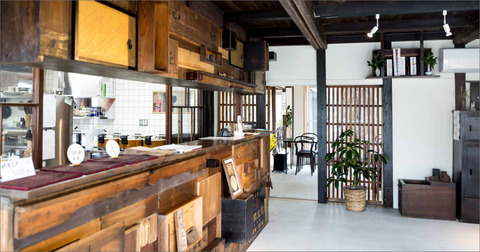 8.26 (Sat) "Summer vacation! Bogey Family Tour 2023-I'll do it this year! in Furukawa"
@ Furukawa SAKAKAN CAFE
(2161-7 Nakada, Koga City, Ibaraki Prefecture)

● Afternoon section "Caricature artist of Mondo"
14:00 start
Portrait fee: 3,000 yen per person (1 order required) *Limited to 15 people (reservation required)

● Evening "Boggy Family Live"
Open 18:30 Start 19:00
Price: 3,000 yen (includes masala waller and Indian curry from SANJAY PARCEL FOOD SHOP) (admission for junior high school students and younger, curry free)

Reservations/Inquiries:
kurisaninfo@gmail.com

ーーー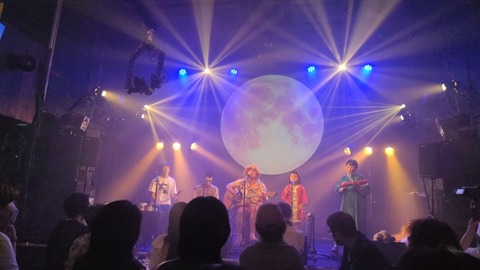 8.27 (Sun) "Summer vacation! Bogey Family Tour 2023 @ Tokyo Edition-Bogey Family Festival" *Delivery available!
@Aoyama/Tsukimi Ru
(Simple Aoyama Building B1, 4-9-1 Minami-Aoyama, Minato-ku, Tokyo)
Open 11:00 Start 12:30
Reservation 3,000 yen Same day 3,500 yen (1 order required)
Junior high school student 1,500 yen (1 order required)
Free for elementary school students and younger
Click here to purchase a delivery ticket (1,500 yen).
https://www.moonromantic.com/post/230827d

● "Caricature artist of Mondo"
11:00~12:30
Portrait drawing fee: 3,000 yen per person *Limited to 6 people (reservation required)
"Ten-chan Ima-chan's portrait shop" *No reservation required, tipping
● "Bogey Family Live"
12:30~14:00

Reservations/Inquiries:
yokotin_b@hotmail.com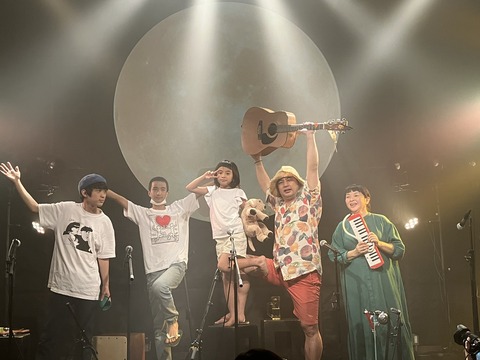 [About reservations for portraits]
*Please specify your name, phone number, and desired time slot in the reservation email, put "Mondo portrait reservation" in the subject line, and make a reservation by email to the reservation address of each venue.
* Caricature fee is 3,000 yen per person at any venue * You can also draw a couple or family on a piece of paper. 5,000 yen for 2 people, 7,500 yen for 3 people, 10,000 yen for 4 people.

If you have any inquiries or cannot contact the venue, please contact us at the following.

General inquiry window:
yokotin_b@hotmail.com (Yokotin Label)
Official website