Original title: More than 100 public fund managers have left their positions as "newcomers" occupying half of the country. Can they carry the banner of public fundraising?
Economic Observer Network reporter Hong XiaotangSince the beginning of this year, the flow of public funds has accelerated, and the number of outgoing fund managers has exceeded 100, hitting a new high since 2019. Private placement has become the choice of more people.
And an embarrassing fact is that after the veterans of the public offering have left, the fund managers who stay in the public offering are getting younger and younger.
Veteran left
Wind data shows that as of May 11, the number of fund managers who have left since the beginning of this year has reached 103, including a group of star fund managers such as Lin Sen, Dong Chengfei, Zhou Yingbo, and Cui Ying.
On May 7, E Fund Fund announced that fund manager Lin Sen resigned due to personal reasons. According to insiders, he may join Shanghai Qinchen.
On March 30, Zhou Yingbo of China Europe Fund officially announced his resignation and founded the private equity-Shanghai Ocean Boat Private Equity Fund Management Co., Ltd.
On February 19, Baoying Fund announced that Xiao Xiao, general manager of the company's equity investment department, had resigned due to personal reasons.
On February 7, Ge Chen, the medical fund manager of Bosera Fund, announced his resignation, and then joined the well-known private equity firm Gao Yi Asset.
In January, Dong Chengfei stepped down as deputy general manager, officially "farewell" to Industrial Securities Global Fund, and joined his old colleague "Ruijun Assets."
Also in January, Cui Ying resigned from Huaan Fund and co-founded Shanghai Qinchen with many friends in the industry.
Generally speaking, since the beginning of this year, there are many veterans or star fund managers in the newly established and filed funds.
A senior public fundraiser said, "After the public fundraising has accumulated a certain reputation, disclosed historical performance and stable customers, many people will choose to establish or join private equity funds. On the one hand, they are more free in investment and can better practice themselves. On the other hand, confidence in the future market and the way of private equity performance provision are more attractive."
young successors
The growth of the private equity team also means the loss of veterans in the public offering industry. The reporter found that with the frequent departure of veterans, public fund managers are getting younger.
For example, as of the first quarter of this year, among the 15 public fund companies with a non-fund management scale exceeding 300 billion, the average tenure of fund managers is only more than four years, and most companies have tenures of less than four years (including four years, the same below). ) accounted for nearly half of the fund managers.
For example, among the total 55 fund managers of China Universal Fund, 56.36% of the fund managers have served for less than 4 years, which also means that more than half of the company's fund managers are "newcomers". Coincidentally, Penghua Fund also has such problems. Among the company's 61 fund managers, 55.73% have served for less than 4 years.
Statistics show that among 15 companies with a scale of over 300 billion yuan, there are 8 fund companies where more than half of the fund managers have served for less than 4 years. There are also 5 public offering institutions with fund managers who have served for less than 4 years, accounting for more than 45%.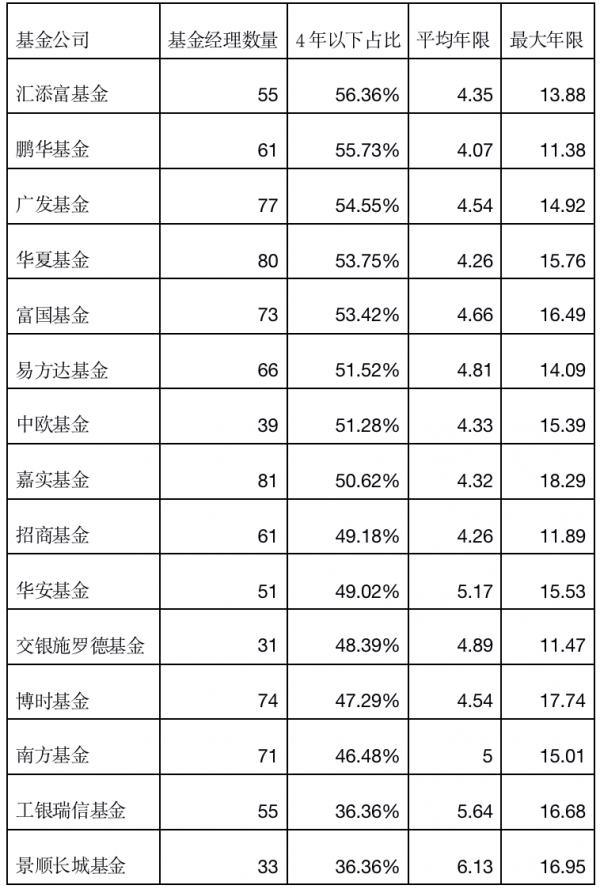 Data source: wind
An industry consensus is that fund managers need to go through at least one complete bull-bear cycle. If the complete cycle from 2001 to 2007 and from 2007 to 2015 is calculated, that is, 7-8 years can be regarded as a complete bull-bear cycle of the A-share market, then even large fund companies have nearly half of the fund managers who are "Newcomers" who have not experienced the bull-bear cycle.
If you expand the dimension to fund managers in the public offering market, you will find that "newcomers" of small and medium-sized fund companies account for more.
A complete A-share market cycle is about 7-8 years. 2001 was the top, 2007 was the top, and 2015 was also the top, probably a cycle of 7-8 years. At present, there are only 11 fund managers (including equity and fixed income) with management years of more than 15 years in China, 129 with management years of 10-15 years, and 710 with management years of 5-10 years. Nearly half of the fund managers The working experience is less than three years, and the proportion of less than one year is more than 20%. For example, among the 15 fund managers of Zheshang Fund, 86.67% of them have been in office for less than 4 years, and the average management period is only 1.88 years; the average tenure of fund managers of Beixin Ruifeng Fund is only 1.61 years, and the fund manager is the longest. The tenure is 4.13 years.
"It's a fact that not enough fund managers have gone through the bull-bear cycle." A public offering industry insider said frankly, "In recent years, the expansion of public and private equity has accelerated, new funds have been established faster than ever before, and the demand for fund talents has grown more and more. Prosperity, while the relatively old fund managers who have experienced the bull and bear cycle 'run away' after accumulating rich experience and contacts, resulting in the lack of public fund managers, and more and more young fund managers are in charge of products."Return to Sohu, see more
Editor:
Disclaimer: The opinions of this article only represent the author himself, Sohu is an information publishing platform, and Sohu only provides information storage space services.