Source: Caijing.com
2021-08-05 18:03
On August 5th, the 2021 Quick Look Product Upgrade Conference was held in Beijing. At the meeting, Kuaikan Manga was officially upgraded to Kuaikan, and a new product video comic was launched. Next, Kuaikan will continue to deepen the ecology of the national comics and create a creative community where the "super new Generation Z" gathers.
Kuaikan founder & CEO Anni Chen launched the "Double Billion" creation support plan at the conference, and will invest 1 billion yuan to support original comics in the next three years, and another 1 billion yuan to work with partners to participate in comic drama production. At the same time, Kuaikan also provides community users with a training plan from newcomer creators to human creators, "make creation happen better in Kuaikan".
Kuaikan has always been based on the industry as an innovator. In 2014, Kuaikan led the industry into the era of comics through the innovation of comics; today, Kuaikan launched a new product comics, pushing the comics industry into the era of video.
Chen Anni said that video comics are the key business of Kuaikan in the future, and it is also an important step for Kuaikan to push the comics industry into the video era. In the past 119 days, Kuaikan has invested 200 million yuan to form a professional comic drama producer team, built the largest comic drama production workshop in history, realized all the comic drama of its own IP, and added 3000 comic drama rights.
Comic drama is a new short video entertainment carrier newly developed by Kuaikan, which meets the entertainment needs of young people today: comics become videos, freeing hands; full video production, watching anytime and anywhere; restore comics, original flavor; single episode 3 Minutes, the rhythm is not procrastinated.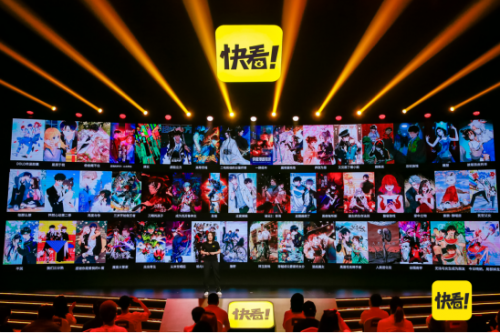 At this press conference, look at the release of 150 comic dramas, which cover categories such as youth campus, urban reality, aesthetic love, ancient fantasy, easy healing, juvenile blood adventure, suspense plot and so on. Quickly watch the manga that gathers 47 top domestic and foreign tops including Han Xu ("Again with You"), *kid years ("Popular"), KULA ("Poor Father and Daughter", Inuichi ("Stars to Me"), etc. Cartoonist, 18 Jinjiang super-authors including Huai Shang ("Poyun 2 Swallowing the Sea"), Wu Zhe ("Say Wild"), Roubao No Meat ("Erha and His White Cat Shizun") and other 18 Jinjiang super authors, Chen Dong ("Holy Ruins"), Feitianyu ("Eternal God Emperor"), Jing Wuhen ("Prime God King") and other 14 writers of platinum masters, and 25 well-known writers at home and abroad including Shui Qiancheng (188 series) .
Anni Chen said that in the future, a two-wheel drive mode of comics + short video will be adopted, and the combination of the two will surely create different sparks. "In just two months after the comics were launched, our entire network has more than 1.5 billion views, and even some comics have been hotly searched on Douyin and Weibo as soon as they started. And in the app, our For the first time, the number of manga plays surpassed the comics of the same name."
At the same time, Kuaikan announced that it has cooperated with more than 70 comic platforms around the world, covering 12 languages ​​including Japan, South Korea, English, French, German, Spanish, Portuguese and Russian, covering nearly 200 countries and regions. In fact, since 2018 began to explore Guoman to go to sea, it took only 3 years to achieve this result.
As a comic platform with more than 200 million users, Kuaikan Yuehuo surpasses the market's second to sixth place in total, and is a veritable "National Manga No. 1 Platform". Leading Guoman Manga to sea has naturally become Kuaikan's mission.andIn recent years, the emergence of a number of outstanding Chinese comics has also become the confidence to watch the Chinese comics go to the sea.
According to the Gu Duo Manga Report, from the perspective of comic collections, comments, and popularity, 80% of China's head comics are focused on Kuaikan. With these high-quality comics, Kuaikan officially released the "Columbus Project" in early 2021, and officially entered the global market.
With these high-quality national comics, in only half a year, the market in Europe, America, Japan, South Korea and other regions has been opened quickly. "Super Cube" topped the list of new works on the piccoma platform in Japan; "Dumb Slave" topped the Japanese Japanese Comico daily list; "Flash Marriage President's Contract Wife" topped the South Korean Naver Weekly List and South Korea's Kakao Weekly List , South Korea Qtoon overall ranking fourth, English circle copin overall ranking third; "The Queen of Souls" topped the paid version of tapas platform in English circle; "Guwei Nanting" topped the Vietnam pops overall list…
Talking about the mission of Guoman to go to sea, Chen Anni said at the press conference: "I still remember the first time I saw the cartoon of "Mulan" on TV in elementary school. The adaptation of the story that has been passed down through the ages is actually produced and disseminated by the American company Disney. Although I respect Disney, I still feel a little regretful."
"Guo Man is a cultural chip." Chen Anni emphasized that she thinks that the matter of Guo Man is difficult, but it is very important, so it must be done, and called on more practitioners of Guo Man to jointly build the influence of Guo Man.
In addition to video comics, Kuaikan has launched more than ten film and television animation projects. Among them, "Super Cube", "Become a Princess Someday", "Sweet Bite", and "Mountain God and Jujube" were released for the first time; 8 live-action film and television projects were launched this year, including "Predecessor War" and " Beautiful Farming Boys, "Koi Club", "We Are Three-Finished", "Where's the Big Baby", "Departure by Order", "Protect Our Country", "Sheep in Wolf's Skin".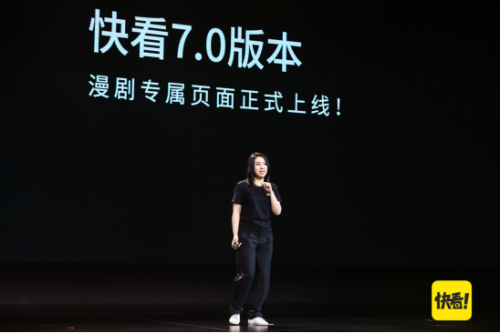 In quick look, the super new Generation Z posts with interest tags, and employs tags to expand the column (note: request to expand the list of friends, equivalent to the meaning of making new friends), in order to better meet their cultural and entertainment needs, the press conference On the same day, Kuaikan announced that "Quick Read Comics" was officially upgraded to "Quick View".
Chen Anni said at the press conference that creation is by no means exclusive to a few people. Love can create, interest can create, life is also a kind of creation. As 200 million young users gather and settle in Kuaikan, Kuaikan is forming a unique ultra-new Generation Z community culture: creating high-quality comic reviews and receiving 5 million likes, editing comic videos and 27,000 likes, and self-produced audio fan comics. Get 1000+ comments, write comics and humanities to get 3000+ collections. They have also spontaneously formed interest groups, which have accumulated 10 billion views so far. Among them, the "star" tag has more than 2.7 billion views, the "doujin" tag has more than 15.5 billion views, the "comic" tag has more than 19.5 billion views, and "voice control" The number of tag views exceeds 4 billion. Quickly look at the next step will be to further develop community content, launch a series of support programs.
This means that Kuaikan will not only be a comics platform, but a brand new content ecology that covers comics, comics, film and television dramas, communities, peripheral derivatives, games, and offline experiences. At the press conference, "Kaikan Manga" was officially renamed "Kaikan", and a new version of Kuaikan 7.0 was launched, creating a "super new Generation Z" one-stop entertainment platform that truly covers online and offline, and connects virtual and reality.
"We hope to quickly become the spiritual home of the super new Generation Z." said Anni Chen, founder & CEO of Kuaikan.
.