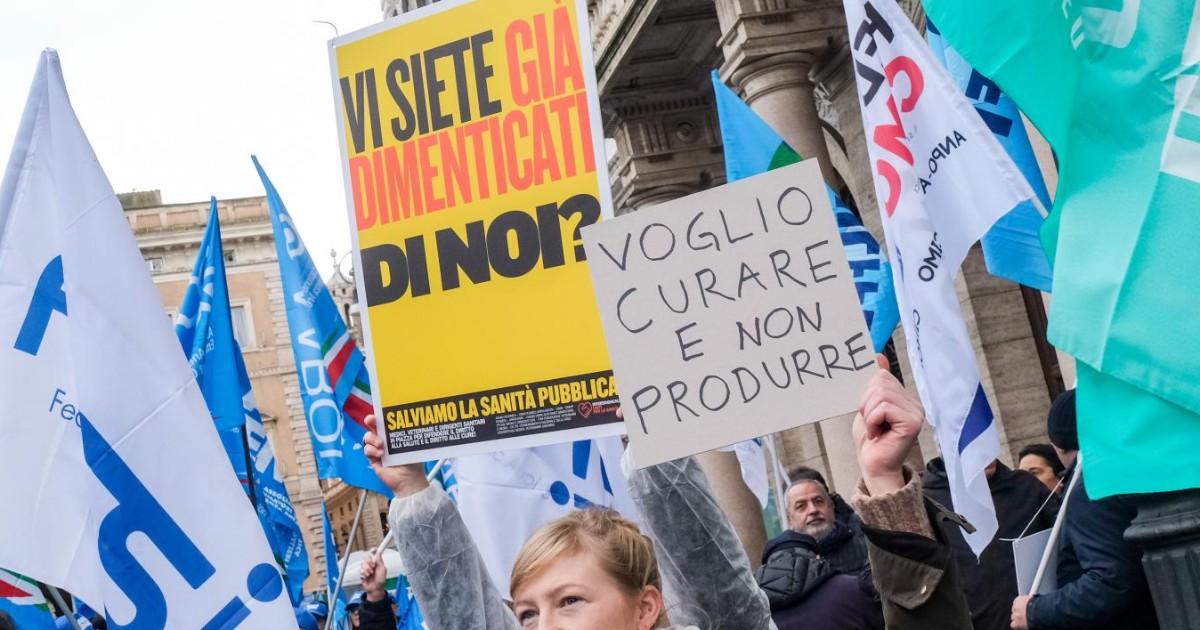 The meek Errani believes it, Italy and France are not that far away and like his cousins ​​across the Alps protest for the pensionsthe Italians will go up on the barricades to defend another fundamental right under attack: that of the public health service universalistic. For this reason, together with others, he promoted a petition on Change.org which from March 10 to today is now traveling quickly towards 150 thousand companies. Addressee: the Minister Horace Schillaci. Twice governor of Emilia Romagna, president of the Conference of Regions, the former senator Vasco Errani he is now almost 70 years old, holds no public office but does not give up the civic and political commitment that recently led him to a series of meetings on the subject of health welfare with doctors, nurses, administrators and citizens. There the initiative was born with about 60 signatures to give life to a "Movement for Public Health" which Errani imagines will soon leave the network and take shape in territorial committees that transversally aggregate all those who believe the time has come to "secure public health", shaking off the idea that the private sector can make up for the shortcomings while maintaining the universal right to healthcare unchanged.
Errani, what will you do with 150,000 signatures?
I could go "barefoot in the park", like in the movie. Jokes aside, I strongly believe in this petition as a tool to convey a message that awakens citizens' awareness of what they have already lost and are in danger of losing completely, namely the right to have public health that works. The Covid has dramatically demonstrated its fragility, once the emergency phase has passed, however, nothing has changed because the funds have not increased and on the horizon we see patches or worse than the hole with devastating effects such as thedifferentiated autonomywhich would be the coup de grace to that principle established in article 23 of the Constitution whereby the State must guarantee health.
Why do you say that healthcare is "under attack"?
Because there are forces in the government and in Parliament who claim that the universal public health system is not sustainable and aim to build a dual system based on private e insurance. It being understood that in countries where there is overall health expenditure of GDP is around 18%, we are a little above 6%. It is time to reverse course, it is a substantial issue.
In the promoters you can read the signatures of mayors and trade unionists, you see the left but not the right: how can you say it's not a political initiative?
I can't prove it, because in fact they are the first signatories but the intention is to unite without primogeniture and without political or party labels, because everyone's health is at stake. For this I am convinced that administrators, doctors and citizens of all political colors will be able to join. And if this is an argument to weaken the strength of the initiative in the bud, it will melt away in the face of numbers: 150,000 people cannot all be from the same "area".
And which other subjects could it aggregate?
We have to launch a major popular initiative on health, that is, citizens must become protagonists of the relaunch of the national public health system because this is the way to also affect the political choices that this government makes. You see, many groups and associations are working on healthcare, from GIMB to Article 32. We want to put all these skills/experiences online and make sure that they begin to produce political initiative and mobilization in defense of health.
Thinking of France?
The goal is this, we want it to materialize and that's exactly what we have to do. We are interested in getting this movement started.
What does this petition propose?
Waiting lists are the symptom that all citizens have to deal with, but public health problems are far more extensive, serious and profound. A series of integrated actions must be taken to reverse course. First of all, increase resources and respond to the issue of financing, as the Regions have also requested, with additional resources useful for countering inflation and energy costs. This first and foremost.
And then, what else?
Then addressing the issue of the medical emergency with extraordinary measures and at the same time reforming the training system to ensure that healthcare professionals have the professional figures they need. There is to govern the process territorialization of health, indicating which are the fundamental references to prevent, for example, a process of heavy privatization of the health service with the outsourcing of services that it is unable to carry out. You need to invest in technology. Investments on community houses that they are not only the walls but also the staff, nurses and doctors. A new relationship with general practitioners, otherwise today's difficulties will not be overcome.