[Epoch Times October 26, 2021](Epoch Times reporter Chen Ting comprehensive report) This year the increase in the number of people infected with the H5N6 subtype of avian influenza in China has caused concerns among experts. They believe that the strain seems to have changed, increasing its infectivity and lethality to humans. At present, it is not known whether it can be transmitted from person to person.
According to a Reuters report (link), China has reported 21 cases of human infection with H5N6 subtype avian influenza to the World Health Organization (WHO) in 2021. In comparison, there were only 5 cases last year, and since 2014, there have been only 48 cases in China.
Although this number is much less than the H7N9 subtype, which infected hundreds of people in 2017, the symptoms are quite serious after the infection. Many people are critically ill, and at least 6 people have died.
Thijs Kuiken, a comparative pathologist at the Erasmus Medical Center in Rotterdam, said: "The increase in human cases in China this year is worrying. This is a virus with a high fatality rate."
In a statement in early October, the WHO emphasized the increase in H5N6 cases in China and stated that most of the cases have been in contact with poultry, and that human-to-human transmission has not been confirmed.
The statement said that further investigations are "urgently needed" to understand the risk of the disease and the reasons for the increase in human cases.
According to the Hong Kong Government Bulletin (link), on October 13, a 60-year-old woman in Hunan Province was admitted to the hospital with H5N6 influenza in critical condition.
Reuters pointed out that although human H5N6 infections have increased, there has been no news of H5N6 outbreaks in poultry in China since February 2020.
Last month, the CCP's Center for Disease Control and Prevention published a report (PDF) in which it stated that "H5N6 has replaced H5N1 as the main avian influenza virus (AIV) subtype in southern China. The genetic diversity and geographical distribution of H5N6 continue The increase poses a serious threat to the poultry industry and human health."
Among the two cases analyzed in the report, there was no history of exposure to live poultry in one case.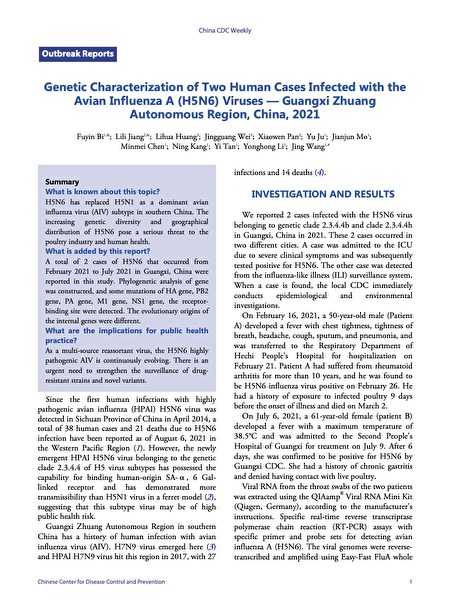 The article stated: "On July 6, 2021, a 61-year-old woman (Patient B) began to develop a fever with a maximum body temperature of 38.5°C. She was admitted to the Second People's Hospital of Guangxi on July 9th. ) Treatment. Six days later, she was confirmed to be diagnosed with H5N6 by the Guangxi Center for Disease Control and Prevention. She had a history of chronic gastritis and denied contact with live poultry."
The report believes that the elderly may be more susceptible to bird flu. Therefore, "These cases may be just the tip of the iceberg, and many mild cases may not have been detected."
For a long time, the avian influenza virus has been circulating in poultry and wild birds and rarely infects humans. However, as the number of poultry increases, experts worry that the virus may mutate and become a virus that can easily spread from person to person, leading to a pandemic.
Reuters pointed out that the place with the most cases of H5N6 is southwestern Sichuan Province, and the neighboring provinces of Chongqing, Guangxi, Guangdong, Anhui and Hunan also have cases.
Among them, there are at least 10 cases of H5N6, genetically similar to the H5N8 subtype. H5N8 raged in European poultry farms last winter, and wild birds were also infected in China. This indicates that the latest case of H5N6 may be a new variant.
"Maybe this is why this variant is more contagious (to humans)," Kuyken said. "Or the virus is currently circulating in poultry, which is why more people are infected."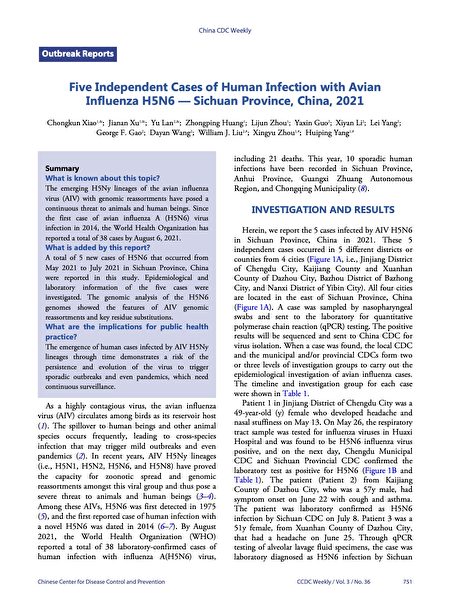 On September 3, the Sichuan Provincial Center for Disease Control and Prevention published a paper (PDF) stating that there were 5 independent cases in Sichuan. Among them, 4 people raised poultry at home and had contact with dead poultry. Another person bought a duck from the live poultry market a week before the onset of symptoms.
Reuters quoted the UN Food and Agriculture Organization's laboratory commissioner, Filip Claes, as saying that the Chinese authorities have vaccinated poultry with avian influenza, but the vaccine used last year may not be very protective against emerging viruses and can only prevent it. There was a large-scale outbreak, but the virus continued to circulate.
There were also two human cases in Guilin, Guangxi in August. Guilin City announced last month that it would suspend live poultry trading in 13 markets within a year.
Editor in charge: Ye Ziwei#
.