Here are some of the hot topics that emerged at the end of the Italian GP
Another grand weekend of pure entertainment in MotoGP™: many topics were discussed at the end of the weekend at Mugello.
"I will always look for a project capable of winning"
In the pre-Grand Prix press conference Marc Márquez (Repsol Honda Team) talked about his future.
"I have a contract with Honda for next year and I'm fully involved with Honda, this will always be my plan A. But of course I will always look for a winning project, regardless of the colors and the name. I know the years go by , all riders know it. I had surgery on my arm to get back to full physical condition, now I am and I'm ready to fight for a title. We'll see… but my plan A will always be Honda".
"My bike is a rocket"
Brad Binder (Red Bull KTM Factory Racing) has signed a historic new record in terms of top speed in MotoGP™: it happened at Mugello in the Tissot Sprint.
"My bike is a rocket. I can overtake at the end of the straight. The bike works well but there are some small things I want to improve. We managed to get a good result on Saturday. I saw that on the last lap I had the same time as those in front".
After that Joan Mir (Repsol Honda Team) e Alex Rins (LCR Honda Castrol) were forced to miss the Italian GP due to injury, Marc Márquez he crashed while fighting for the podium. The number 93 admitted that the Honda riders are crashing too much but it is due to the fact that everyone has a winning mentality.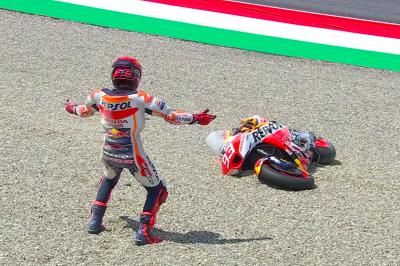 "On this circuit I tried to control myself a lot since I know that with a crash at high speed you usually get injured as happened to Mir and Rins. But we're crashing too much. Honda has riders with a winning mentality and in case you have these riders without having the "opportunity to find you there, the problem is that every time you fall more as we are pushing more to be on time. That's what happened."
"Who says I want another year at Yamaha?"
Franco Morbidelli (Monster Energy Yamaha MotoGP™) beat his boxmate at Mugello Fabio Quartararo: Will Frankie deserve confirmation in the official Yamaha team also in 2024?
Luca Marini (Mooney VR46 Racing Team) finished close to the podium despite having to deal with the consequences of the injury sustained at Le Mans.
"Behind Johann I tried everything since I really wanted this podium, because here at Mugello it's a dream, it's the best place in the world to get on the podium. We'll try again next year".
"I even raised my hand to celebrate it"
Jack Miller (Red Bull KTM Factory Racing) and its big starts are becoming the norm in this 2023 in MotoGP™. Excellent start for him also on Sunday at Mugello, enough to raise his hand to celebrate it.
"I had a fantastic, incredible start, almost to pass 'Pecco'. I even raised my hand to celebrate it; I don't know if you noticed".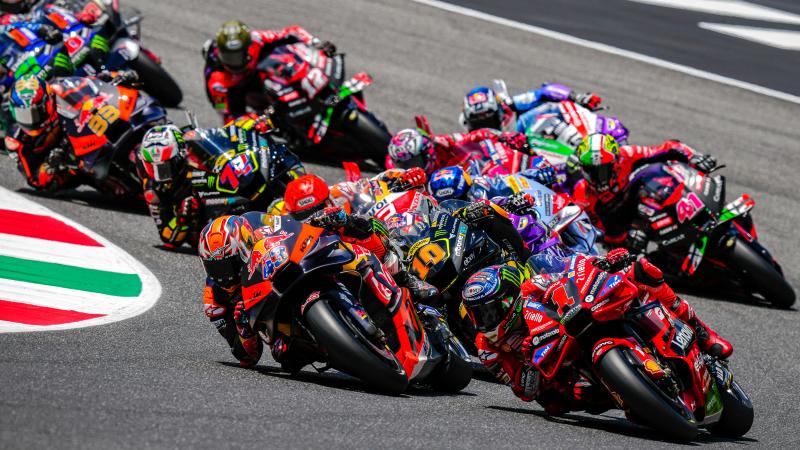 FREE: the details of the Italian GP 12/06/2023
Observe in slow motion some key moments that took place at Mugello
"It was like Mugello in the past!"
After a perfect weekend, Francis Bagnaia (Ducati Lenovo Team) thanked the enormous crowd that supported him during the Tuscan weekend that saw him score full.
"I'm happy, so far this is the best weekend ever. Pole position, victory in the Tissot Sprint and in the Sunday race. For me it's the best possible weekend in Italy. I want to thank all the fans, it was amazing to see the grandstands and the track. It was like Mugello in the past".
"It's been incredible. I've really enjoyed this weekend and the work we've done to get to this finish line. The race was quite tough today, but I'm very happy to finish like this."