On the afternoon of March 24, Longting District of Kaifeng City held the launching ceremony of the theme publicity activity of "Implementing the Yellow River Protection Law and Hand in Hand to Protect the Mother River". The event was presided over by Yin Yanli, secretary of the party group and director of the Judicial Bureau of Longting District, and Li Weihua, deputy director of Kaifeng First Yellow River Bureau, delivered a speech.
In his speech, Li Weihua emphasized that the "Yellow River Protection Law of the People's Republic of China" will be officially implemented on April 1, 2023. As the back garden of Kaifeng's "North America" ​​and the main battlefield of Kaifeng's Yellow River protection and management cause, Longting District has a particularly heavy responsibility and a particularly glorious mission in implementing the Yellow River Protection Law.The river affairs department will actively cooperate with the Longting District People's Government and its relevant departments to establish a law enforcement coordination mechanism to carry out joint law enforcement in accordance with the law;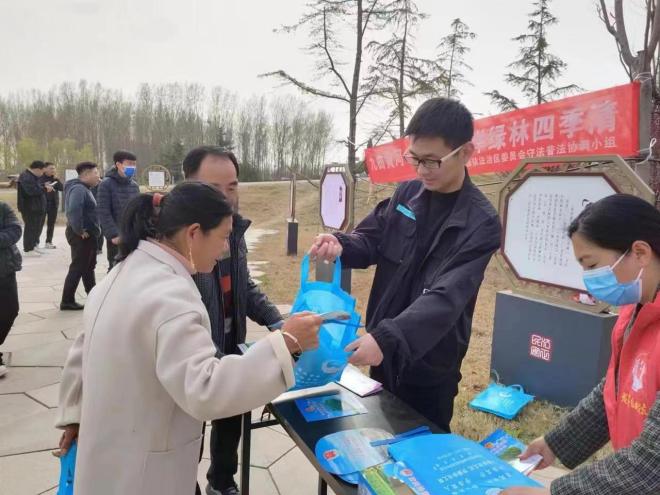 Actively accept social supervision. Make new and greater contributions to further promote the ecological protection and high-quality development of the Yellow River Basin, and write a more brilliant chapter in Kaifeng in the new era!
Law-abiding Coordination Group of Longting District Committee for Comprehensive Governance by Law, Kaifeng First Yellow River Bureau, Longting District People's Court, Longting District People's Procuratorate, Longting District Judicial Bureau, Longting District Agricultural and Rural Bureau and other departments, Liuyuan Relevant law enforcement personnel and volunteer representatives of the People's Government of Kou Township participated in the on-site activities. The event will last for one week after its launch. More than 500 promotional materials and more than 200 promotional materials were distributed on the day of the event. (Photo/Zhai Xiangda)
[Responsible editor: Cai Donghai]