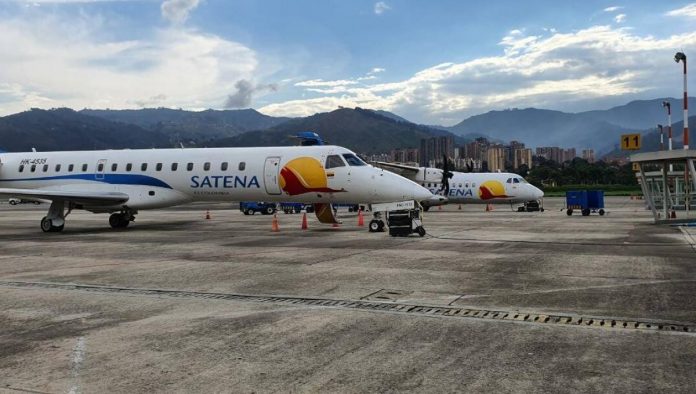 The Colombian airline Satena reported that it will fly three times a week between Bogotá and Caracas starting May 7, 2023.
The trips to the Venezuelan capital, reported the company in Twitterwill be carried out on Tuesdays, Fridays and Sundays.
The departure time from Bogotá to Caracas is at 10:10 am and will return to the New Granada nation at 2:45 pm.
Tickets for the Caracas-Bogotá route are priced at $249. Satena announced a few days ago that its flights to and from Caracas will temporarily not have the services of recommended passenger, legal passenger, transportation of pets, emotional support animals, or transportation of weapons.
i ️ Good News!! #NewFrequency los #sundays to fly between #Bogota y #Caracas😎. #SATIN offers you more opportunities to enjoy its new route✈️, buy your tickets at 🔗https://t.co/2Ntph4HfmH, by calling ☎️(601)3906962 or WhatsApp +573233220006 📱 pic.twitter.com/03la7j9xgV

— SATENA es Colombia 🇨🇴 / SATENA is Colombia (@AerolineaSatena) April 4, 2023
First flight
Satena began flights between Bogotá and Caracas last Friday, almost four months after air traffic between Colombia and Venezuela was restored.
In the morning, an Embraer ERJ-145 aircraft took off with 29 Colombians and 15 Venezuelans, for the first time on this direct route, from El Dorado International Airport, reported the Ministry of Defense of that country.
The passengers arrived at the Simón Bolívar International Airport in Maiquetía.
Before leaving Bogotá, Guillermo Reyes, Colombian Minister of Transportation, wished a good trip and celebrated the departure of the plane because it is a "big bet" of the government of President Gustavo Petro in the reestablishment of border relations.
Independent journalism needs the support of its readers to continue and ensure that the uncomfortable news they don't want you to read remains within your reach. Today, with your support, we will continue working hard for censorship-free journalism!