The first country in the European Union to completely free itself from dependence on Moscow gas, Lithuania intends to tighten the time to detach itself from the Russian electricity grid one year in advance, scheduled for 2025. However, it could be too late: the crisis born of what Moscow calls the Kaliningrad "bloc" is becoming more and more dangerous, in a corner of Europe where Russia and NATO are close at hand. And Nikolai Patrushev, the secretary of the Security Council who is probably one of the main inspirers of the confrontation with the West and the attack on Ukraine, promised yesterday that Moscow's response will have "a heavy negative impact on the Lithuanian population". The most obvious of the Russian retaliations should concern energy.
No passing
Since last June 18, in line with the decisions taken by the European Commission, the Government of Vilnius has prohibited the transit through its territory of products subject to sanctions and exchanged between Kaliningrad and the rest of the Russian Federation. Cement, coal, hi-tech components and products, steel and building materials, but also vodka and caviar. According to Governor Anton Alikhanov, the sanctions block about half of the products in transit to and from Kaliningrad, transported by train but, according to local administration sources quoted by Novyj Kaliningrad, also by truck: the restrictions would affect "all types of transport".
Alikhanov disputes the Community interpretation of the word "transfer": sanctions, he says, should not concern the passage of products between Russia and Russia, even if crossing EU territories. The Russian exclave will only have the possibility of enhancing sea transport, with greater expenditure of time and resources.
Moscow's response
"Russia will undoubtedly respond to these hostile actions", said yesterday Patrushev, a man very close to Vladimir Putin and who has become more visible in the Russian national media in recent weeks, with very harsh stances towards the West and in particular the Poland accused of wanting to annex Ukrainian territories. The secretary of the Russian Security Council yesterday spoke of "appropriate responses" drawn up in the near future by various departments. In particular, in Moscow they affirm that the transit blockade violates the 2002 agreements, made between Lithuanians and Russians two years before Lithuania's accession to the EU. But now, Lithuanian Prime Minister Ingrida Šimonyte pointed out yesterday, "it is ironic to hear about the violation of international treaties from a country that has violated every single international treaty" with the invasion of Ukraine. "There is no blockade of Kaliningrad – said the Lithuanian premier -. Lithuania is implementing EU sanctions ».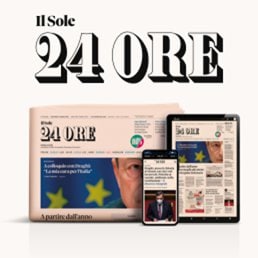 And in fact Markus Ederer, representative of the European Union in Moscow, was summoned yesterday morning to the Russian Foreign Ministry where he was asked to immediately restore normal transit to Kaliningrad. From Brussels, spokesman Peter Stano made it known that the ambassador's response was to remind the Russians of Brussels' position on Russian aggression against Ukraine.