France, debt anxiety rises. Macron & Co. fear S&P rating downgrade
For Emmanuel Macron's France, it must be strange to be part of that club where Italy and Spain belong, countries with a debt-to-GDP ratio well above the 100% threshold.
Well yes, France also has a problem called public debt, which are being talked about more and more these days, awaiting the announcement on the rating that will arrive tomorrow, Friday 2 June, from the agency Standard&Poor's (S&P Global Ratings).
"The debts of all these economies, which are the largest after Germany's, have all risen to well over 100% of GDP, and will barely fall next year, according to EU estimates," Bloomberg notes. in the article Macron's Debt Cut Plans Look Ambitious Amid Downgrade Threatin which the specter of a downgrade of the French rating is clearly being raised.
France, downgrade alert: Minister Le Maire negotiates with S&P
The point is that the French finance minister Bruno Le Maire is doing everything to convince S&P not to announcetomorrow, a rejection of the made in France rating.
Just yesterday Le Maire spoke to the microphones of France Inter television about the threat of an imminent downgrade, noting that Paris "He has valid arguments" that the agency should consider.
"We have a credible strategy to accelerate France's debt reduction path." said Le Maire, who has already pledged to bring France's debt-to-GDP ratio down to 108.3% by 2027.
But is the debt cut plan credible also in the eyes of S&P?
The other sister of the rating Fitch rejected the French rating at the end of April, bringing it from "AA-" to "AA", motivating the downgrade with an unsatisfactory debt reduction plan and with the strong tensions that have exploded in France, following the pension reform launched by President Macron.
At the moment S&P's rating on French debt is "AA-" and a downgrade is considered probable.
On the other hand, the debt-to-GDP ratio of France stood at 111.6% in 2022, against a GDP deficit of just under 5%.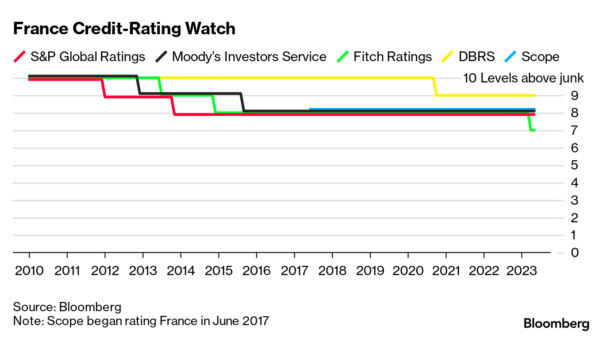 Also the other rating agency Scope Ratings expressed its pessimism about French public finances by placing the rating on watch with negative implications last week.
As Bloomberg writes, signals of caution towards France are also coming from investors.
Indeed, it is noted that the France-Germany spread it has widened 15 basis points since January, versus one spread BTP-Bund, therefore Italy-Germany which, in the same period of time, has remained practically stable.
"We have been highlighting together with the rating agencies for some time now the weakness of France's public financesAdam Kurpiel, strategist of the rates division at the French bank Société Générale, commented to Bloomberg, according to which the risk of a downgrade by S&P "could shock the markets".
That said, it's the same Bloomberg article to underline that France is far from the threat of a rating junkwith which, we add, Italy is grappling instead.
In the case of those directly involved, i.e. Italian BTPs, the junk risk is linked to a possible downgrade to junk by Moody's, that for now Giorgia Meloni's Italy has managed to dodge simply because the agency has decided not to update its assessment of the made in Italy public debt.
A few weeks before the stalemate, Moody's itself had recalled that "Italy is currently the only country with a Baa3 rated sovereign debt to submit a negative outlook" and that "weak growth and higher borrowing costs could weaken further tax position" of the country, i.e. its public accounts.
France, Prime Minister Borne: Le Maire is negotiating with the S&P rating agency
The fact is that the fear of a downgrade has led Finance Minister Bruno Le Maire in recent days to contact S&P itself:
there is talk of dense negotiations with which Le Maire offered "Detailed explanations at Standard and Poor's on everything we are doing to keep our public finances under control", said the same French premier Elisabeth Borne, on Sunday, in an intervention on the Radio J station.
"We have made reforms, we recently announced the outlook on public finances up to 2027, aimed at reducing our deficit to 2.7% of GDP", Prime Minister Borne recalled.
But, in the face of Le Maire aiming to cut France's debt-to-GDP ratio to 108% within the next five years, last month, in giving reasons for his downgrade, Fitch said he expected the ratio could rise over the same time frame. storm up to over 114%.
"We are moving to support our businesses and our economic growth – Borne told Radio J – We are not mere spectators waiting to see the evolution of economic conditions".
Spread tripled since early 2021
For his part the economist of the French division of ING, Charlotte de Montpelliershe expressed herself as follows:
"A possible review of the rating would not be who knows what great event, but it would demonstrate that the outlook on the French economy is deteriorating and that the situation in which the public finances are not positive". The point, added de Montpellier, is that "the risks that existed before are now a little more visible".
Among other things, the Natixis strategists recalled that, in 2023, the issues of new French government bonds to refinance maturing debt and finance new expenses are set to hit record values; they also mentioned the other element that has been worrying them for a long time BTPs, i.e. the launch of the QT-Quantitative Tightening by Christine Lagarde's ECB which, moreover, with its continuous rate hikes, is driving up interest expenses, and not only in Italy.
Not for nothing the France-Germany spread has practically tripled its valueBloomberg points out, compared to the low of just 20 basis points tested in early 2021.