[EpochTimesOctober092021](Epoch Times reporter Li Jing reported) On October 8, a digital blogger on Sina Weibo broke the news, saying that WeChat, QQ, Taobao and other Chinese apps are available The user reads the user's album several times in the background without actively activating it, and pointed out that this behavior of stealing the user's privacy is extremely disgusting.
The Sina blogger "Hackl0us" posted, "A friend of my Telegram group has turned on the new privacy feature of iOS 15'Record App Activity' to monitor the privacy reading behavior of all apps for 7 days and use App Privacy Insights. Read the record."
Monitoring found that WeChat reads the user's photo album several times in the background without the user actively activating the App, and the time for each reading varies from 40 seconds to 1 minute.
In addition, the Sina blogger also broke the news, "According to subsequent comments and reports, it was discovered that many domestic apps such as QQ and Taobao have frequent back-end reading of user albums."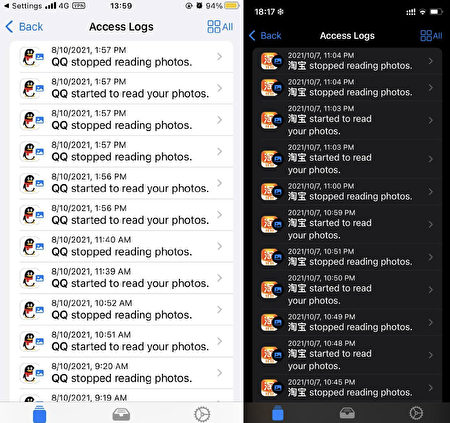 He believes that: 1. The photo is the user's privacy, and the user does not know it every time the user's privacy is retrieved (from the reading time point of view, it is also being read when the user is sleeping). If it is just to scan whether new pictures have been added, there is no need to over-request. 2. Occupy system memory and seriously consume battery life. The RAM/battery life of the mobile phone is wasted on this meaningless operation, which seriously degrades the user experience.
The blogger said that this behavior was extremely disgusting. He also provided netizens with four countermeasures. At the same time, he also hoped that Tencent's WeChat, QQ and Taobao officials would explain.
Regarding WeChat's frequent reading of user's albums in the background, WeChat responded that day, "The iOS system provides App developers with standard album update notification capabilities. This preparation will be recorded as reading the system photo album."
However, the above-mentioned explanation of WeChat has been bombarded by many netizens. Some netizens said: "Old hooligans"; "No wonder Americans are not at ease"; "So it makes sense for others to ban you."
Some netizens said: "I tried it and found that Taobao and Weibo, as well as Douyin, etc., are really disgusting. The rogue is in the lead. The personal information protection law is just a display." "I chatted with my classmates before. , I mentioned Tiffany a few times. As a result, the pyq advertisement directly recommended me accurately. It was too horrible, and my phone didn't dare to put personal photos on it."
"I chatted with my friend and talked about scratching, and then UC Browser pushed me a lot of lottery news and advertisements." "I wanted to buy a piece of clothing on Taobao. I saw a hot search, so I hurried to check it out and found it in two minutes. I went to the photo album three times."
"I noticed it a long time ago. For example, I saw passers-by who look good in clothes and photographed them with friends, and they will appear on tb soon. I guess you like them. The most terrible time was a lunch colleague chatting and talking about his son catching a fish tank and playing with fish. , I listened to him without talking. I pushed it to me in the afternoon."
The CCP uses digital platforms to monitor its citizens
Earlier, the "Wall Street Journal" published an article "WeChat has become a ubiquitous surveillance tool in China." According to the article, dissidents, consumers, and security researchers say that the Chinese government is increasingly using Tencent's app to collect information as evidence in arrests and warnings.
Recently, due to the huge debts owed by the Chinese real estate giant Evergrande Group, some Chinese creditors have formed groups on the WeChat platform to discuss protests or claims against Evergrande.
Reuters reported that on September 29, some WeChat users stated that these instant messaging groups were blocked by WeChat. Three other users stated that these groups have been deleted from their WeChat app. Two other users also stated that they could not access their group.
Recently, The Epoch Times obtained a large number of internal documents from the CCP. These documents leaked the CCP's monitoring of mobile phones, WeChat, Weibo, etc. to obtain petitioners' life dynamics, and included these petitioners on the CCP's so-called "stability maintenance" blacklist.
In addition, the CCP also controls overseas Chinese media and uses WeChat and other social media to censor, monitor, and control the right to speak, facilitating espionage activities and theft of overseas technology.
Just last month, the Institute of Strategic Studies of the Military Academy (IRSEM) under the French Ministry of Defense published a report entitled "China (CCP) Influence Operations". The report extensively disclosed the shady scene of the CCP using state-owned and private companies to collect large amounts of data from around the world.
The IRSEM report mentioned that in terms of new technologies, the CCP uses digital platforms such as WeChat, Weibo, and TikTok (TikTok); companies such as Beidou and Huawei; and some databases, which are used for overseas influence operations. Provide information and preparations.
Editor in charge: Zhou Yiqian#
.