On the fifth day of May, it's the season when the leaves are fragrant, and the Baidu map "receive the blessed dumplings, open the blessing bag, and cash gifts waiting for you" campaign is coming! What are you waiting for, quickly open Baidu Maps, participate in the Dragon Boat Festival activities, play games to win gifts, and quickly turn on the "Summer" mode.
(Baidu Map launches Dragon Boat Festival welfare activities)
Baidu Maps Dragon Boat Festival Welfare Activities, Rich Gifts Waiting For You
From now until June 23, search for the "Dragon Boat Festival" keyword in Baidu Maps APP to participate in the event. When you enter the event page for the first time every day, you will receive 3 games as a gift. If you complete tasks such as inviting friends, you can get more games. Call your friends to participate, and enjoy double the benefits of Dragon Boat Festival.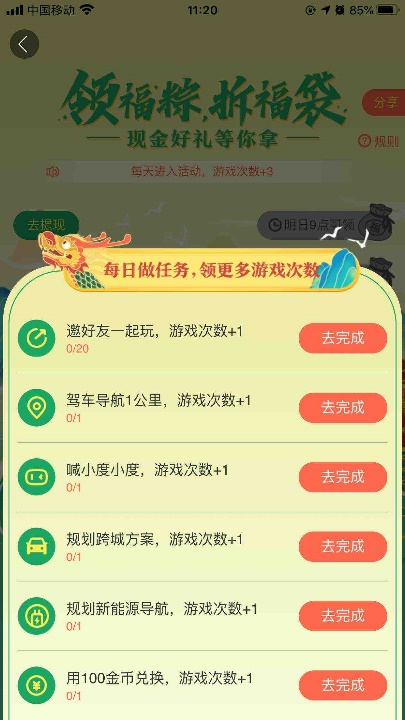 (You can win more games by doing tasks in the Dragon Boat Festival event on Baidu Maps)
It's time to fight for hand speed. After the game starts, Zongzi or lucky bag items will be randomly dropped on the screen. In addition to the Zongzi items, which can be directly counted, you can also get a range of cash or happiness rewards if you open the lucky bag you grabbed. Zong is the active virtual currency). The more you grab, the more you dismantle, come and experience the fun of dismantling the lucky bag! In the redemption mall on the homepage of the event, you can redeem the accumulated happiness dumplings for good gifts, and there are more generous prizes such as the Ctrip 1000 yuan card and the Xiaodu Smart Audio X8 waiting for you. The number is limited and first come first served.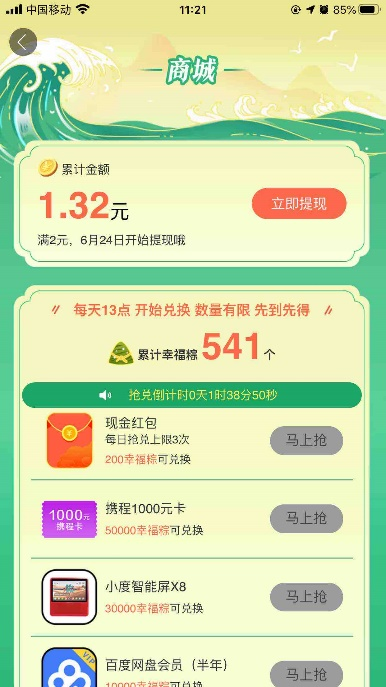 (Baidu Map Dragon Boat Festival Event Redemption Mall Homepage)
Over-value purchase of tickets for popular scenic spots in the country makes your Dragon Boat Festival outing more economical
Open the Baidu map and get the most favorable play mode of Dragon Boat Festival. From now until June 15th, search for "tickets" in the Baidu Maps APP to enter the event, and choose any discounted tickets for popular scenic spots across the country. Whether it's ancient town play, garden treasures or natural scenery, there are large discount activities. After you choose your favorite ticket, you can quickly buy tickets on Baidu Maps. Many scenic spots also provide preferential parent-child packages to upgrade the leisure and comfort of the Dragon Boat Festival holiday!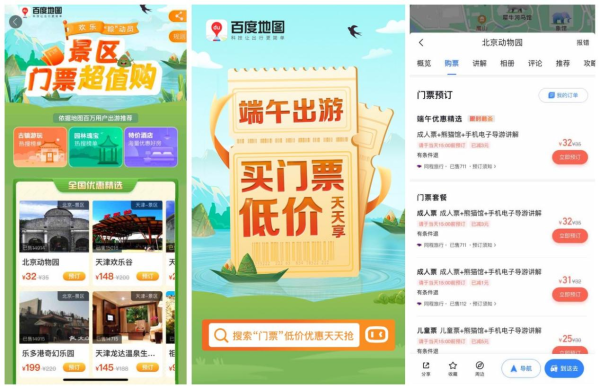 (Baidu map scenic spot ticket purchase activity)
Baidu Maps, as a new generation of artificial intelligence maps, can not only contract the travel services of a large number of users, but also intimately launch a variety of fun and value-for-money welfare activities, which are fun and convenient in parallel. This Dragon Boat Festival, let's play "Zong" with Baidu Maps for a trip!

252
.