Year of the Rabbit
The column of "Global Filming in Tiangong" is here to enlarge the trick again
A "cosmic level" photography exhibition is launched
@Xinhua News Agency client netizen
Come claim your photography
The first group of works
  ↓↓↓
Jiuquan Satellite Launch Center is the birthplace of my country's aerospace industry. From Shenzhou 5 in 2003 to Shenzhou 15 in 2022, Chinese astronauts have visited the sky ten times from here.
Li Mingtang: When shooting in the early morning, the temperature at the launch site was as low as minus 20 degrees Celsius, but when I saw the Chinese space station flying overhead, my heart was warm. The high-speed light spots made me excited for a long time. .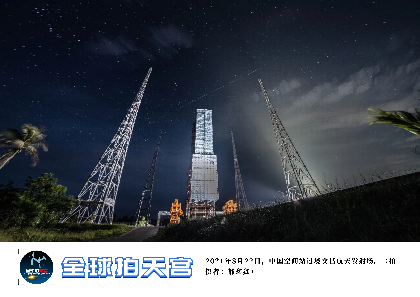 In the past 5 years, under the support of Long March 7 and Long March 5, Tianzhou-1, Tianwen-1, Chang'e-5, Tianhe core module, Tianzhou-2, Tianzhou-3… all major countries The spacecraft flew into space from the Wenchang Cosmodrome in China.
Du Xinxin: After learning that the works I shot were sent to the Chinese space station, as an astronaut, I felt extremely excited inside, just like cheering after every successful launch of a rocket.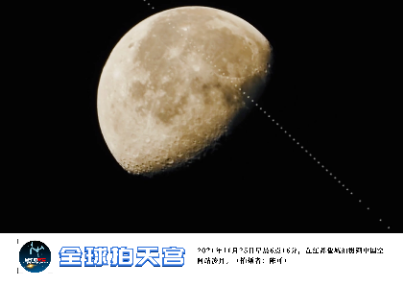 The spectacle of the Chinese space station Lingyue.
Chen Ke: It is a great honor to witness the growth of China's space station. Shooting gave me a sense of accomplishment and participation, and I am proud of China Aerospace. I wish China Aerospace better and better.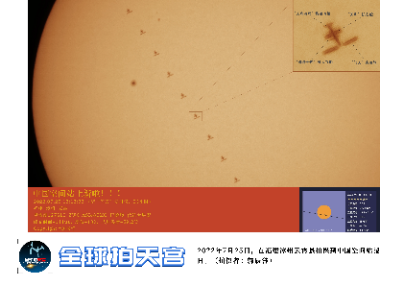 The spectacle of the transit of the Chinese space station.
Guo Chenyang: Living on the earth, I am curious about the view of the blue planet from the Tiangong; and whether the astronauts are curious about the shape of the space station seen on the ground?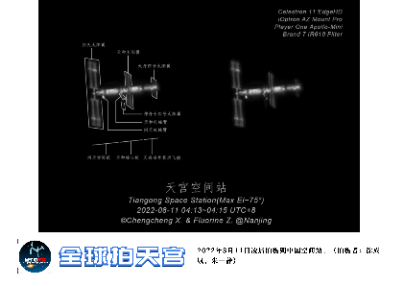 The "star" chasers programmed themselves to control the astronomical telescope to automatically track and shoot images of the Chinese space station.
Xu Chengcheng: After learning that the work was sent to the Chinese space station, I was very surprised and moved, as if a letter with a thousand words in my heart was sent to the star that I silently looked at for countless nights.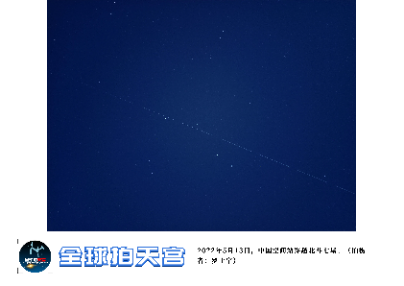 The Chinese space station crosses the Big Dipper.
Luo Shiyu: I never thought that the photos I took would have the opportunity to reach the Chinese space station. As an aerospace enthusiast, this is really the luckiest and happiest thing!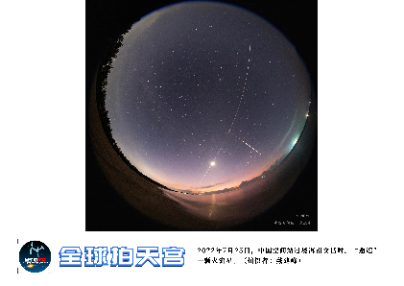 The Chinese space station "encountered" a bolide.
Dai Jianfeng: I hope that China Aerospace will explore the universe step by step and achieve more success. And we ordinary people can also participate, record the exciting moments with the camera, and witness this great era together.
Produced by: Li Xueyong, Li Jun
Producers: Huang Ming, Li Lihan, Qi Huijie, Wang Cheng
Curators: Li Guoli, Huang Qinghua, Sun Wei, Ma Qian
Copywriter: Kong Weiqian
Editors: Hu Bixia, Zhang Ruijie, Huang Yichen, Liu Yi, Yang Xiaomin, Li Jie
Xinhua News Agency PLA Branch
Xinhua News Agency New Media Center
Xinhua Net Co., Ltd.
China Manned Space Program Press and Propaganda Office
China Astronaut Center
China Aerospace Foundation
The 208th Institute of the Second Academy of China Aerospace Science and Industry Corporation
joint production
[
责编:孙满桃 ]