The epidemic in Shanghai is worrying. At least six hospitals have been closed, and inter-provincial tourism has been suspended, involving many places and two universities. (Image source: Getty Images)
It is forbidden to set up mirror websites when viewing Chinese websites. Return to the genuine version to see the Chinese website.
[Watch China News on November 26, 2021](See a comprehensive report by Chinese reporter Li Muzi) on the 25th,ShanghaiThe city notified 3 new local confirmed cases. They traveled together in Suzhou for 3 days. One of them hadBeijingSwim for 3 days,epidemicrelated toHangzhou, Jiangsu Xuzhou, Zhejiang University and Xiamen University,XiamenWait for an emergency notice in the middle of the night. At present, at least six hospitals in Shanghai are closed, and inter-provincial travel has also pressed the "pause button."
It is forbidden to set up mirror websites when viewing Chinese websites. Return to the genuine version to see the Chinese website.
The National Health Commission of China reported that from 00:00 to 24:00 on November 25, 31 provinces (autonomous regions and municipalities) and the Xinjiang Production and Construction Corps reported 4 newly confirmed local cases (3 in Shanghai: 2 in Pudong New Area, 1 in Qingpu District) Cases; 1 case in Dalian, Liaoning). There were 3 new cases of asymptomatic infection in the local area (2 cases in Hangzhou, Zhejiang; 1 case in Xuzhou, Jiangsu).
CCTV News reported that as of 8 o'clock on the 26th, 182 of the 3 cases confirmed in Shanghai on the 25th have been quarantined in Shanghai. A total of 54,759 people were screened in Shanghai, and 337 people were in close contact, all of whom were quarantined in a centralized manner and the first test was negative. A total of 1,260 environmental samples were collected, of which 29 were positive after verification and the rest were negative.
Emergency notice of Shanghai hospital closed for tourism and Xiamen and other places late at night
"Beijing Evening News" reported on the 26th that Shanghai Ruijin Hospital, Zhongshan Hospital, Tongji Hospital, Minhang District Central Hospital, Putuo District People's Hospital, Shanghai Xinhua Hospital, and other 6 hospitals all issued notices on the 25th to suspend outpatient and emergency services, and Internet hospitals will operate as usual. .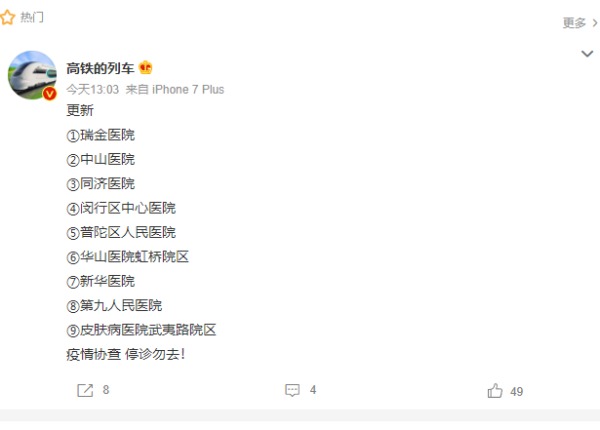 Shanghai netizens leave a message. (Image source: Weibo screenshot)
On the 26th, the Shanghai Municipal Administration of Culture and Tourism issued a notice stating that from now on, all travel agencies and online travel companies will immediately suspend the operation of cross-provincial group tours and "air ticket + hotel" business, and even if they resume operations in the future, they will not be allowed to organize groups to go to medium- and high-risk areas. For tourism, it is not allowed to undertake tourism teams in high-risk areas, and it is not allowed to organize tourists from high-risk areas to travel.
"Beijing Daily" reported that on November 25, Shanghai added 3 newly confirmed cases of COVID-19, 2 new cases of asymptomatic infection in Hangzhou City, and 1 new case of asymptomatic infection in Xuzhou City, Jiangsu Province. The CDCs in Fuzhou, Xiamen, Quanzhou, Zhangzhou and many other places issued urgent reminders late at night, requiring citizens who have recently lived in other provinces to take a nucleic acid test and self-observe for 14 days, and not to go to high-risk areas or areas with local case reports.
Two universities find confirmed cases panic
According to the official WeChat news of Zhejiang University, at 18:00 on the 25th, an employee at the Zijingang campus of Zhejiang University was diagnosed with asymptomatic infection at night, and the Zijingang campus has been closed for management.
The case is a faculty and staff member of the Museum of Art and Archaeology of Zhejiang University. He had a history of close contact with the confirmed case in Shanghai in Suzhou on November 20. He returned to Hangzhou on the evening of the 22nd and went to work from the 23rd to the 24th. Among them, he had a history at around 12:50 noon on the 24th. Dine at the West Flavor Restaurant on the second floor of the Canteen of the West District Living Group. On the morning of the 25th, we will receive a notice from the local disease control department.
CCTV News reported on the 26th that the Xiamen University Epidemic Prevention and Control Office issued a notice stating that among the three new local cases in Shanghai, case 1 was a faculty member of the school. The case travelled from Xiamen to Beijing on November 12 and arrived in Shanghai from Beijing on the 15th. He has not yet returned to Xiamen.
On November 25, the sample of 93 on-campus contacts and office environment of the case at Xiamen University were all negative.
The netizen "piomuce" sighed and said, "Oh, my school is also involved. It's really not peaceful. I still hope that the epidemic will subside as soon as possible, otherwise there will be panic everywhere."
A confirmed case in Shanghai involves 28 people in 3 districts of Beijing
According to Xinhua News Agency's Weibo news, the Beijing Municipal Center for Disease Control and Prevention announced on the 26th that of the 3 new local cases reported in Shanghai at a press conference on epidemic prevention and control on the 25th, case 1 came from Xiamen on November 12 Depart for Beijing and arrive in Shanghai from Beijing on the 15th.
The case involved Dongcheng District, Haidian District, and Chaoyang District in Beijing. One residential and four dining spots were found in the case. A total of 28 contacts were found. The current test results are all negative.
According to the official WeChat account of the Information Office of the Hangzhou Municipal Government, on the morning of the 25th, Hangzhou City diagnosed two asymptomatic infections.
The "Xuzhou Release" Weibo stated that on the morning of the 25th, the Quanshan District of Xuzhou City received a report from the co-check, and a positive person was confirmed as an asymptomatic infected person. The close contacter had a meal in the same restaurant as the Shanghai case in Suzhou on November 20. As of 20 o'clock on November 25, Xuzhou City had investigated 76 close contacts and isolated 849 people with the intersection of control and trajectory.
A true portrayal of Shanghai residents when the epidemic is approaching
After the outbreak of the Shanghai epidemic, many people were nervous, and they were afraid of whoever encountered them. A netizen who was seeing a doctor at Xinhua Hospital explained his (her) treatment process and posted a picture. On the official Weibo of Xinhua Hospital Affiliated to Shanghai Jiaotong University School of Medicine, netizens "Appreciate Snowball" (13:01 today) said: "You may not believe it. I saw a doctor halfway through the Xinhua Hospital and saw many people running wild. When I went downstairs, I asked the aunt next to me, what happened? The aunt told me that the nurse said that the building was going to be closed. In an instant, my waist no longer hurts, my legs and feet are also agile, so I don't have to look at the illness, and I ran all the way. Go out! Let me take it easy now. I don't know what pictures I should use… Go to Xinhua to see a doctor, and I was informed by the doctor… Go away, the hospital is about to be closed, and the fee will be refunded. Then I felt that the execution ability of the Chinese was okay. In 20 minutes, all the people in a hospital would be cleared up."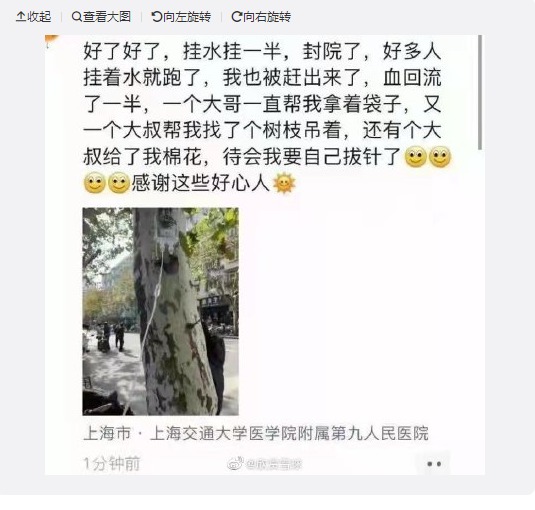 Netizens "appreciate the snowball" stickers. (Image source: Weibo screenshot)
Many netizens sighed: I have received two shots of the vaccine, and I don't know when I am tall. It's really hard.
Source: Look at China
Short URL of this article:
All rights reserved, any form of reprinting requires Chinese authorization. It is strictly forbidden to establish a mirror website.
---
[Honorary Member Wanted]Streams can merge into the sea, and small kindness can achieve great love. We sincerely recruit 10,000 honorary members from Chinese people around the
world
: each honorary member only needs to pay one subscription fee per year, and becoming an honorary member of the "Watch
China
" website can help us break through the censorship and blockade, and provide at least 10,000 mainland Chinese compatriots Provide independent and true key information to warn them in times of crisis and save them from the great plague and other social distress.
.