Manager Robert Page says Wales' last-ditch 1-1 draw in Croatia has proven there can be a bright future without their retired ex-captain Gareth Bale.
Ipswich Town's Nathan Broadhead scored in the third minute of stoppage time on his debut as Wales held a Croatia side who had previously won 34 and drawn once in home European qualifiers.
Bale, 33, is Wales men's top scorer but retired from football in January.
"There is life after Gareth, absolutely," Page explained.
"Gareth's moments of individual brilliance will forever be remembered by Wales supporters.
"But was he at an age at the end, where he could press for 95 minutes? Probably not, I know I couldn't at his age when I was playing.
"Now we have the opportunity to get young, energetic players on the pitch and still have a go with half-an-hour left.
"Wes Burns, Sorba Thomas and Tom Bradshaw didn't stop running, they gave us the chance to freshen things up, up top."
Page felt that Wales' point feels more valuable considering the circumstances under which it was achieved.
Croatia have a superb home record, undefeated in home European Championship qualifiers since their arrival on the international stage in the early 1990s, while Wales were without key injured players such as Wayne Hennessey, Ben Davies and Brennan Johnson, as well as the retired Bale and Joe Allen.
"It feels like a win," said Page. "When you get the equaliser like we did late on in the game it feels like a win. I think the lads deserved it for the effort they put in, they put a right shift in.
"We knew we were going to have to suffer without the ball and it came true.
"They are a very good team and we had to be disciplined in our shape. I knew that, as the game went on, we'd create chances.
"We thought DJ's [Daniel James] chance might be the one but Nathan Broadhead popped up at the end, got his chance and took it well."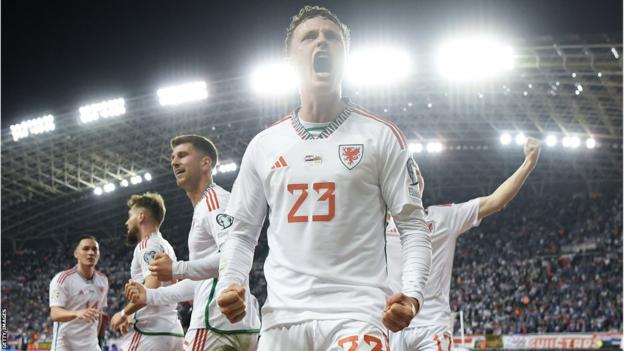 'Emotional' Broadhead
Page was also delighted for Broadhead, who is benefiting from regular first-team football after being on the fringes at Everton for a number of years.
"I'm really pleased for him," added Page. "He's not going to like me saying this but, it's an emotional game, he was in tears at the end of the game with the supporters. It means the world to him.
"I've worked with Nathan in the Under-21s. I know Broady, I've watched his development and he's earned the right to be part of the squad now.
"I've known all about Broady before this camp and we've been itching to get him involved."
Broadhurst, 24, was thrilled to have made such a big impact.
"I got a bit overwhelmed, to be honest. I got quite emotional," he said.
"I've been waiting for this moment for so long. We needed a point. We came here to win the game, but getting a point is also good. We're made up."